Last summer, we went on a road trip between Cape Town and Addo Elephant Park in South Africa. It was the first time Febe and Annick visited this country, and it was by far Febe's most remote destination up to now. We had planned to turn it into a (relatively) low-budget, child-friendly, nature-oriented travel experience, and it didn't disappoint! Although we had already done our fair share of nature exploration and wildlife-gazing (at the Cape of Good Hope NR, in Jonkershoek NR, on a whale-watching tour near Kleinbaai and in the magnificent Fernkloof NR), we definitely hadn't reached our saturation level for indigenous flora and fauna yet. So we set out for The Hoop Nature Reserve.
Covering 34000 ha, De Hoop is a relatively large Nature Reserve in the Western Cape Province. It is a 2-hour drive east of Gansbaai, a well-known whale-watching hotspot, and coincidentally also the place we had been to the days before. Because of its dense cover of pristine Fynbos vegetation, a type of shrubland with an exceptionally high plant (and associated bird) diversity, it is part of the Cape floral region protected areas UNESCO world heritage site. Truly a remarkable and unique place to spend a few days if you ask us.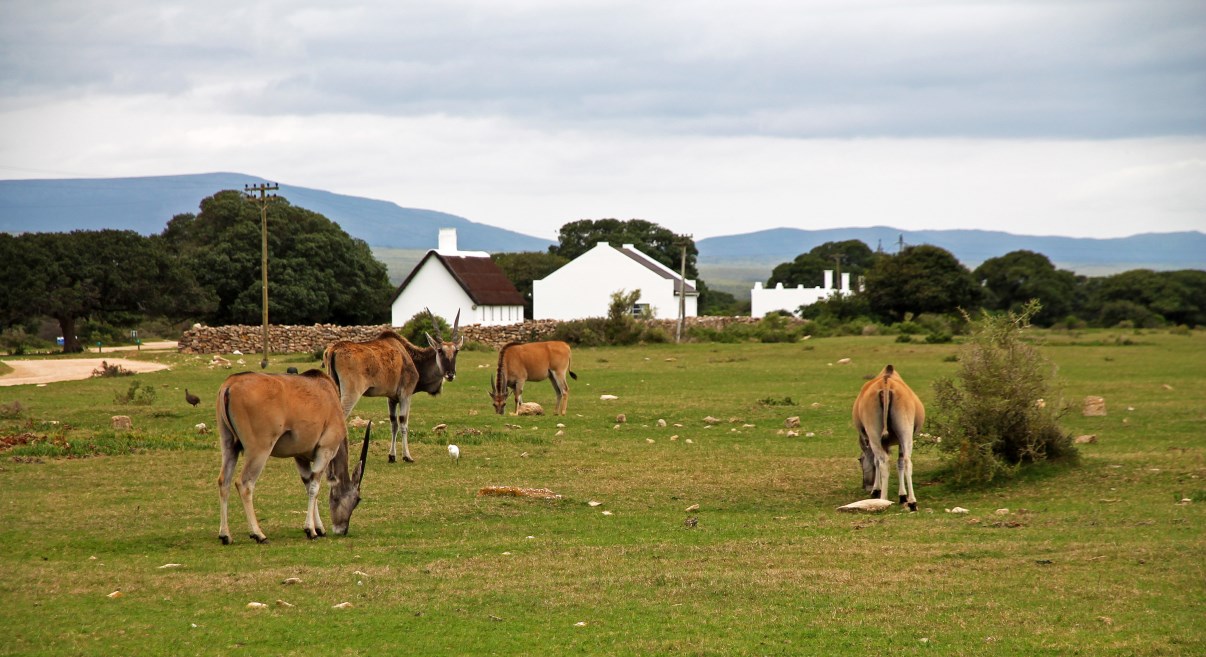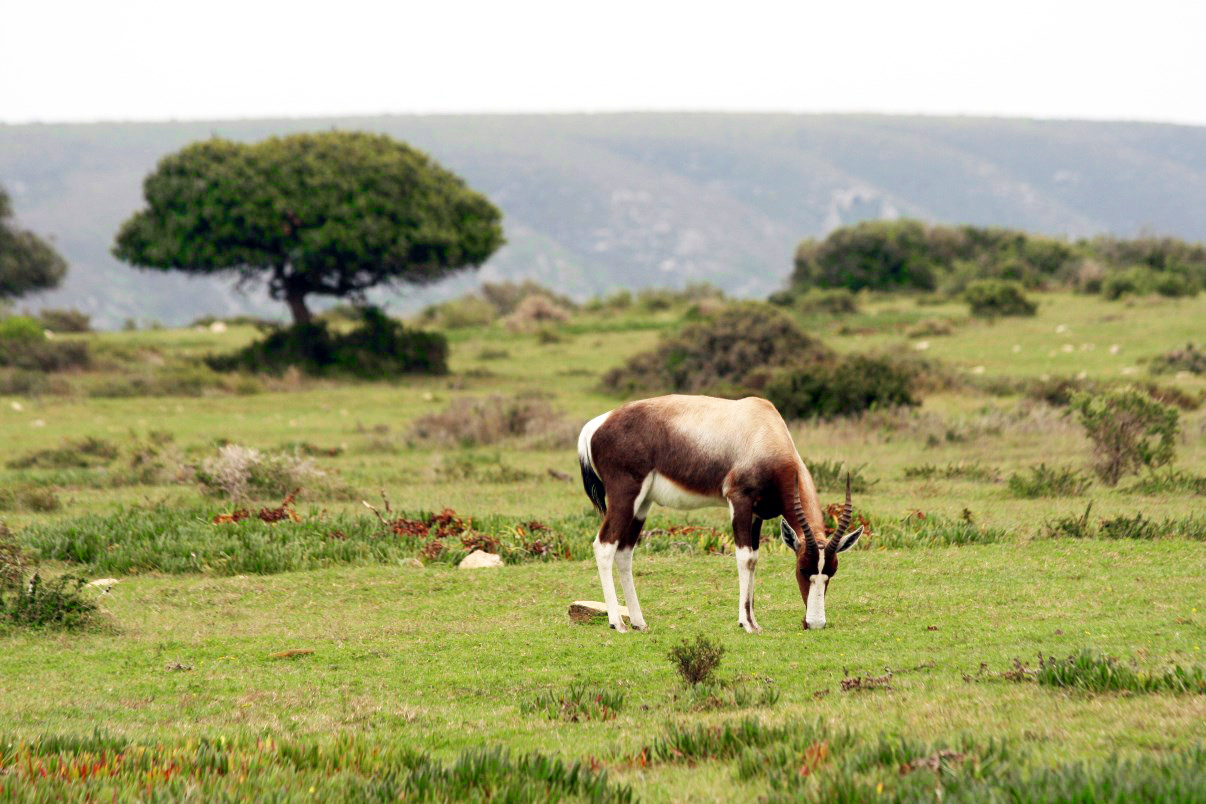 If you are planning a visit to South Africa and you are still doubting whether to go to De Hoop or not, these 5 unforgettable moments (at least for us they were) might convince you to go.
"I think I see a zebra!"
Getting to De Hoop Opstal to find our holiday home there was not as easy as it looked on the map. The final stretch of our route was a 35 km dirt road straight into the Nature Reserve. It took us quite a while to cover this distance, and I needed to keep my focus on the road for most of the time. Fortunately, there was almost no traffic on this road, so occasionally I was able to have a look around while driving. As a biologist, I have developed an eye for wildlife, and I must say I am able to spot animals rather easily, even from the car. Annick also has an eye for it and Febe is already turning into an expert wildlife spotter as well… The surroundings were very pretty indeed and we did find a few very interesting animals along the way.
Since our visit to Stellenbosch a few days before, we had become big fans of the Hadeda Ibis, which we amicably named "noisy ibis" for obvious reasons. We saw one close to the road on our way to De Hoop, shimmering in the morning sun, and it struck us how beautiful this species actually is.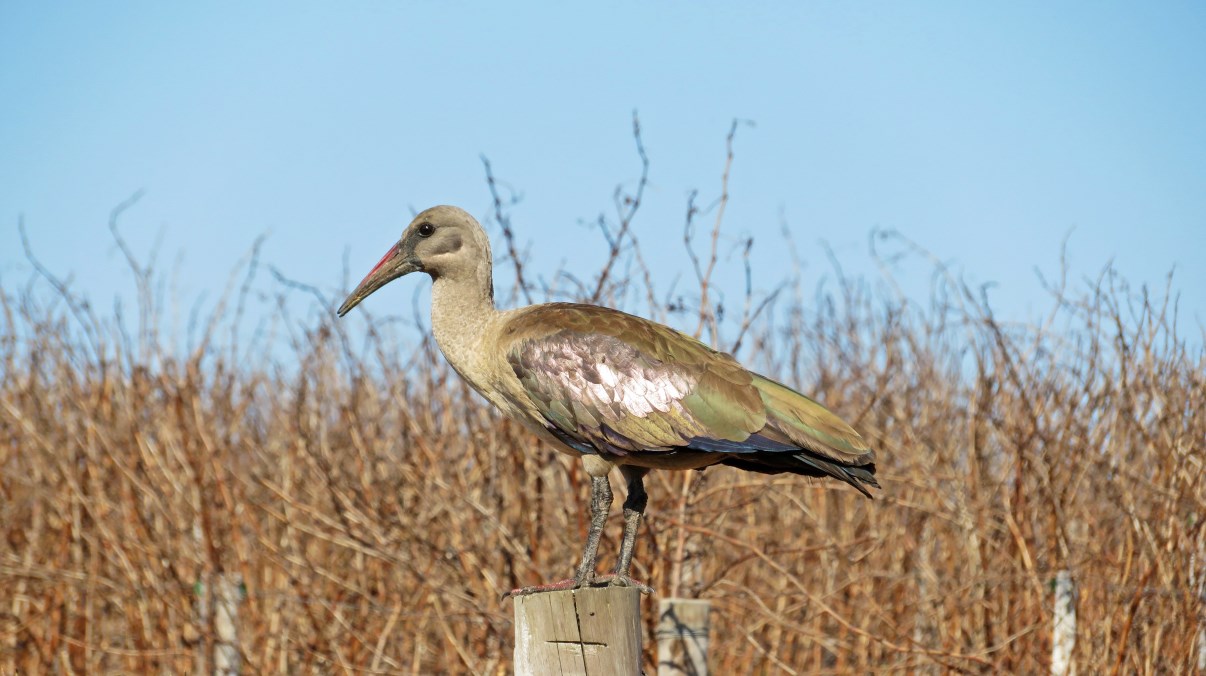 Even more beautiful was a herd of Blue Cranes that were peacefully grazing in a pasture close to the road. They were very skittish, so they flew away almost instantaneously when we stopped our car and opened the doors to take a photo.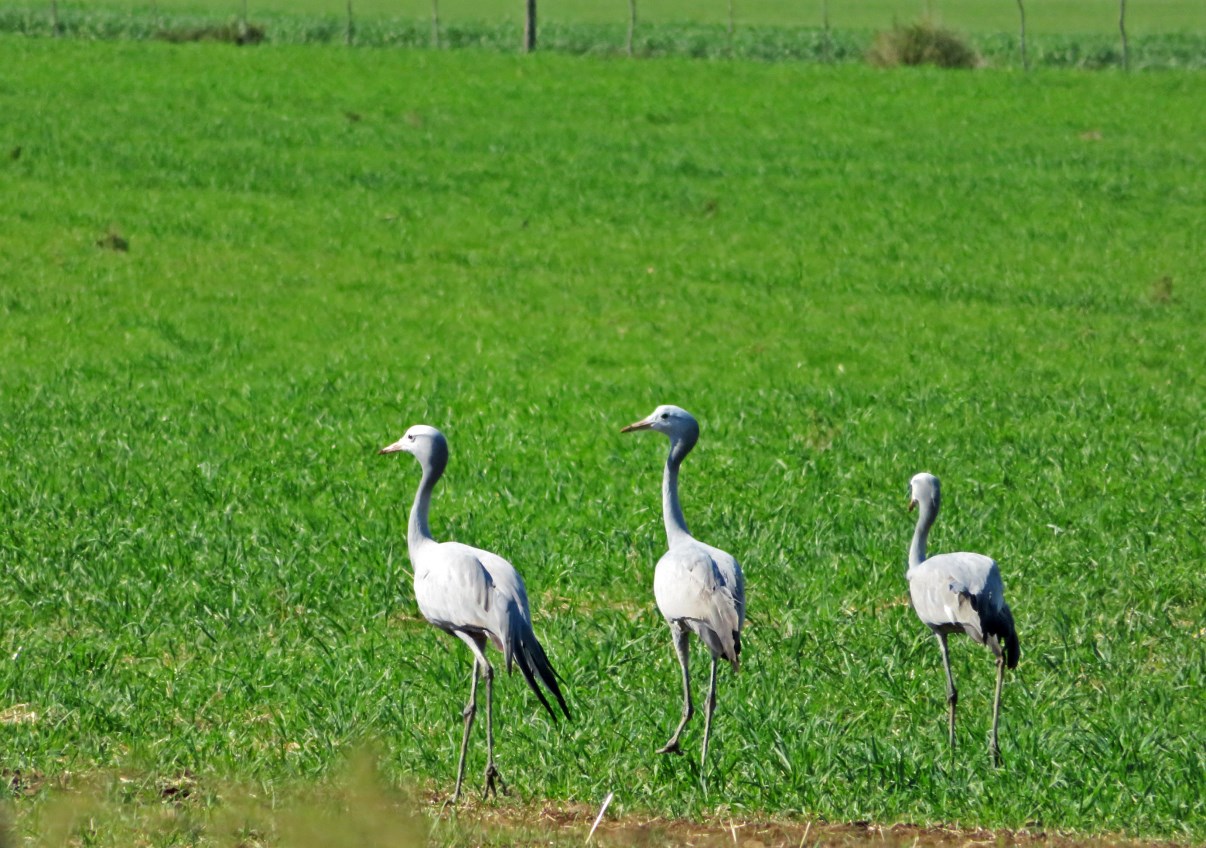 Even though we loved watching these birds along the way, I must admit that the wildlife we encountered after entering the reserve (a pretty cheap deal at R40 pp, i.e. 7.5 euro for the 3 of us) was even more spectacular. When we saw the car in front of us pull over to the side of the road and the passengers getting out to photograph something inside the Fynbos bush, we were keen to have a look ourselves as well. And this is what we encountered: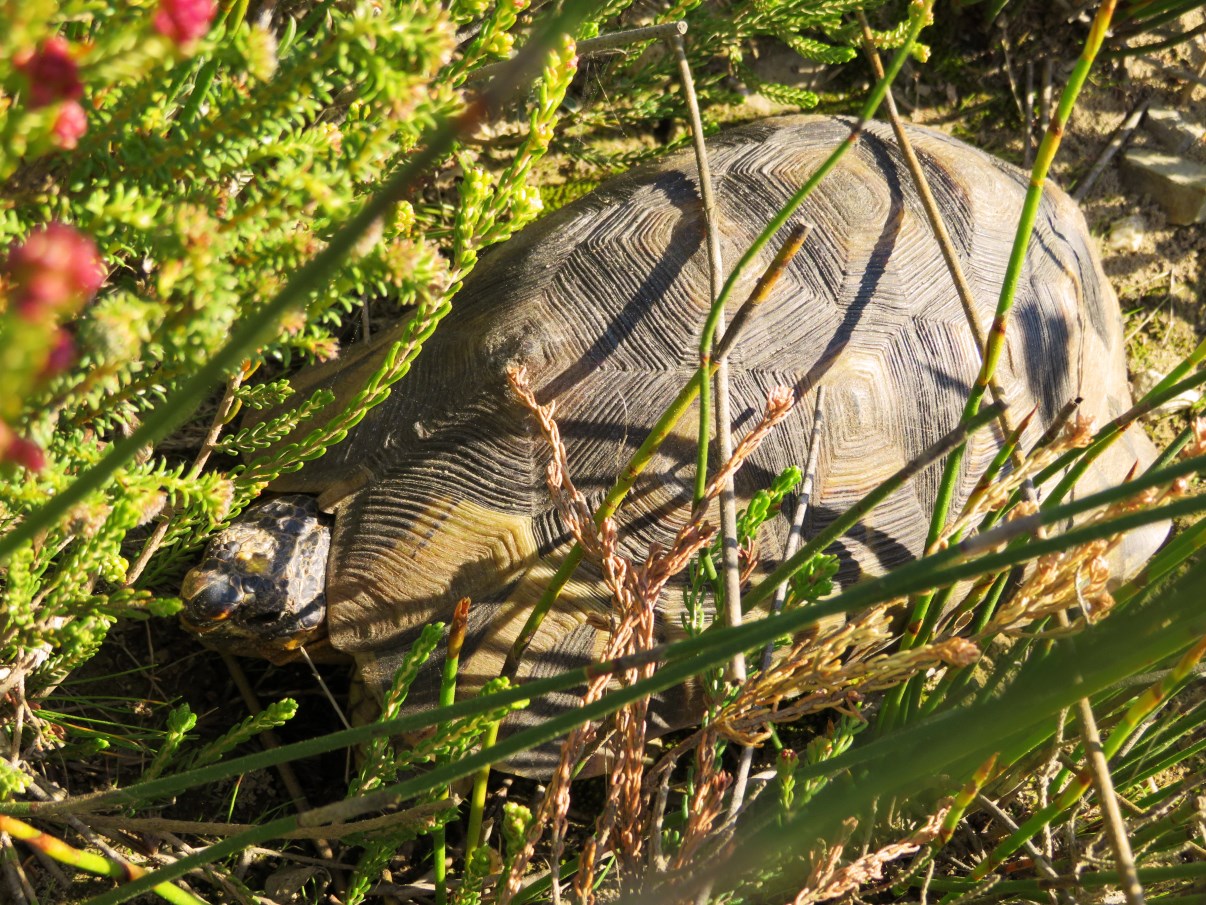 The most magical moment, however, occurred a few minutes later, when we approached the houses at the Opstal and saw a small dazzle of Mountain Zebra only 15m from our car. I still remember Annick uttering: "I think I see a zebra!" This was the first group of large terrestrial animals we saw on our trip. We did see a few individual ostriches and a lonely Bontebok at the Cape of Good Hope NR, but this felt different, like a real safari feeling. It was especially a jaw-dropping experience for Annick and Febe, who had never seen wild zebras before. The animals were very relaxed and we also took our time to enjoy the moment…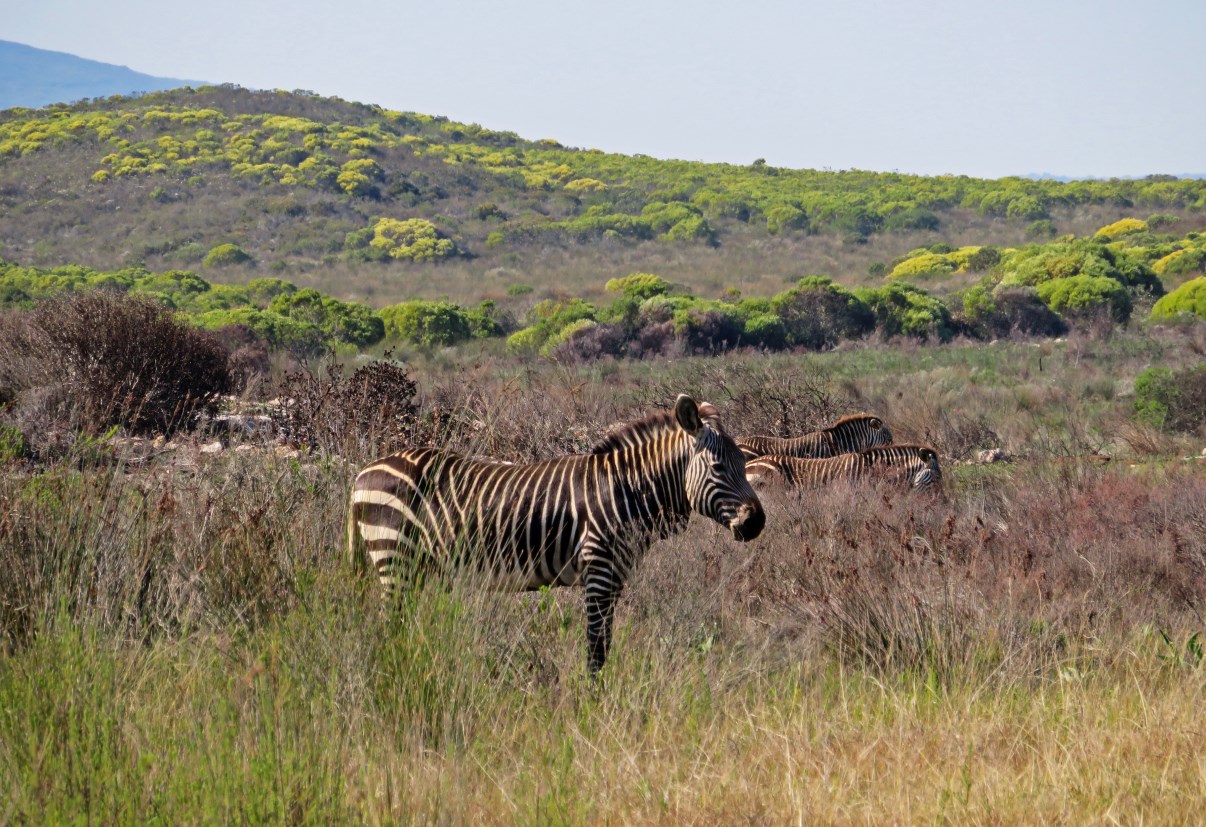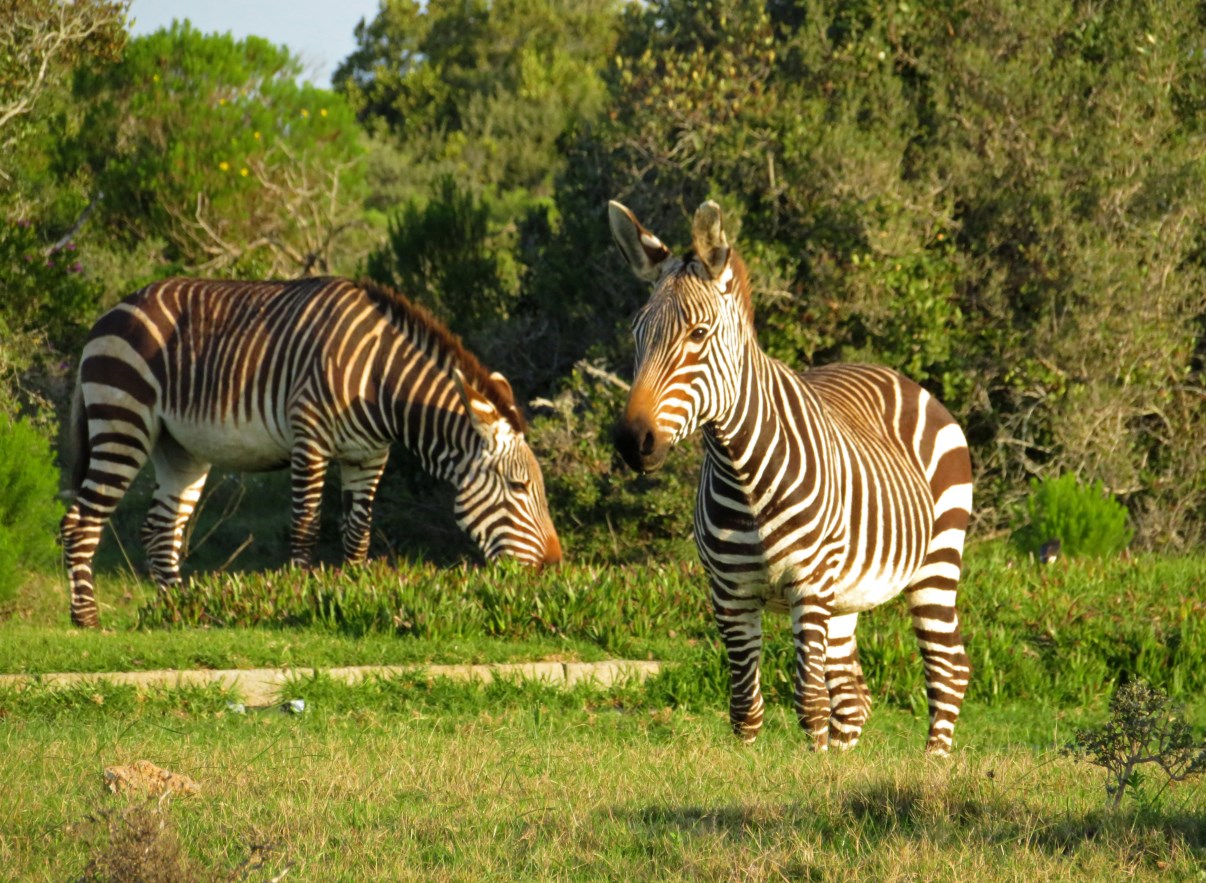 "There is one! And there, and there … and there as well!"
Having to wait a few hours after arriving at De Hoop Opstal (our holiday home was still being cleaned), we made the most of our time and decided to drive towards Koppie Alleen in the afternoon. We were told this large dune is one of the best whale-watching spots of the South-African south coast. The road was very bad and it took us over an hour to get there (At a certain point I even said: "If we don't arrive at the parking area within 10 minutes, I'm turning the car around!" We arrived 12 minutes later…). But it was all worth it.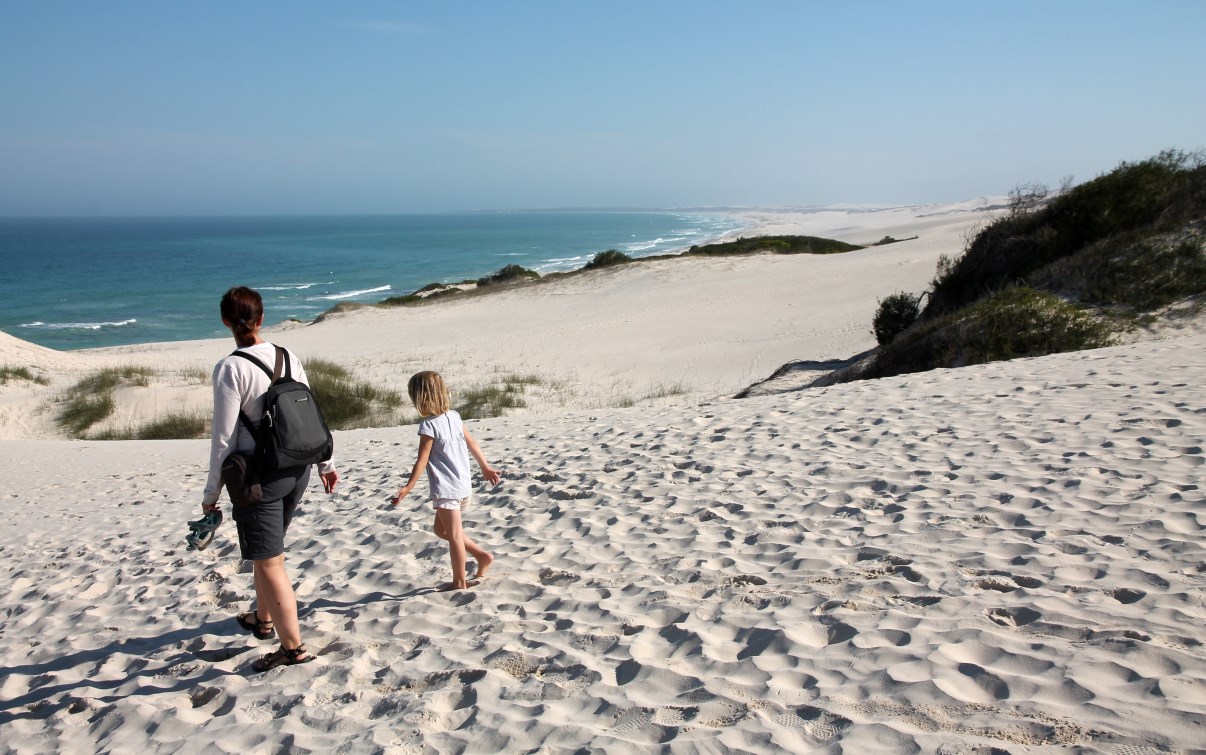 This place is stunning, and the real treat was revealed to us when we arrived on top of the dune. Whales, and a lot of them. "There is one! And there, and there… and there as well!" There were so many whales in front of us that we couldn't believe it, especially after being so unlucky on our whale-watching safari a few days before. Remarkably, there were a lot of cows with calves swimming around. The De Hoop coastline is believed to be one of the most important nursery ground for Southern Right Whales in the world. We also spotted a pod of Bottlenose Dolphins close to the beach underneath the dune we were sitting on.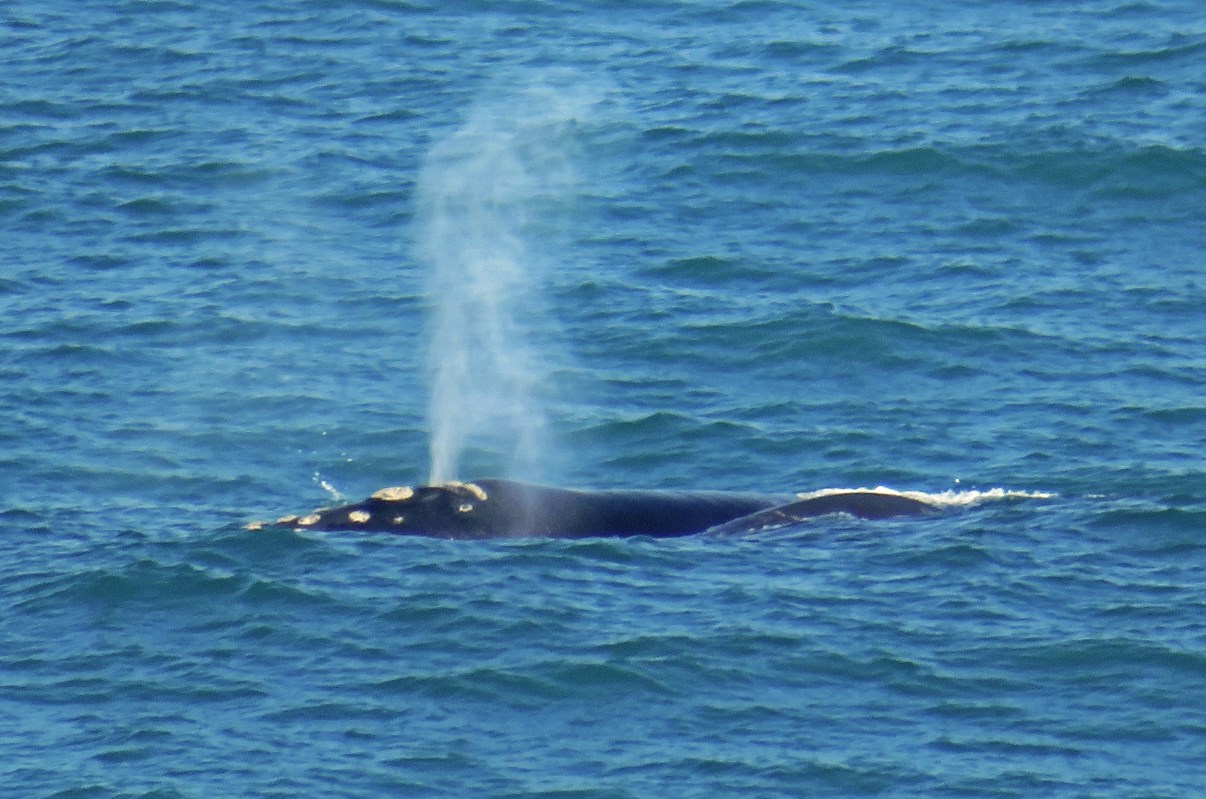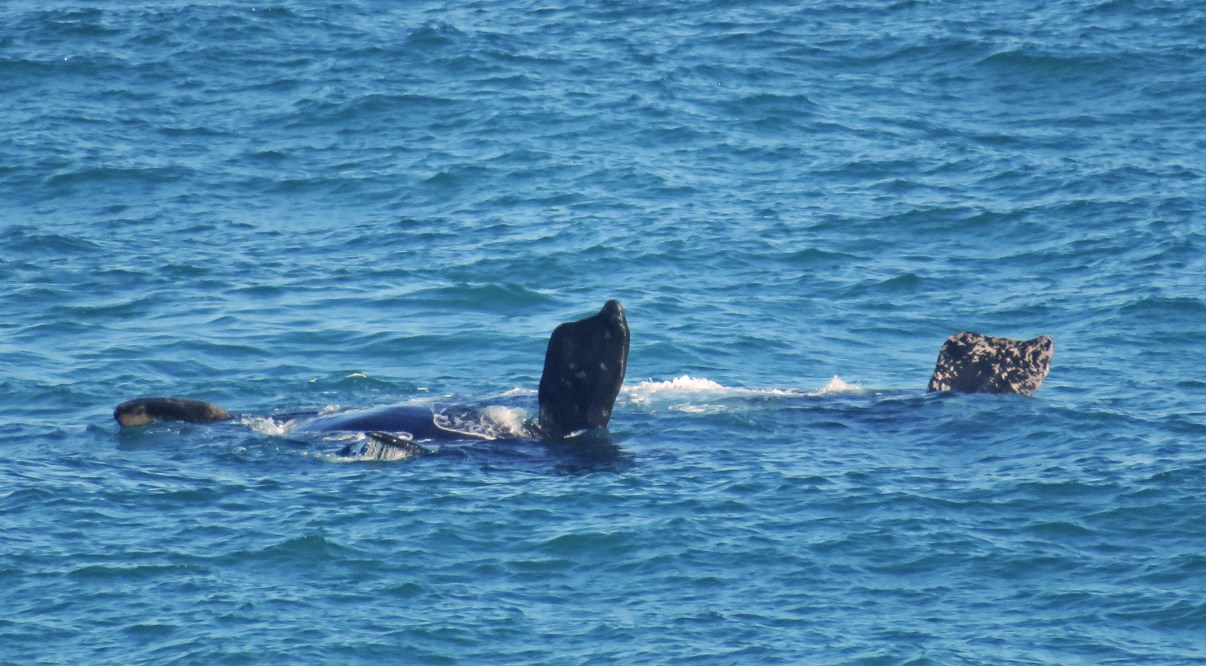 Even without the whales this is just a great place to have a picnic, read a book, get your feet wet in the ocean… It's far away from everything, so great for a relaxing afternoon. We loved it!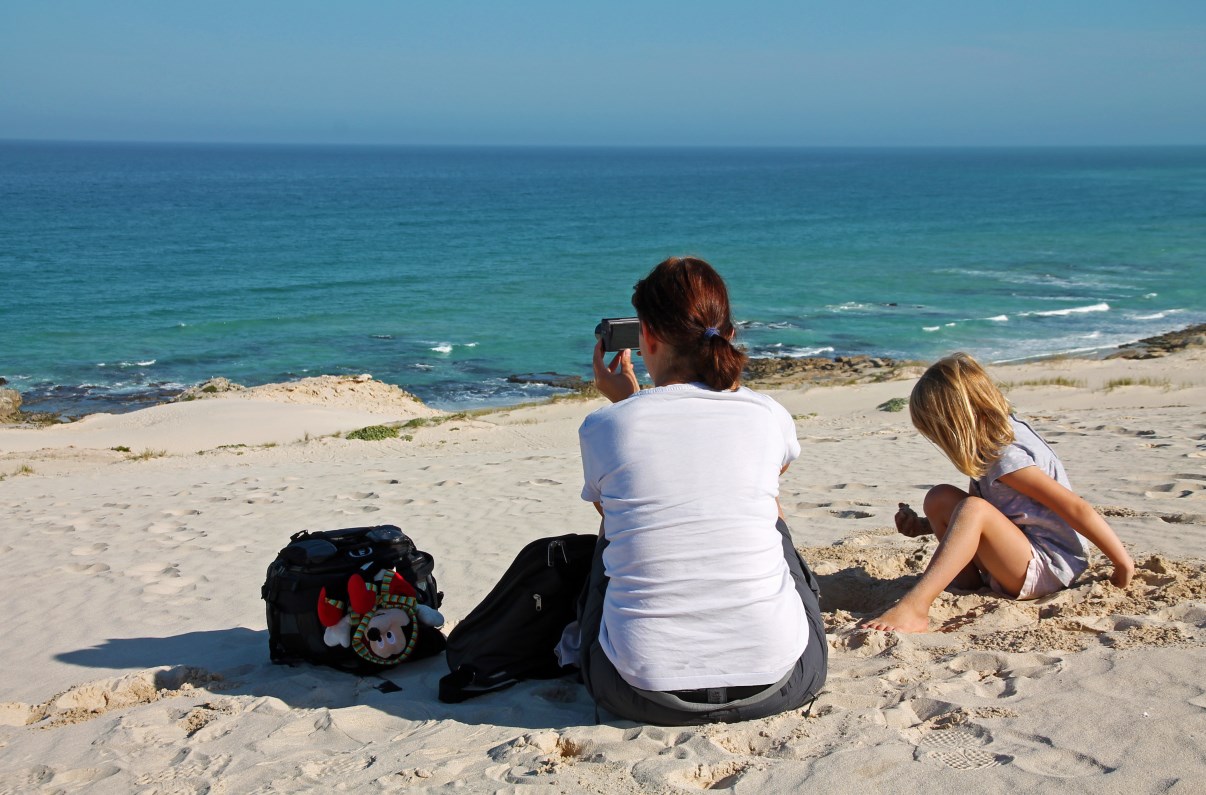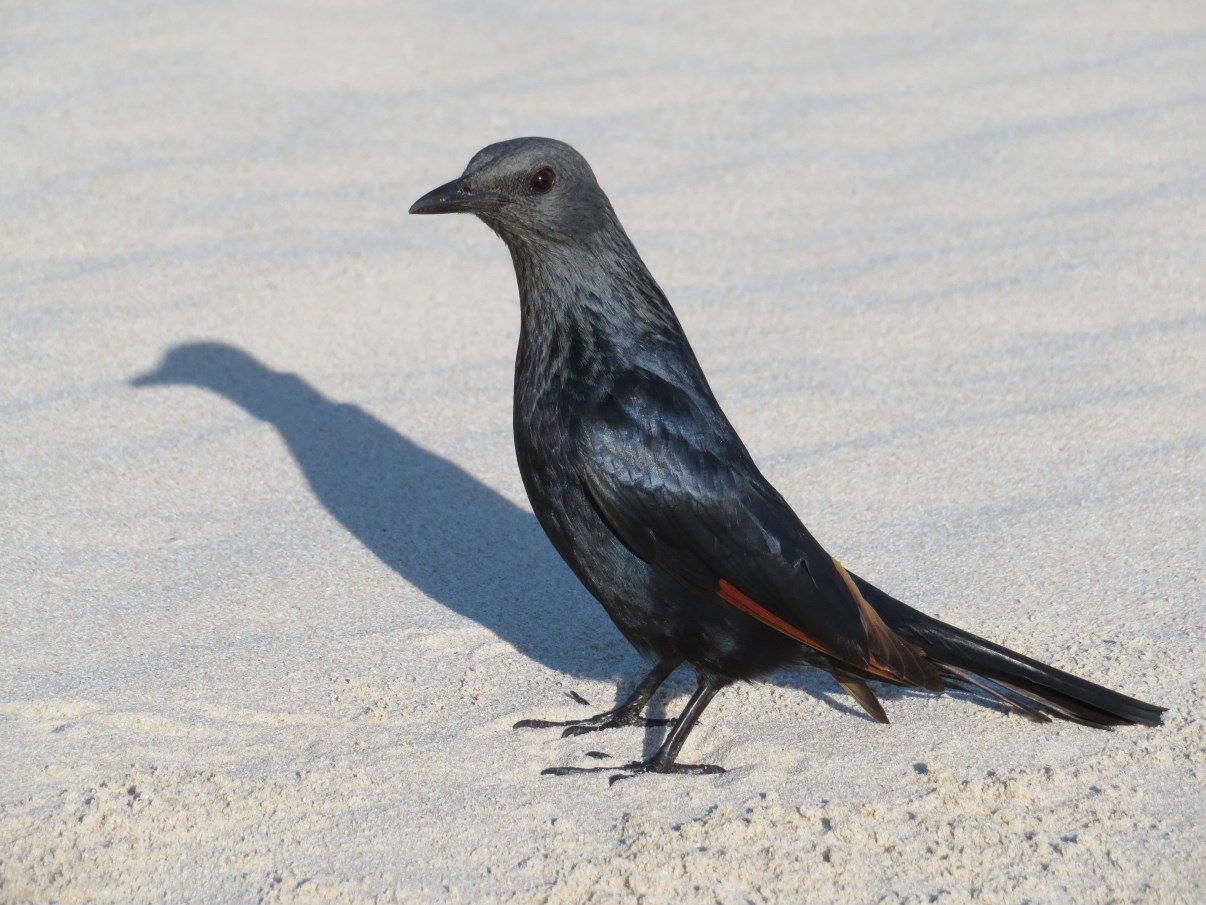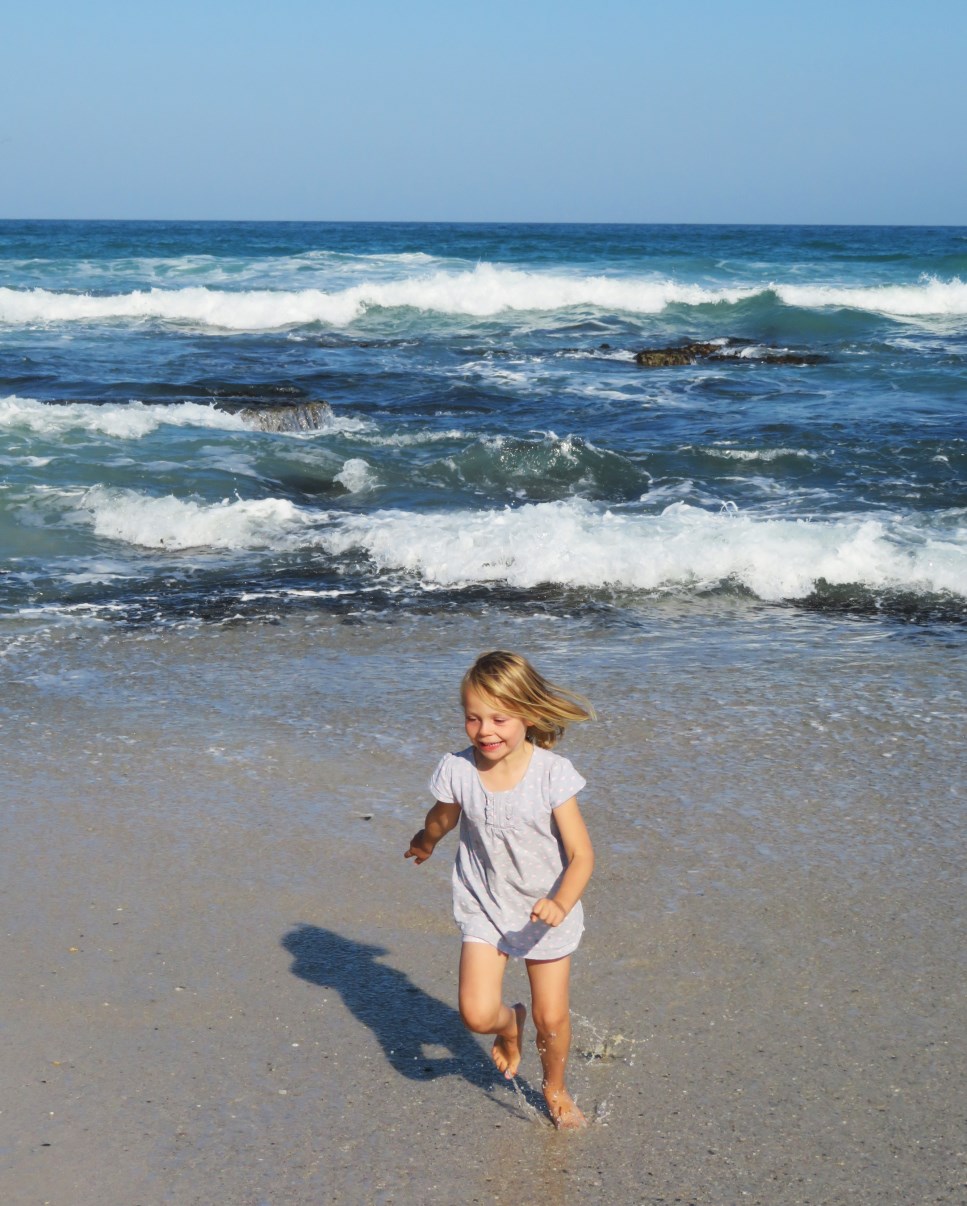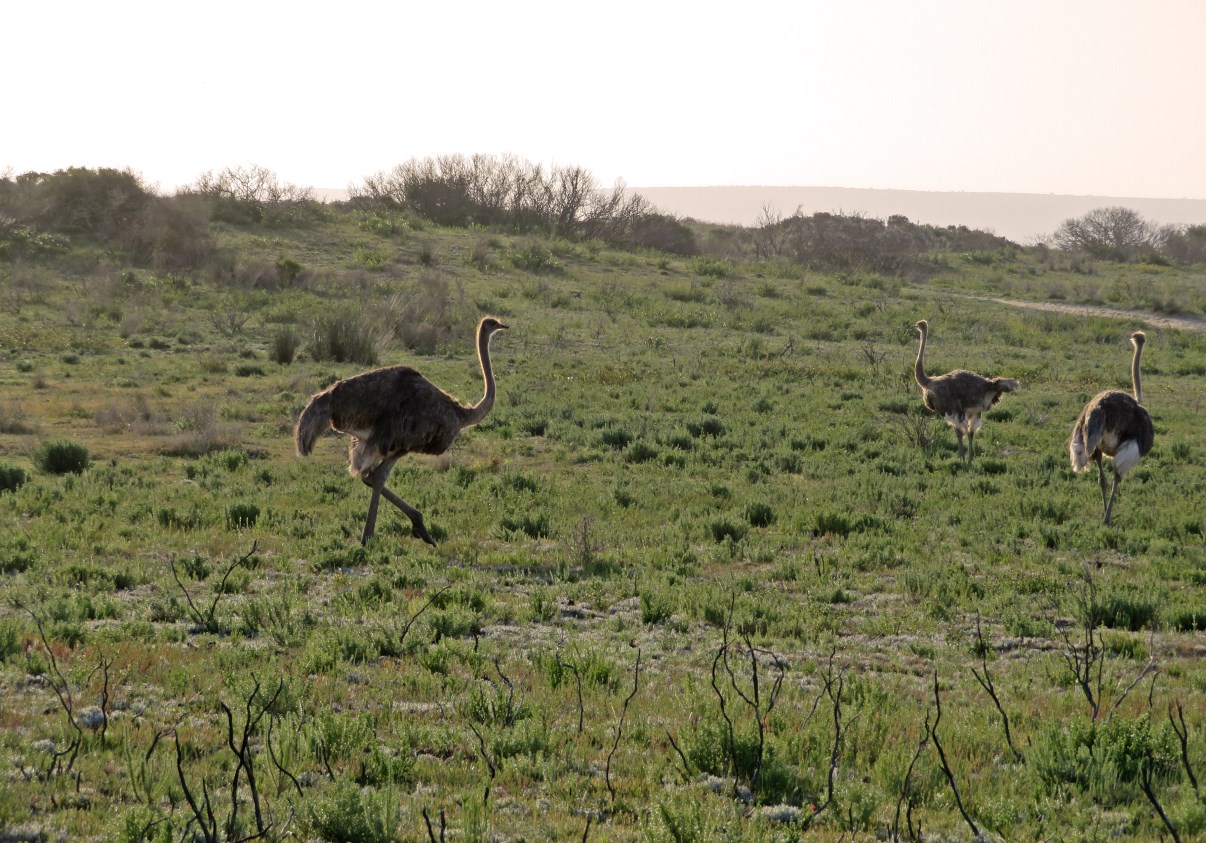 Playing with Francolin, Febe's local pet bird.
We had booked an equipped, self-catering cottage called "Duiker" (all cottages carry the name of an animal that can be found in the reserve) at De Hoop Opstal. We really enjoyed life in our cottage: the accommodation was tidy, the beds were comfortable and the blankets heated (which was an important bonus given the low night temperatures we had then).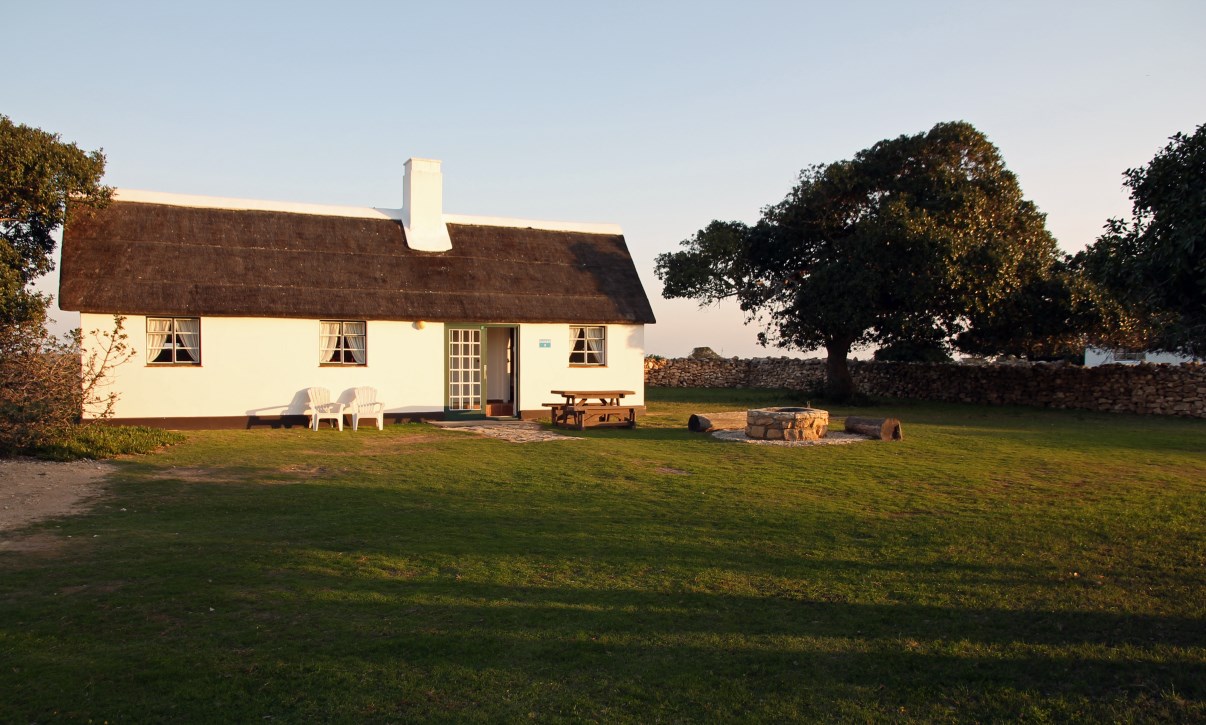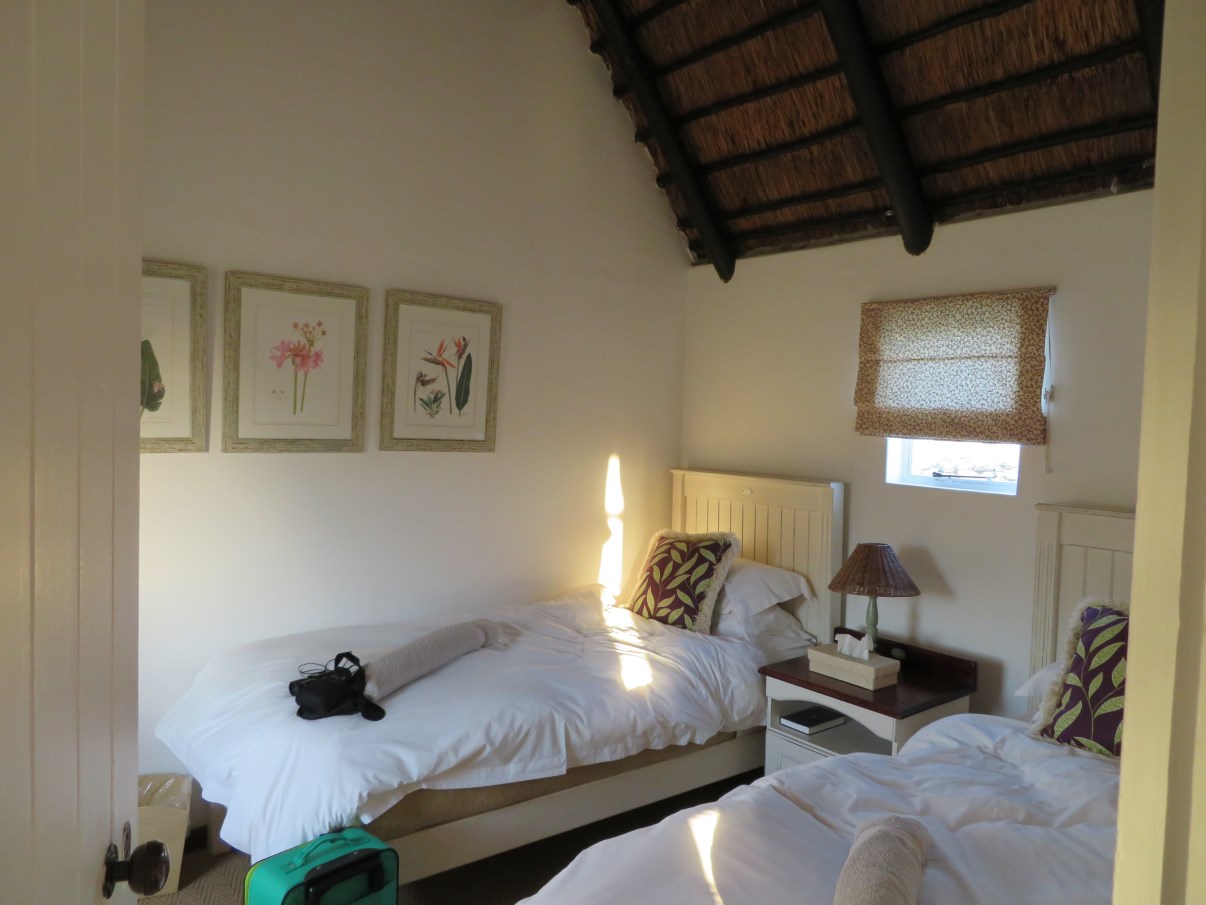 Even though we didn't cook that much ourselves (the restaurant here was just fabulous!), we did eat breakfast outside on a few occasions. And we always had some cute, feathery company…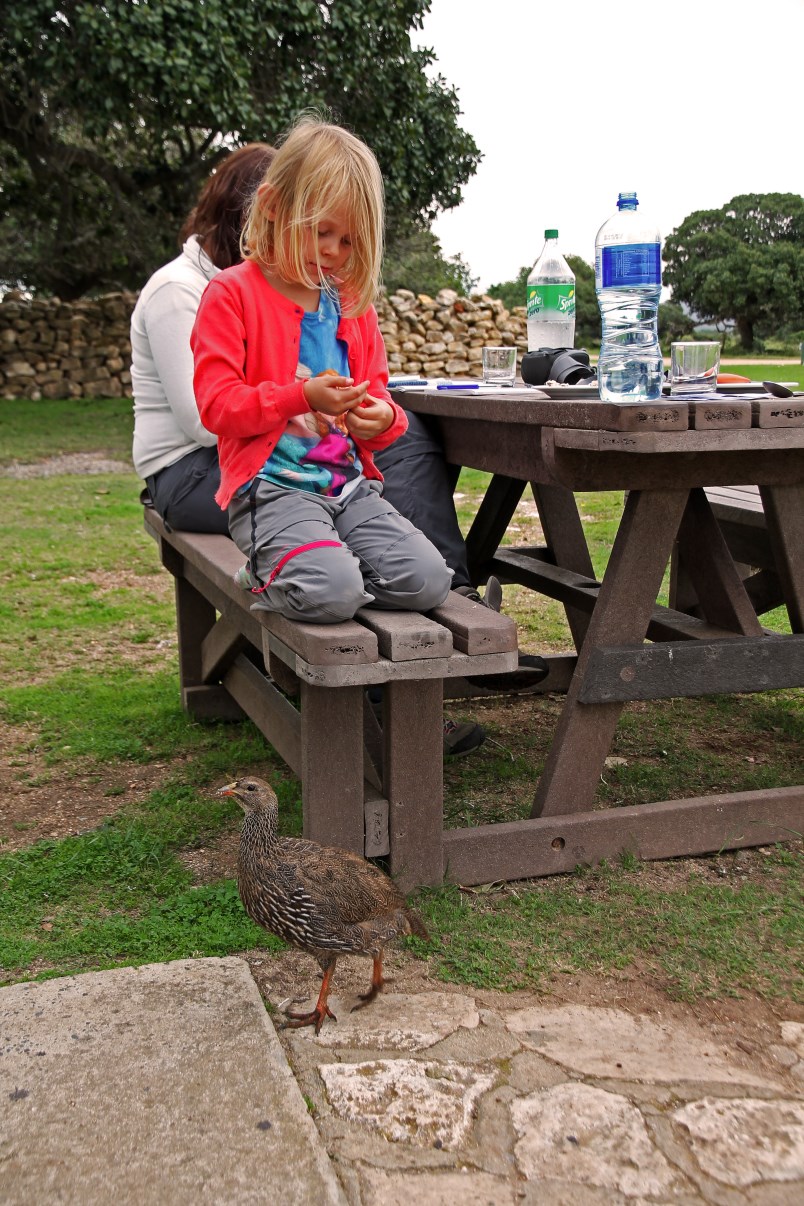 Febe loved to play with these Cape Francolins: she spent a lot of time outside trying to get as close to them as possible. It didn't take long before she considered them her friends and personal pets, and leaving them behind at the end of our stay was really difficult for her…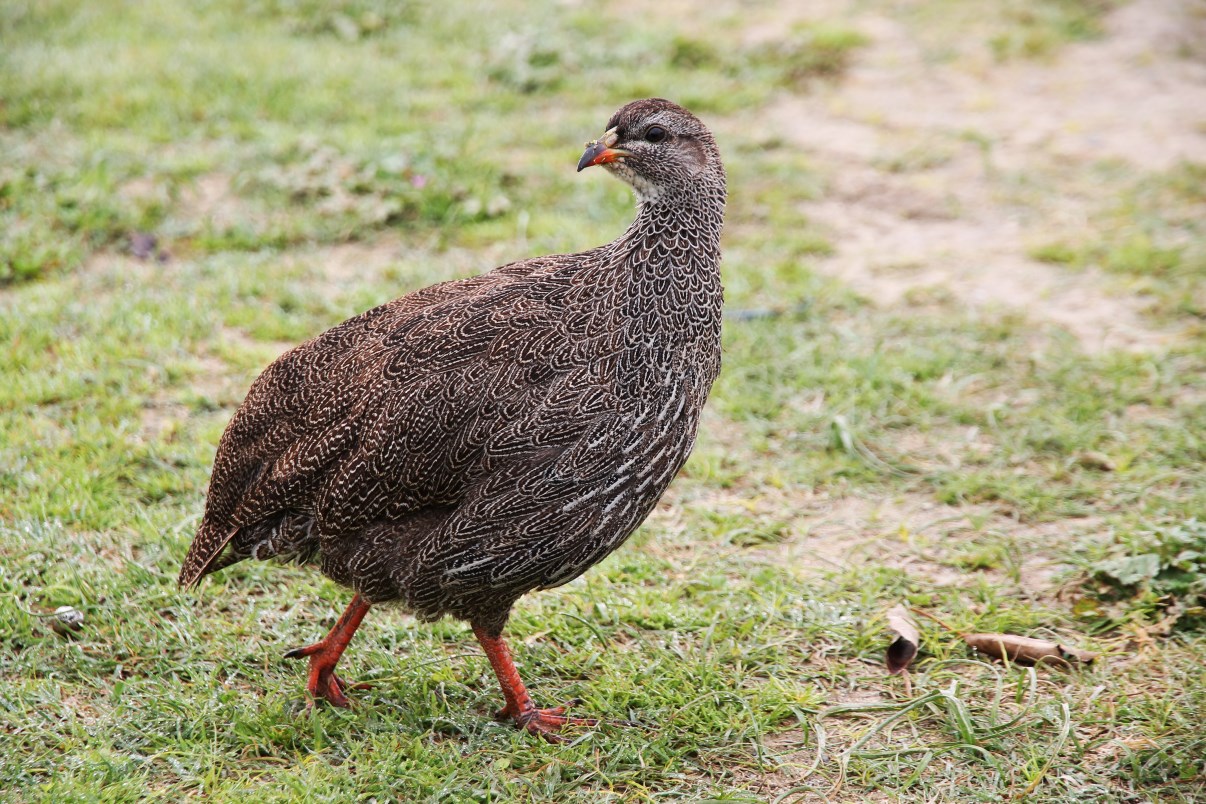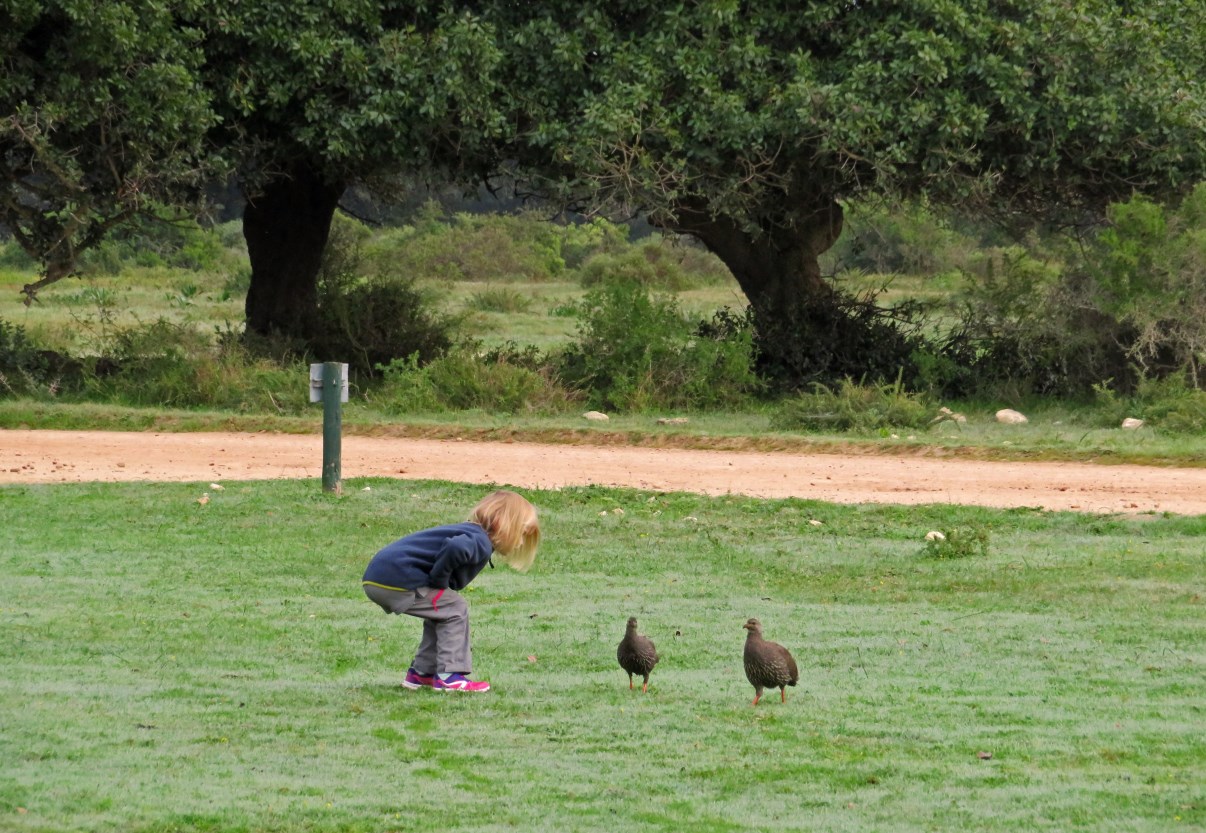 Waking up to see zebra, eland, bontebok and ostriches outside your holiday home.
Although we didn't come to De Hoop to stay inside our holiday home for too long, we still think anyone who visits the nature reserve should definitely consider an overnight stay. First of all, spending the night at one of the cottages in De Hoop would give you the chance to enjoy a memorable dinner at the fabulous Fig Tree Restaurant. But nothing compares to that unbelievable feeling you get when you wake up the next morning and take a look through the window, watching a couple of ostriches run by, with a number of Eland antelopes and Bonteboks in the background… It felt a bit unreal and otherworldly to me, to be honest. I also remember waking up in the middle of the night to see a Bontebok calmly passing by outside our front door window. Such an experience. Only at De Hoop I suppose!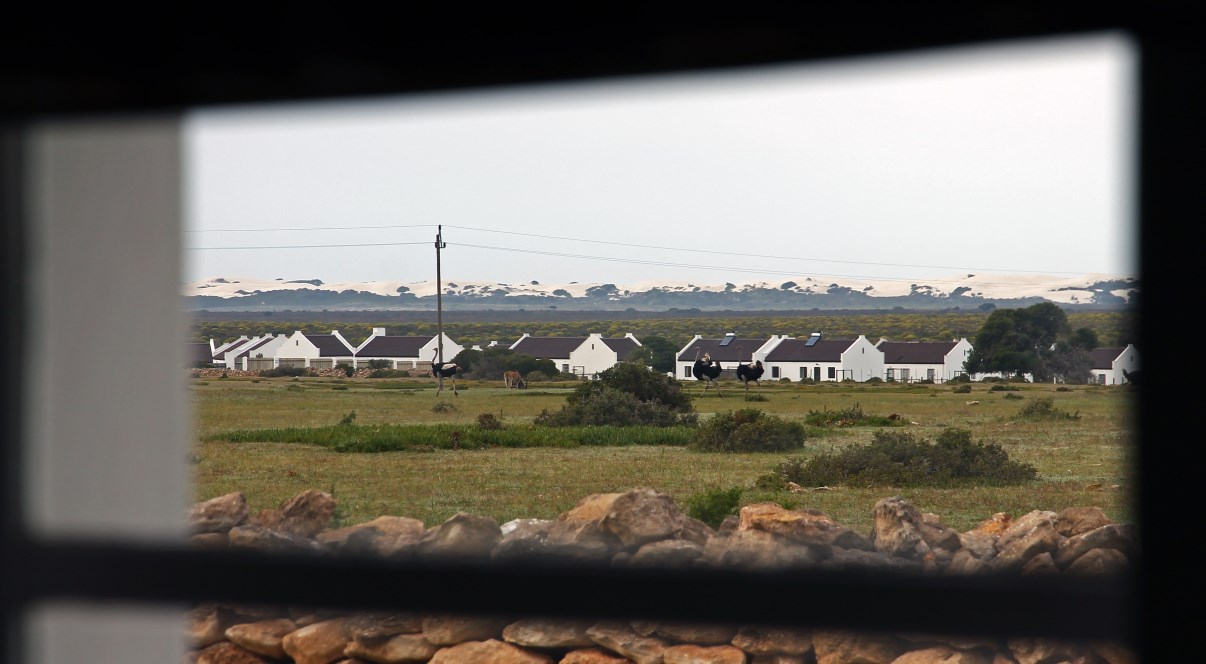 Watching a Giant Kingfisher catch and eat a crab.
On our second day in De Hoop, we went on a 3 km self-guided hiking trip along the Vlei river. The path was very easy to find and straightforward to follow, and the booklet we had received at the reception gave us some more information about the nature and cultural history of this area.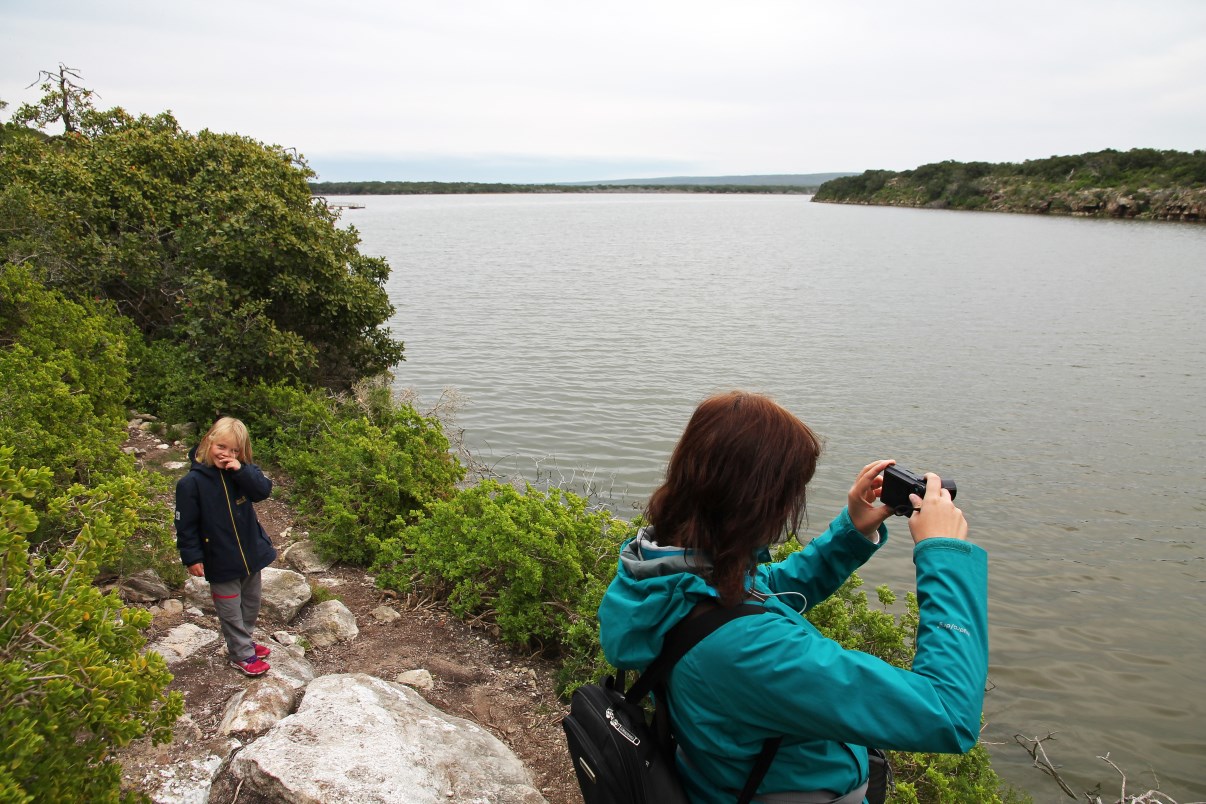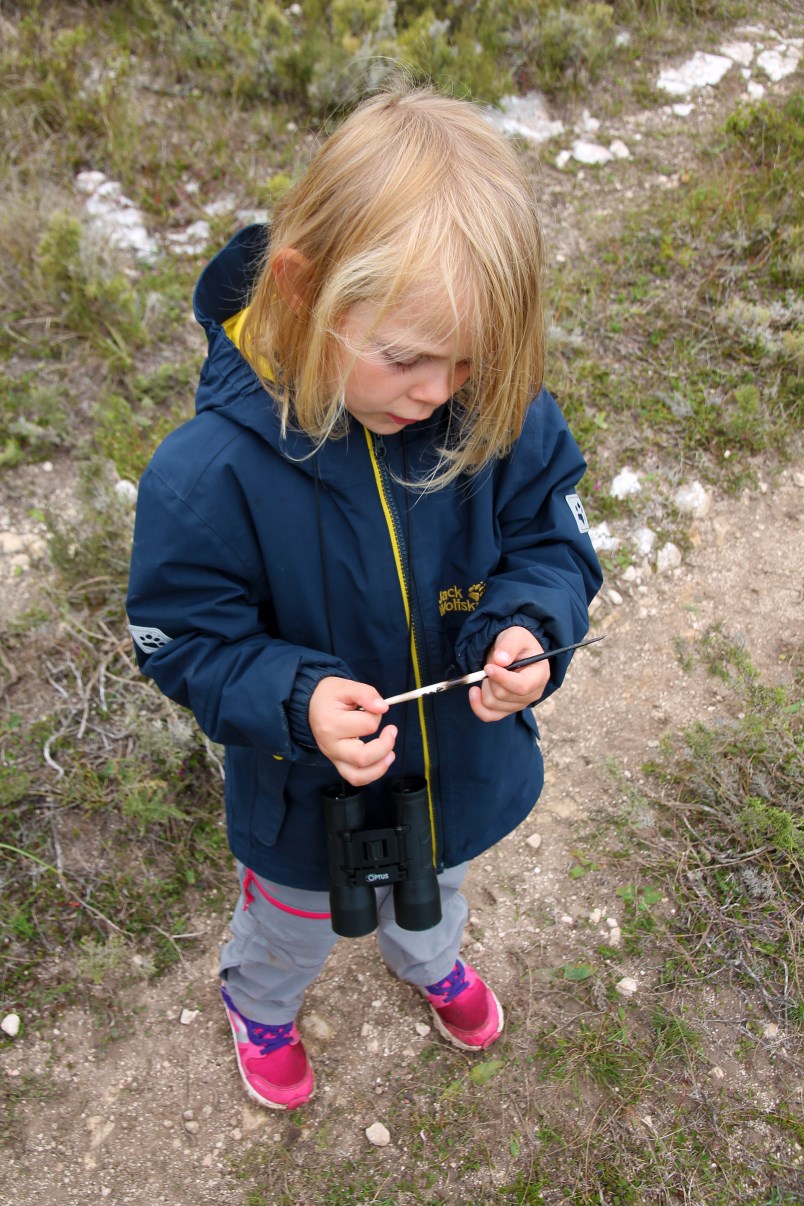 The cliffs along the Vlei turned out to be perfect for birdwatching. Besides a lot of waterfowl, we also saw a few large Great White Pelicans flying over.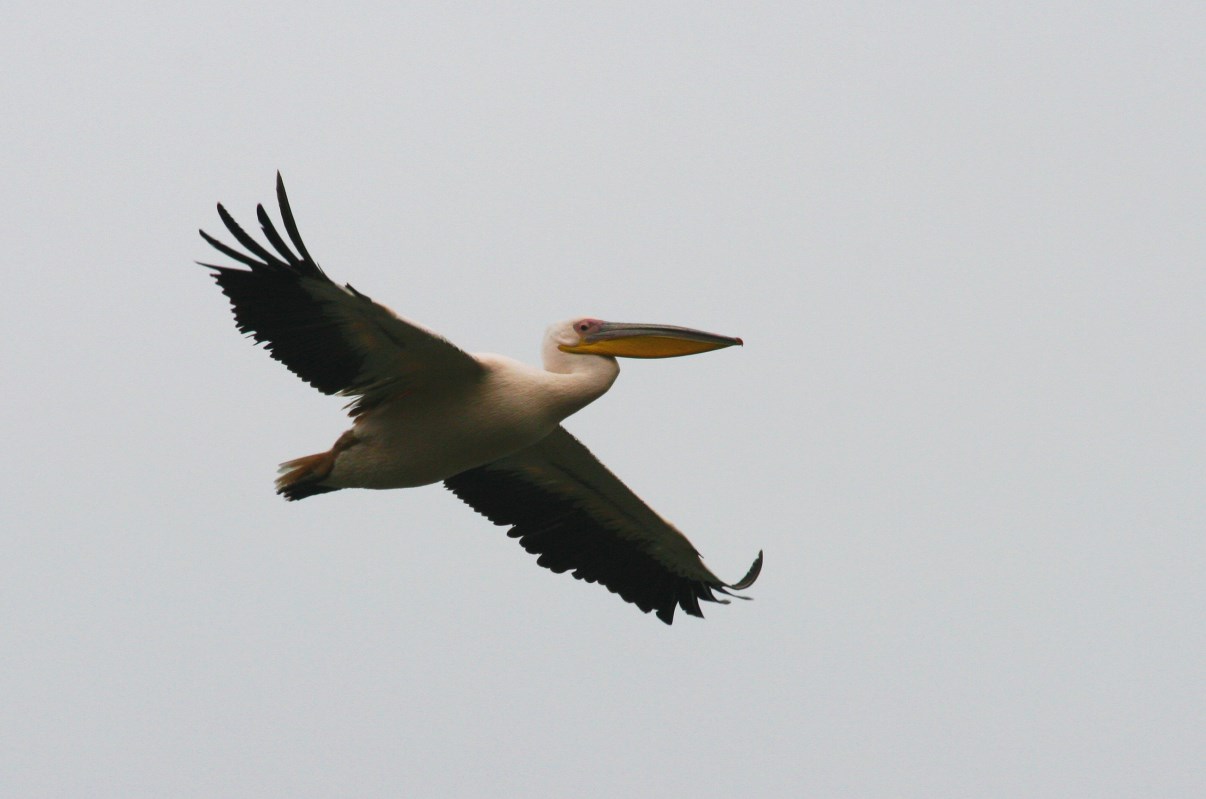 The most remarkable animal we observed that day was a Giant Kingfisher who was sitting on the pier near the boat house. After we spotted it, we kept our distance and watched it for a few minutes. Suddenly, the kingfisher plunged into the water and emerged again with a small crab in its beak, which he slapped on the wooden pier before swallowing it whole. We felt privileged to witness this event, something we had never seen before…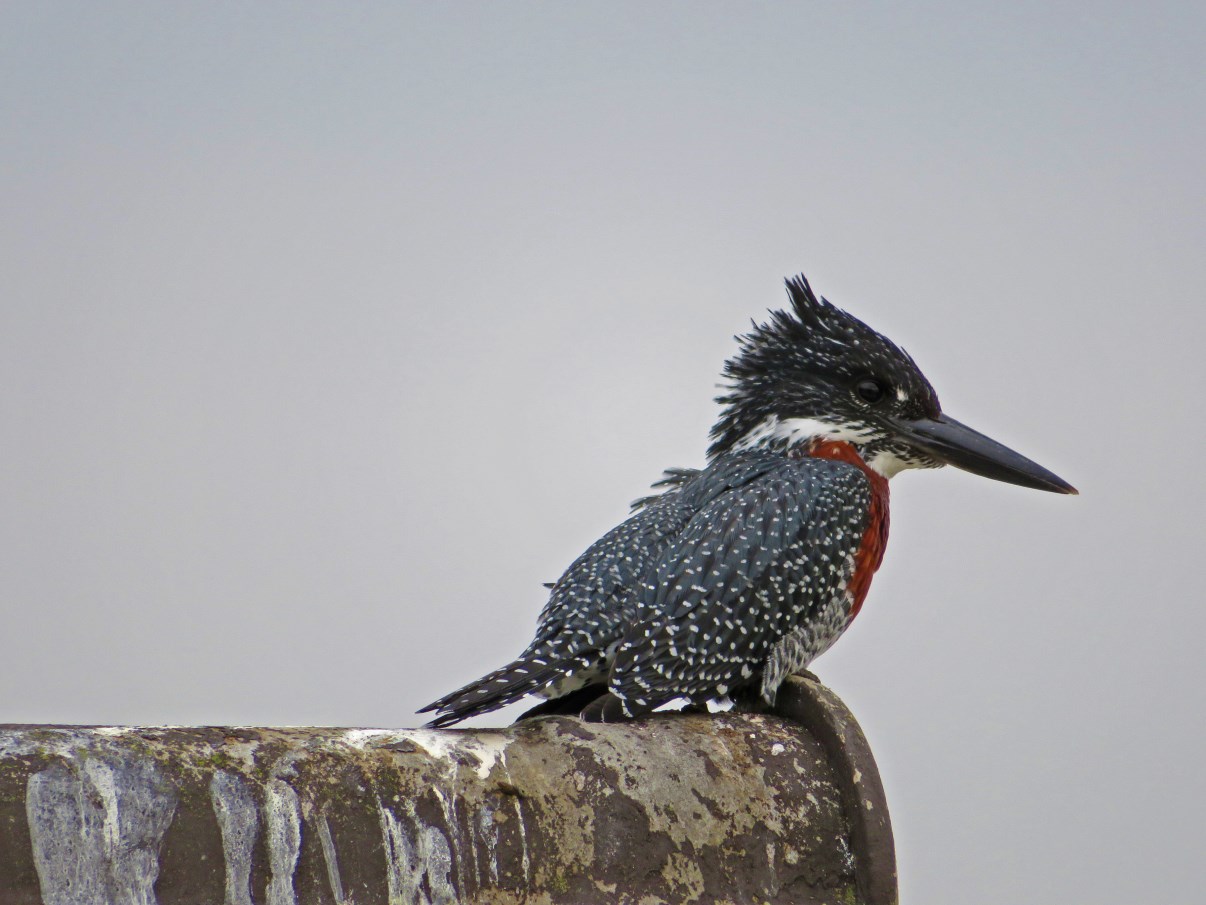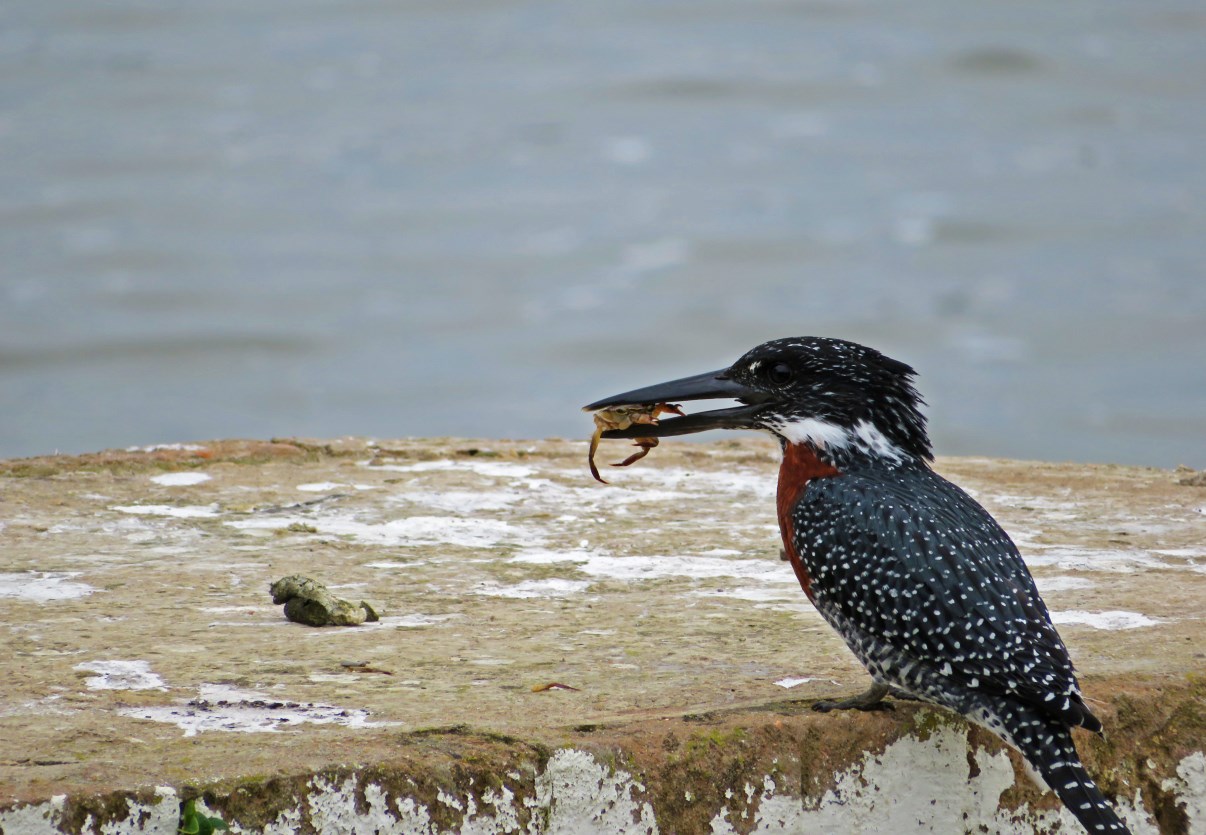 Enjoying wine and local delicacies on the water. 
Although you could spend several days just driving around the De Hoop on your own private safari (Koppie Alleen and Potberg Mountain (for Cape Vultures) are recommended), a whole array of exciting activities are on offer here, ranging from guided walks to stargazing and mountainbiking. Since we all love to explore nature, searching for birds along the way and spending a few hours on a relaxing boat trip, we booked a guided boat excursion on our last day here.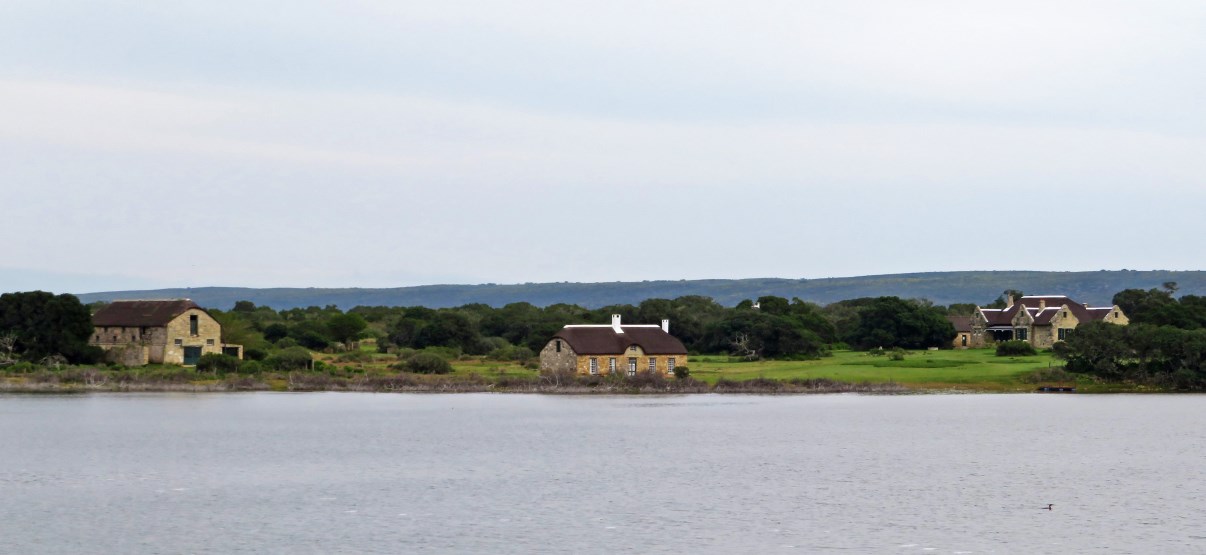 The Vlei river is a brackish expanse of water that is completely separated from the ocean. Therefore, it has its own particular ecosystem, rich in birdlife. We were the only participants to the excursion, so we had the boat all to ourselves and spent a quiet afternoon on the water with our family. And all of that with a private guide! This man was very well-informed about the natural and cultural history of the river and its surroundings, and he had a really good eye for spotting birds. That was really necessary because there weren't a lot of birds around. Due to a lot of rainfall, the water level of the Vlei was much higher than normal, forcing the birds towards shallower water bodies (where they can find food more easily). Nevertheless, we managed to find 20 different bird species. In the end, it was a pleasant and  informative experience, and one that got even a bit better when the guide offered us a plate of snacks and local delicacies, accompanied by a glass of sublime South-African wine…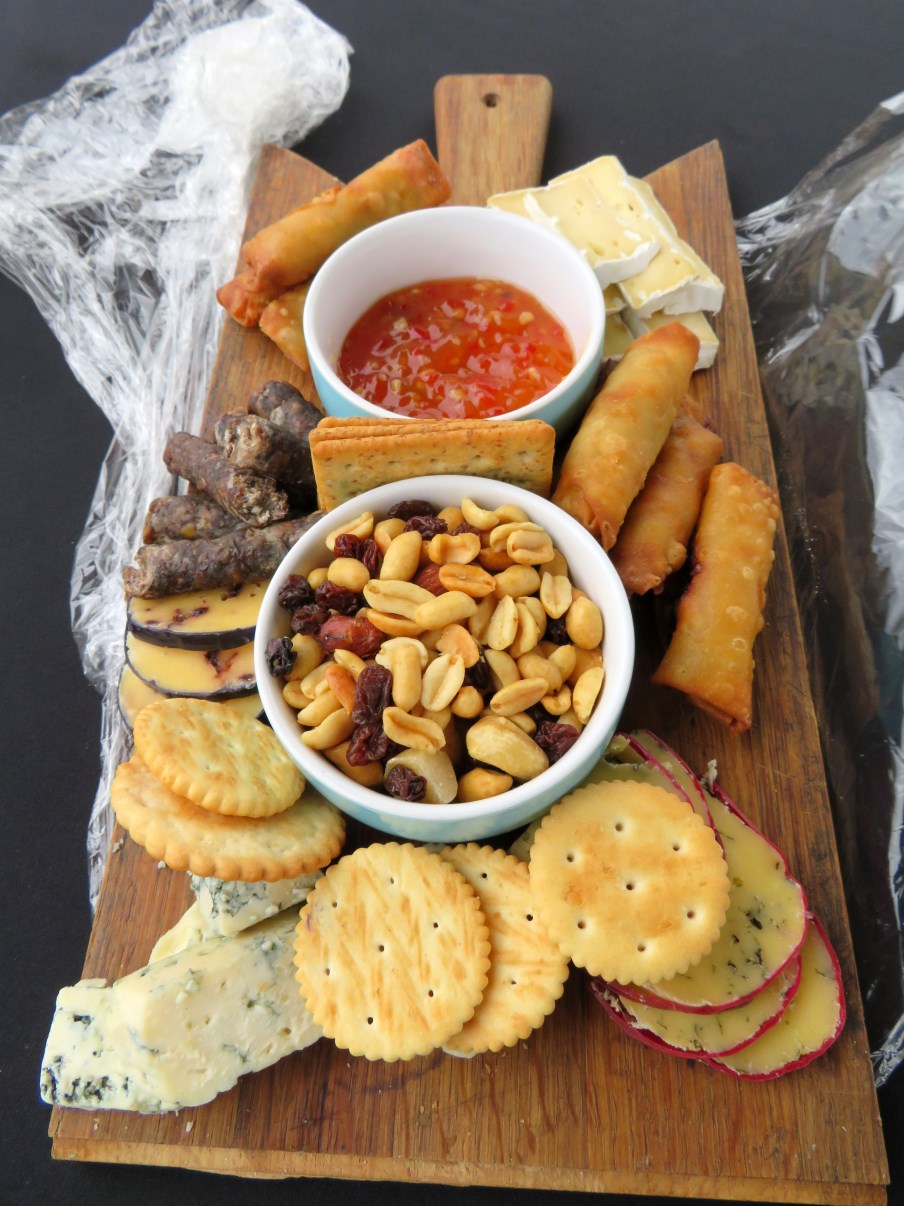 ---
Cape floral region protected areas (nr. 1007)
One of the world's great centres of terrestrial biodiversity, the Cape Floral Region is one of the most special places for plants in the world in terms of diversity, density and number of endemic and threatened plant species. It is considered one of the six Floral Kingdoms of the world. The protected areas contain an extraordinary assemblage of plant life and its associated fauna. A significant number of endemic species are associated with Fynbos vegetation, a fine-leaved sclerophyllic shrubland adapted to both a Mediterranean climate and periodic fires, unique to the Cape Floral Region.
---