Dragons, King Arthur, medieval castles, prehistoric tombs, a rugged coastline and an unintelligible language: for me, Wales always had this certain mythical feel to it. Since I visited the Pembrokeshire coast with my parents maybe 20 years ago or so, I just knew I had to come back one day. Even though Pembrokeshire was stunning, it simply isn't representative for the rest of the country. Seriously, Wales has so many different faces to it that I think there isn't any region in this country that can be seen as "representative", or "typical". For example, when standing in front of the Pierhead Building in Cardiff, who would ever suspect there is a 2000 km² wide massif of 1000m-high rugged mountains only 250km to the north? Or when walking through the forests in Brecon Beacons NP, who would imagine it's possible to spot a pod of playful dolphins from a cliff edge only 150km to the west?
There is so much to be seen in Wales, and so many things to experience, that it's also quite impossible to decide which region you would like to visit on your next trip through the country. We traveled to Wales last year during the autumn half-term holiday. We only had one week at our disposal, which pretty much narrowed down our options. Since we also desperately wanted to go to the city of Bath on the same trip, we decided on visiting the Brecon Beacons NP and its eastern neighbour, Offa's Dyke National Trail.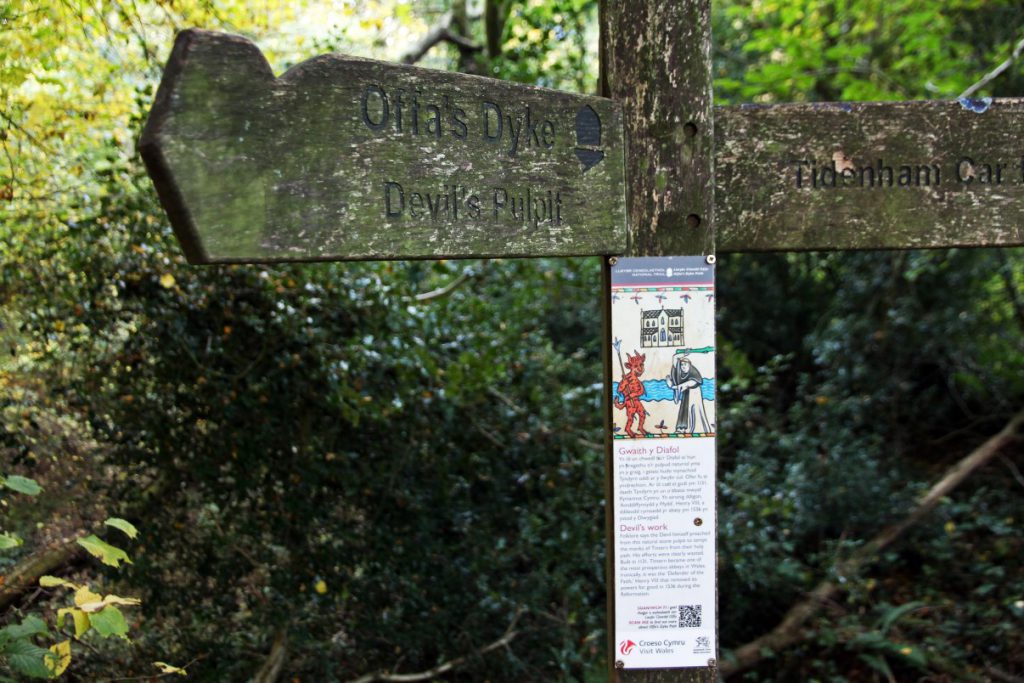 Our aim? Slowing down while spending a few quiet days away from all the bustle and pressure of work. Our expectations? To enjoy the simple life while camping, hiking through nature and spotting some pretty waterfalls along the road…
Coming from Bath, we first headed to Tintern Abbey on the banks of the river Wye in Monmoutshire, which is no more than a 45 minutes drive away from the Brecon Beacons. This Cistercian abbey was founded in the 12th century. It has seen a lot of rebuilding and expansion during the following centuries (most of what is left now was constructed in the 13th century), and it was finally dissolved under the reign of Henry VIII in the 16th century. The stripped and weathered skeleton of the abbey had such a romantic and picturesque quality to it that it frequently appeared in literature, poetry and paintings throughout the years following its dissolution.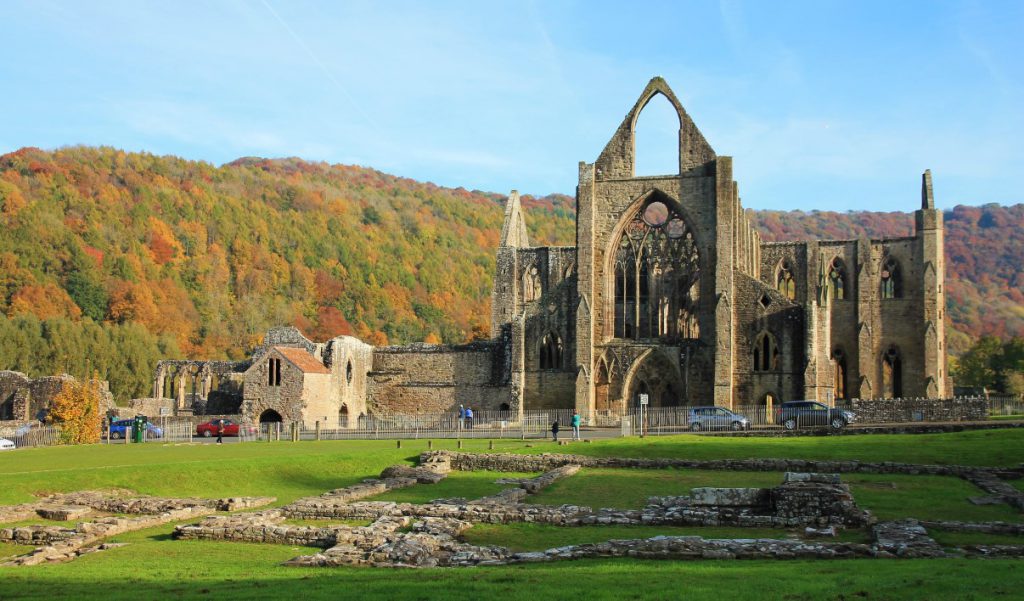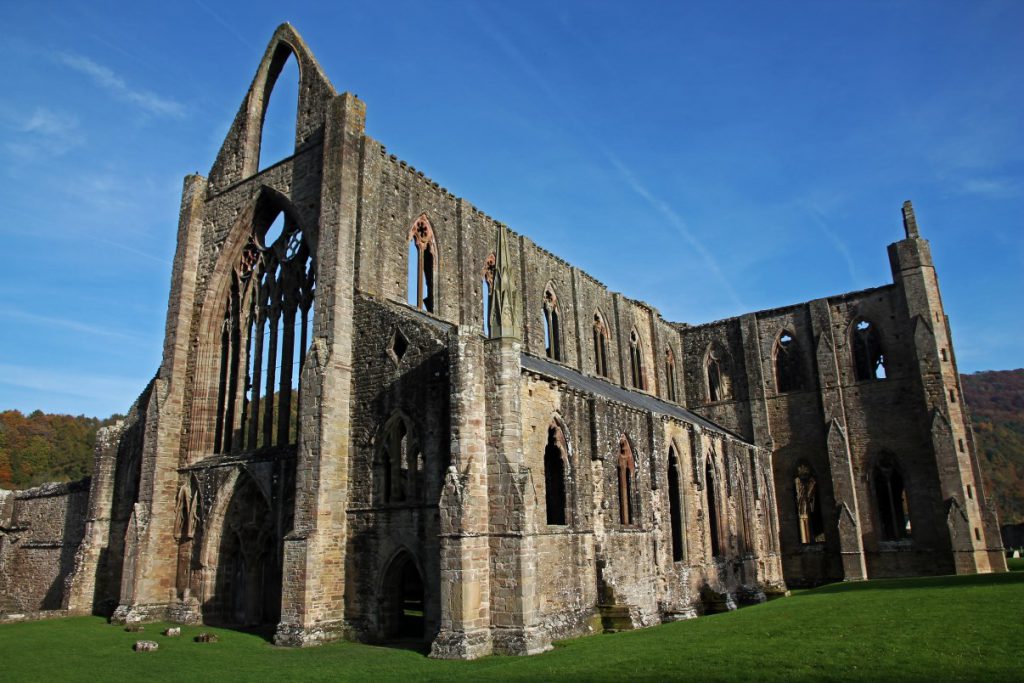 We wanted to combine a visit to the abbey's ruins with an easy walk up to the Devil's Pulpit, a small limestone pinnacle somewhere up the hills around the river Wye, from where you have a splendid view over the valley and its abbey. You can find our itinerary here. The walk through the forests has a few short, steep ascents but even Febe (our 6-year-old daughter) could do it.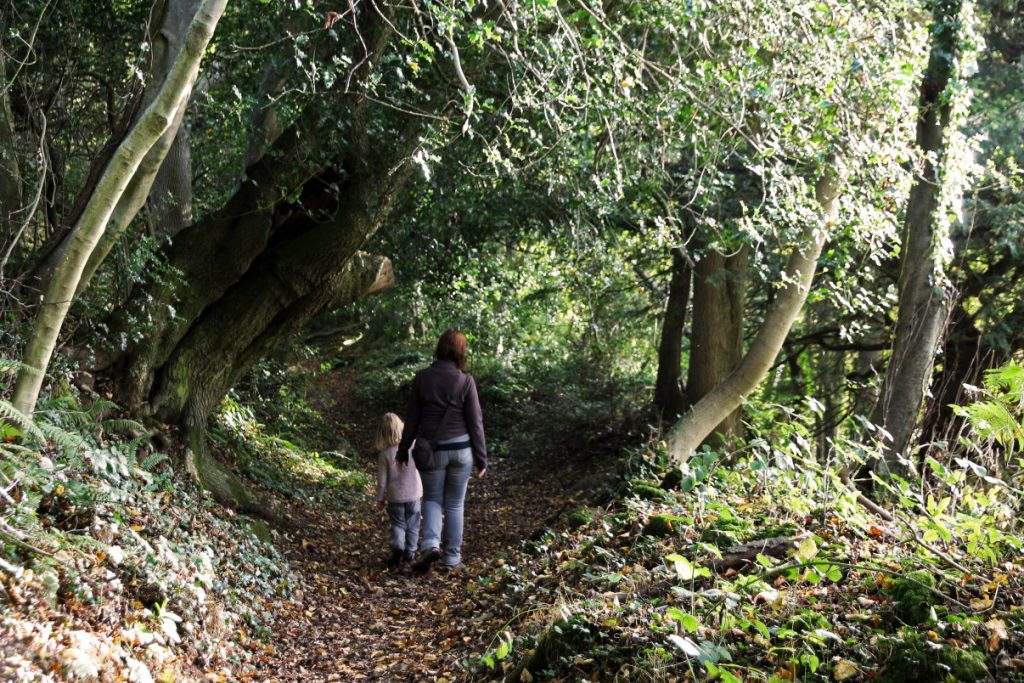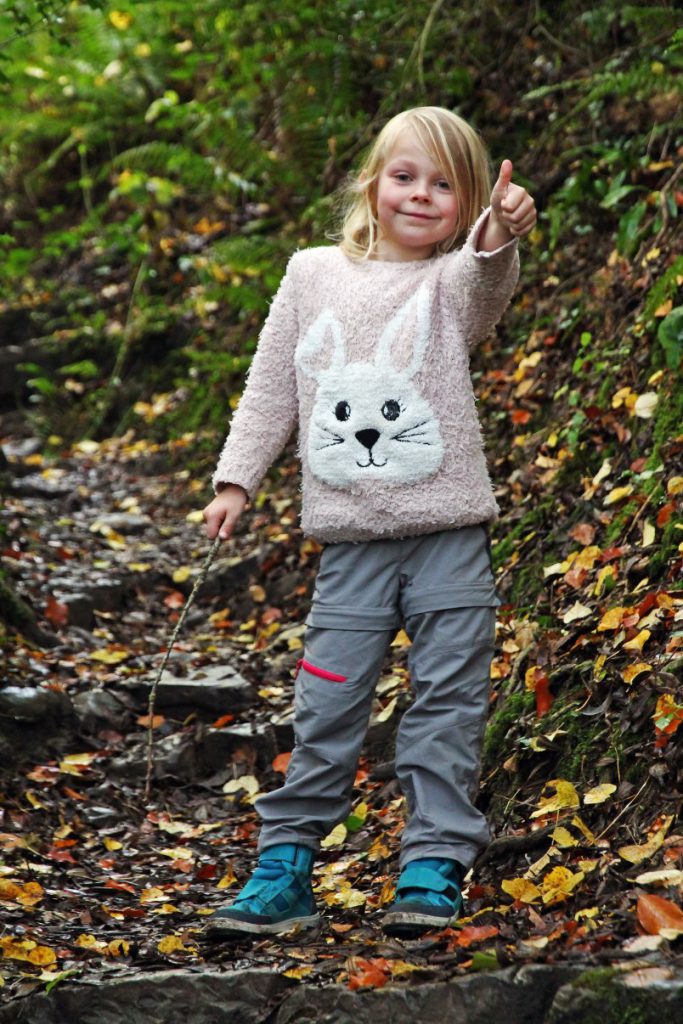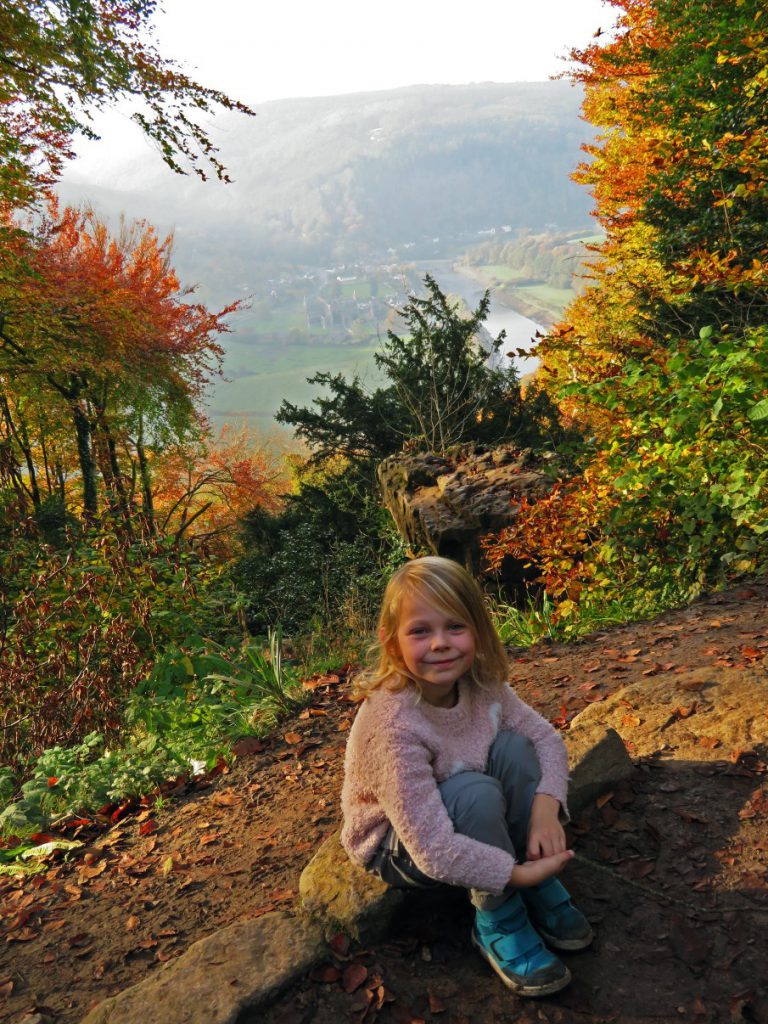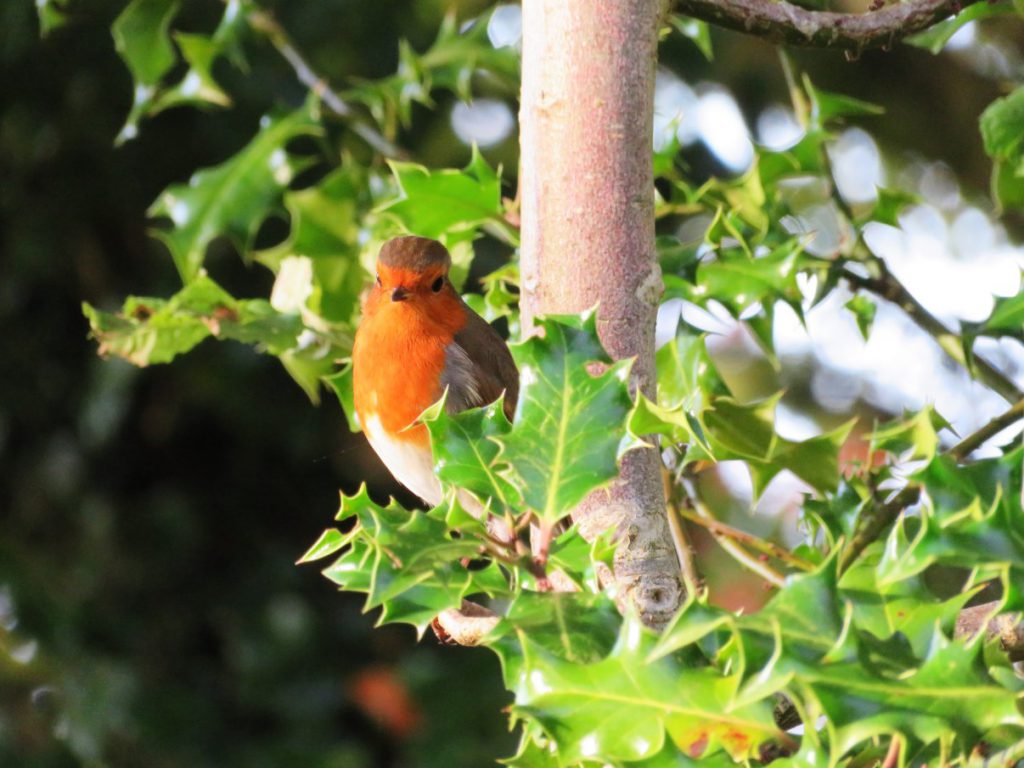 We stayed at the remote Beeches Farm Campsite, which has a very spacious meadow to put your tent on (and we had it all to ourselves), a huge colony of rather noisy geese (although they are not living too close to the campsite) and which should also offer superb views over the valley. Unfortunately, it was very foggy when we arrived and still very foggy when we left again the next morning, so we saw nothing…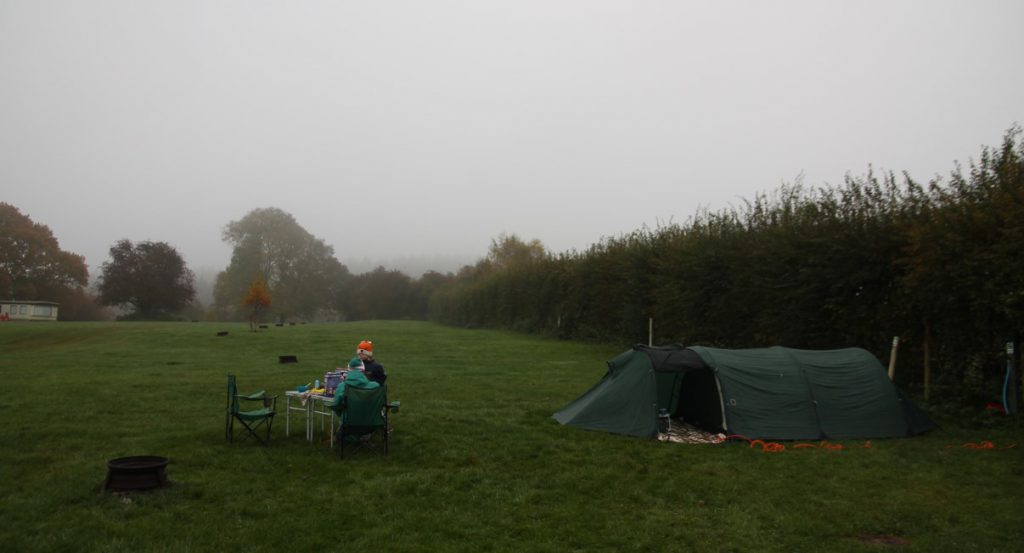 The next day, we headed to the Brecon Beacons NP. Our campsite, the very quiet Aberbran Fach Farm, was conveniently located close to the city of Brecon. Coincidentally, there was a small fair in town. All those bright lights and loud noises seemed so unreal to us after a few days of peaceful camping, but I think Febe really needed this contrast. She is a big fan of camping and "adventurous walking", but a child sometimes needs some variation in activities…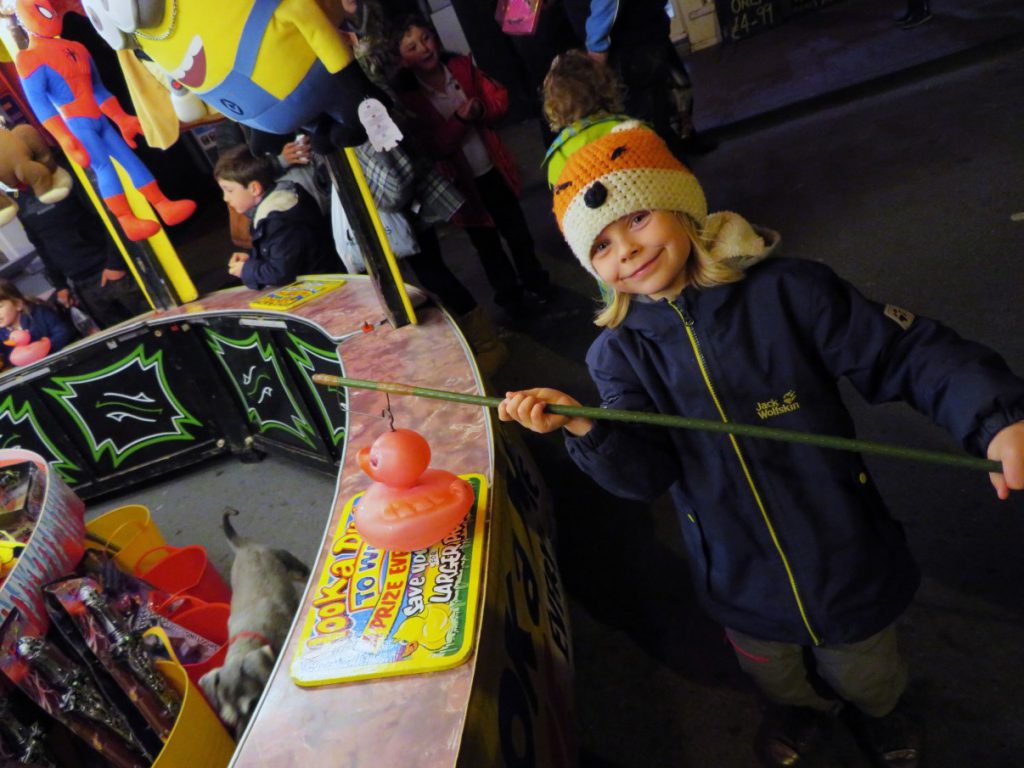 Pontneddfechan, a town near the southern edge of the national park, is thé place to be for elaborate forest walks and waterfall-spotting adventures. You can find more information about walking routes here. We followed two trails:
The Elidir Trail starts at the former Waterfalls Centre in Pontneddfechan and follows the Nedd Fechan river until it reaches a bridge called Pont Melin-Fach. There is an excellent audio guide with information on the history and geology of certain points along the first part of the trail, up to the confluence with the river Pyrrdin. You can download it here. Only a short (5 minutes) walk up the Pyrrdin river takes you to the 6m-high "Lady Falls" or Sgwd Gwladus. Personally, I think it's one of the most beautiful waterfalls on the trail.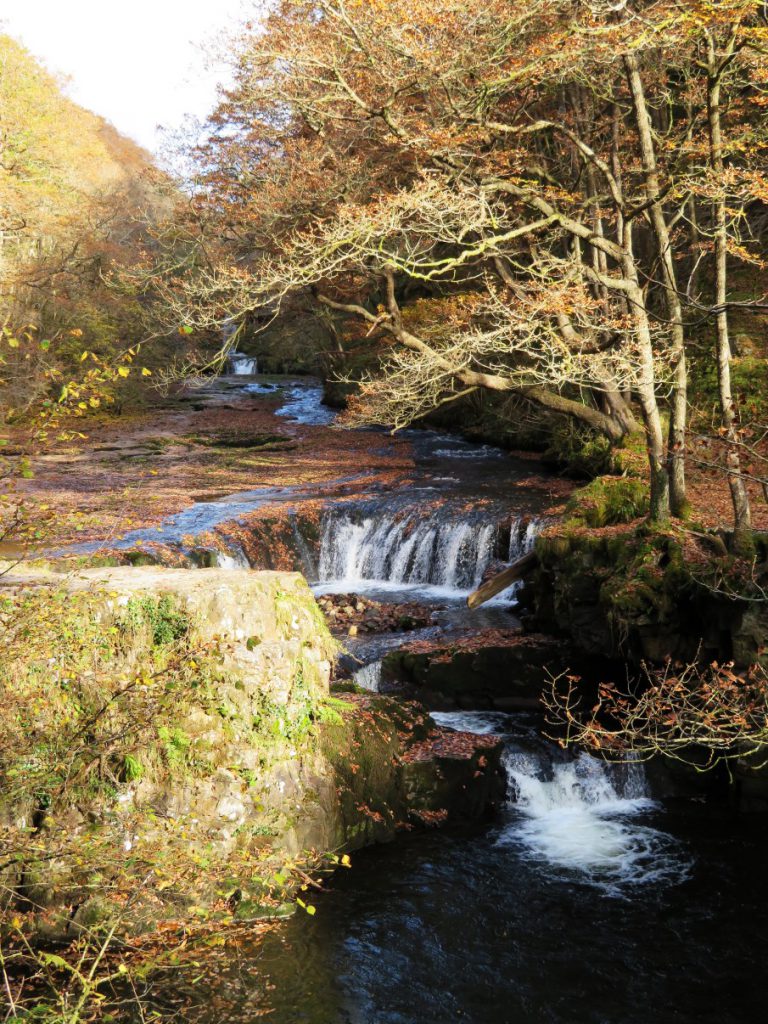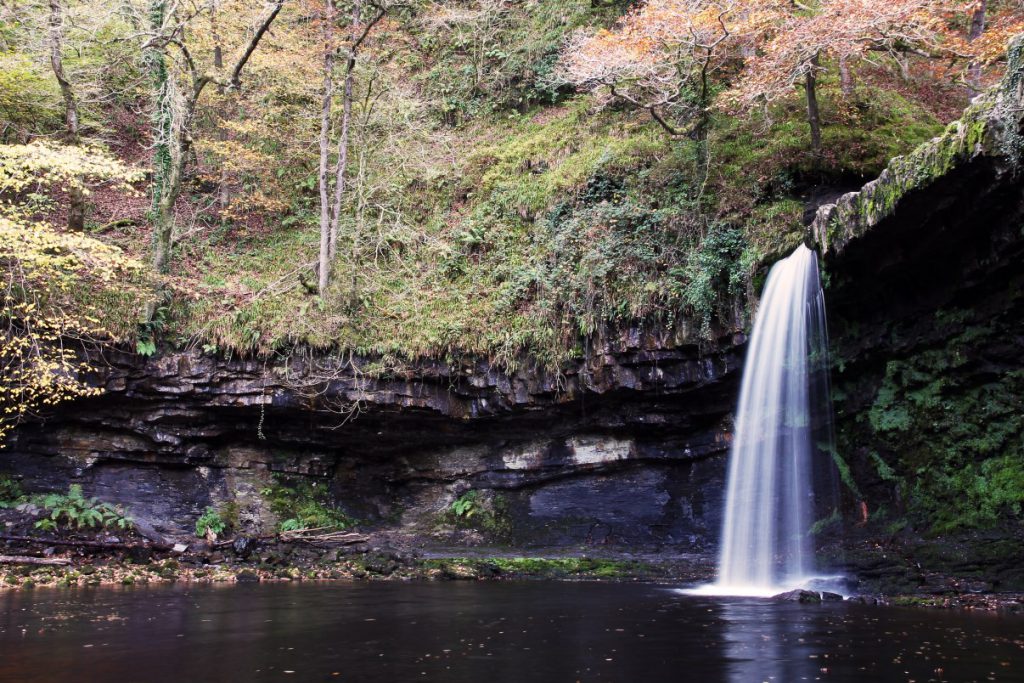 The path is very easy between Pontneddfechan and the confluence, but becomes a bit steeper after that point. It's still not very complicated (Febe walked it all the way up) and it's certainly worth the effort because there is a lot to see. You pass two waterfalls until you finally reach the splendid Sgwd Ddwli Uchaf. We ate lunch here and turned back afterwards, not continuing to Pont Melin-Fach. The whole trip took us around 3 hours there and back. Please bear in mind we had a 6-year-old with us 😉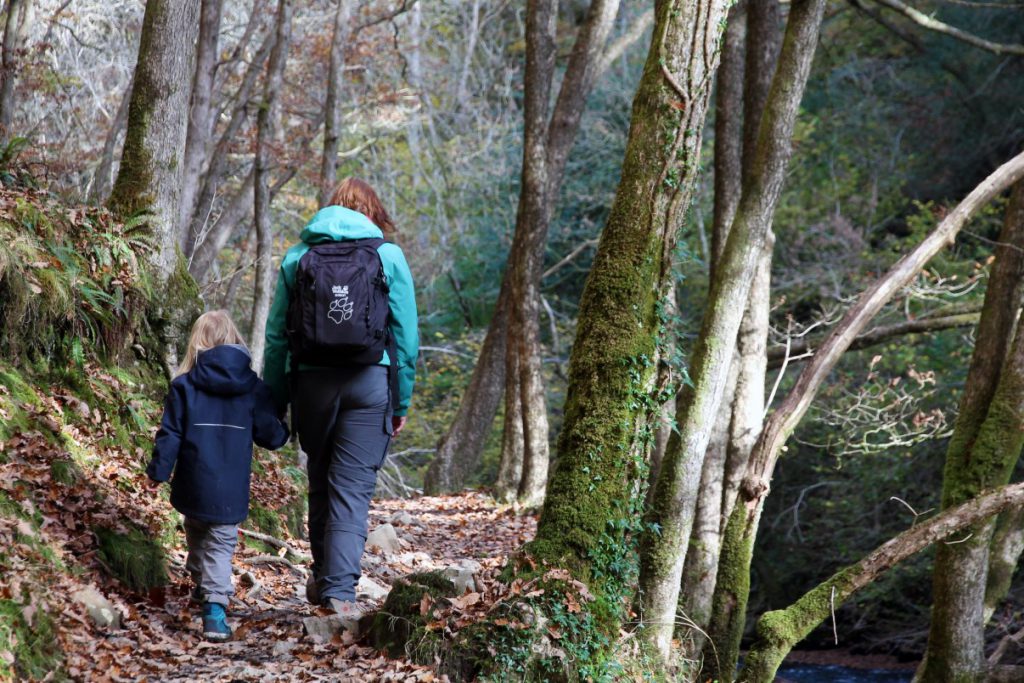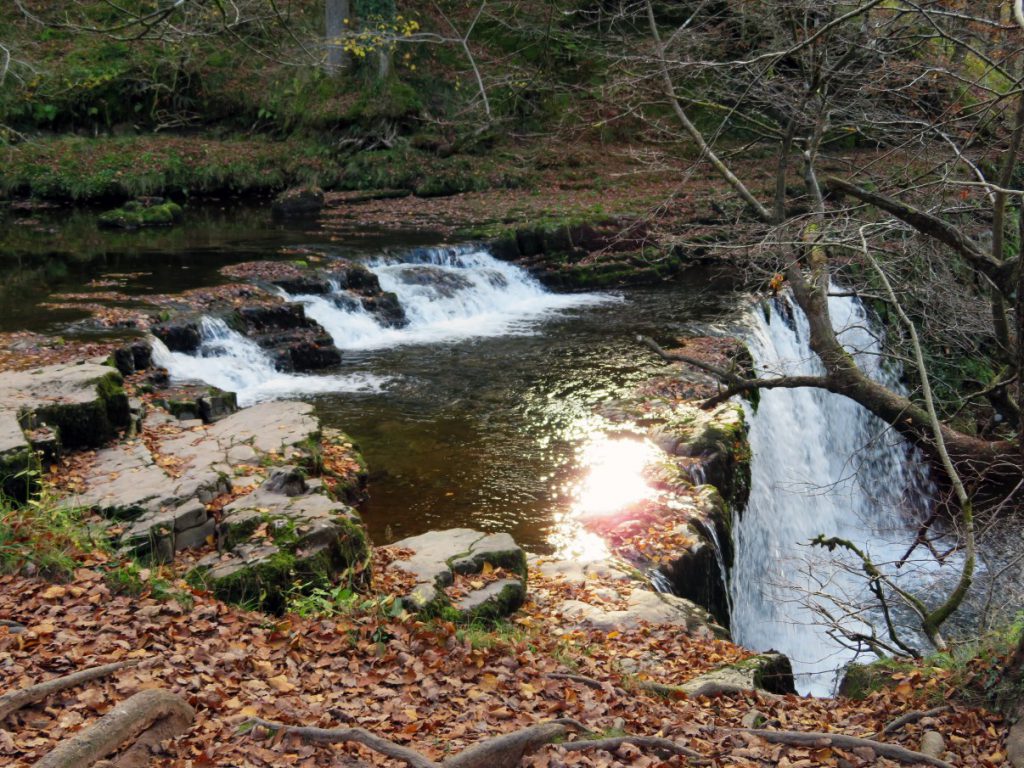 From the (free) Ystradfellte parking area near Clyngwyn, north of Pontneddfechan, we walked part of the Four Falls Trail up to Sgwd yr Eira or the "Falls of Snow". It's famous because it is possible to walk behind the curtain of water of this waterfall. Although this certainly seems like a thrilling endeavour, I didn't go all the way underneath the waterfall because the rocks were very slippery there. It just seemed very dangerous to me, so I would advise against it. It took us around 2h to reach the waterfall, take a few photos and get back to our car again. The walk is quite an exhausting challenge, especially because you have to descend (and ascend afterwards) around 150-200 steep stony steps in order to reach Sgwd yr Eira. However, I would really recommend it to everyone, because it is a fairytale-like spot…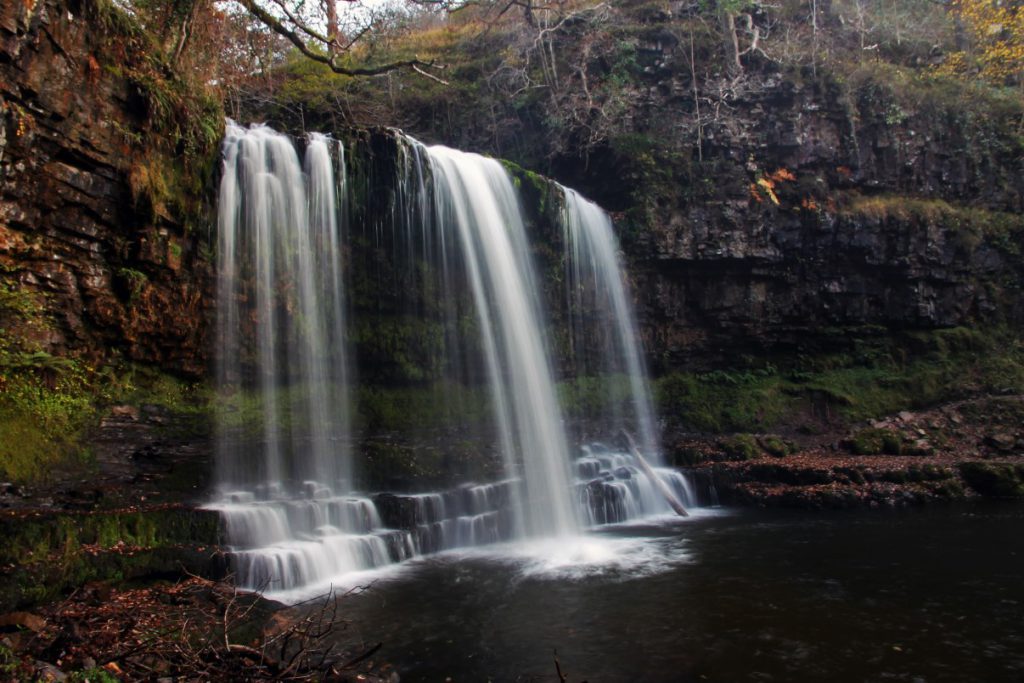 Another highlight in the Brecon Beacons is the Carreg Cennen castle. This weather-beaten ruin can be found in the western part of the National Park. Constructed high up a rocky hilltop in the 13th century, the heavily fortified castle was built to be easily defended against any kind of attack or siege. It was nevertheless demolished during the Wars of the Roses in the 15th century. When seen from below, the heavily damaged walls look dark and grim but the castle's position on top of a limestone crag is so spectacular you can't help but stand in awe of this medieval masterpiece.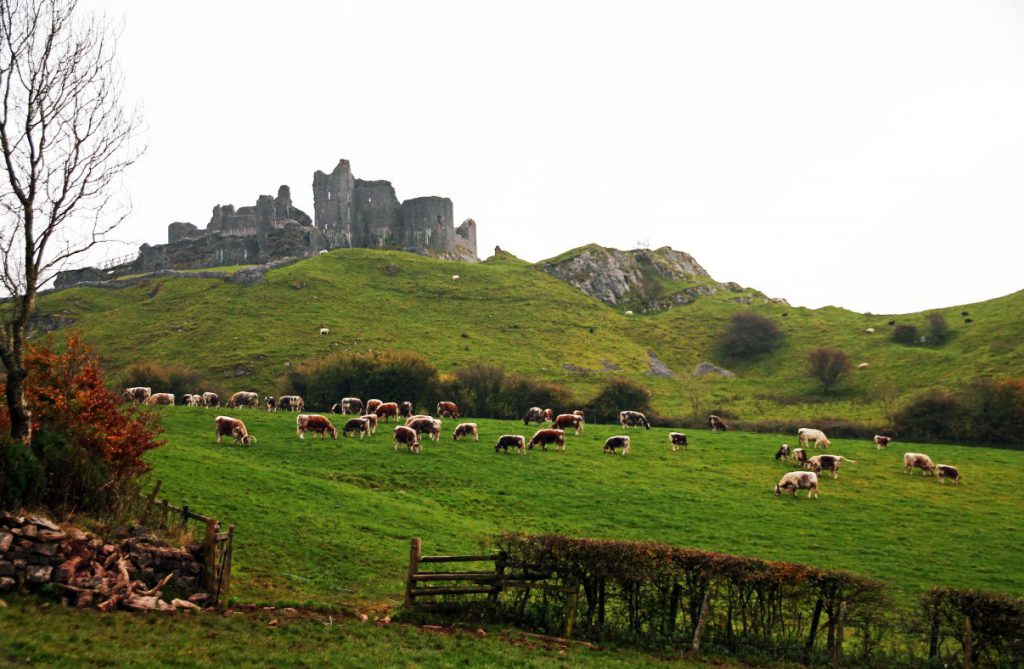 We chose not to climb all the way up to the castle but settled for a short walk around it, which was certainly a pleasant alternative. There are a number of walking options around Carreg Cennen, which you can consult here.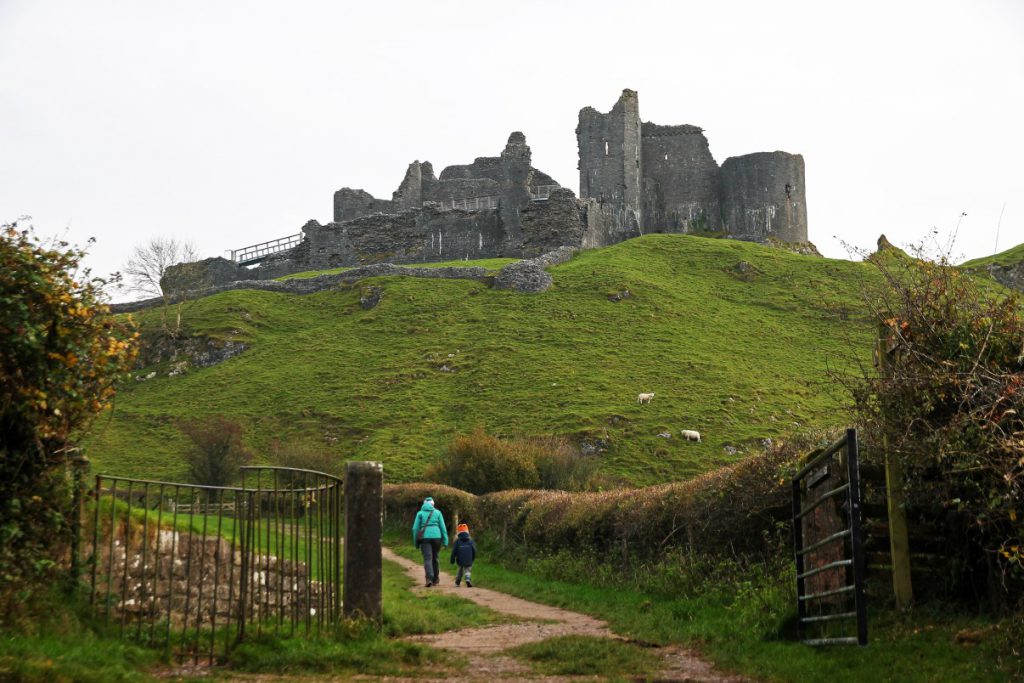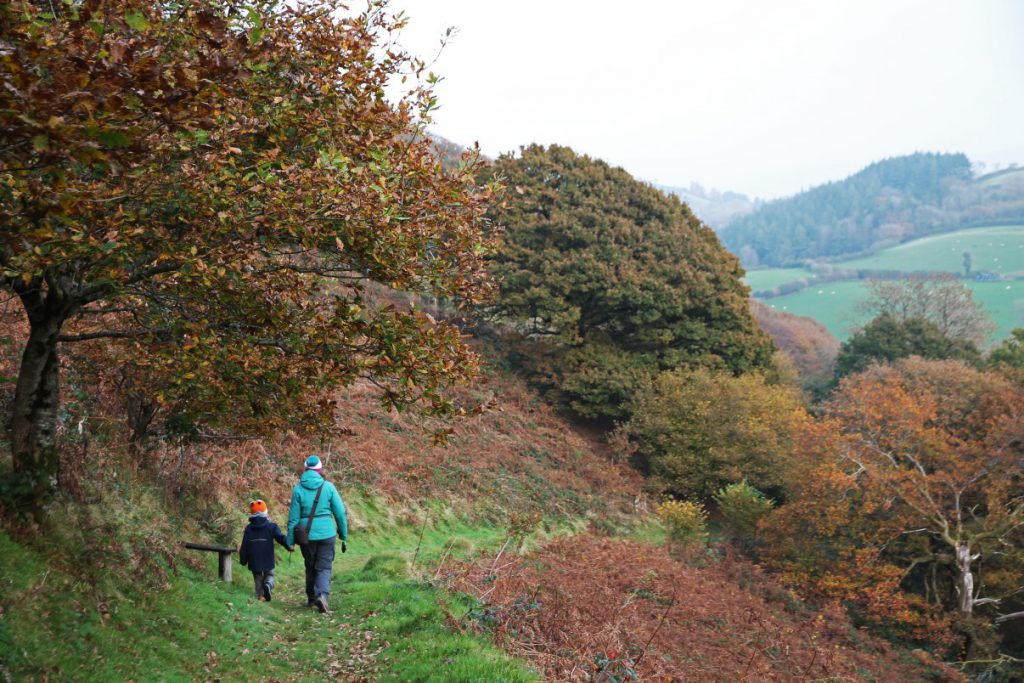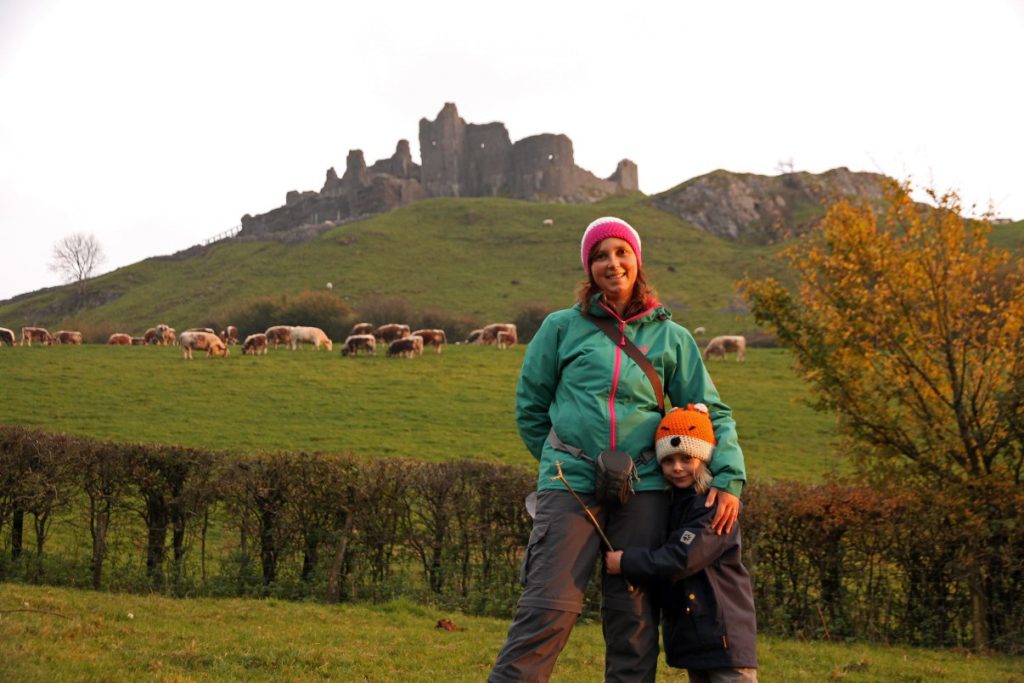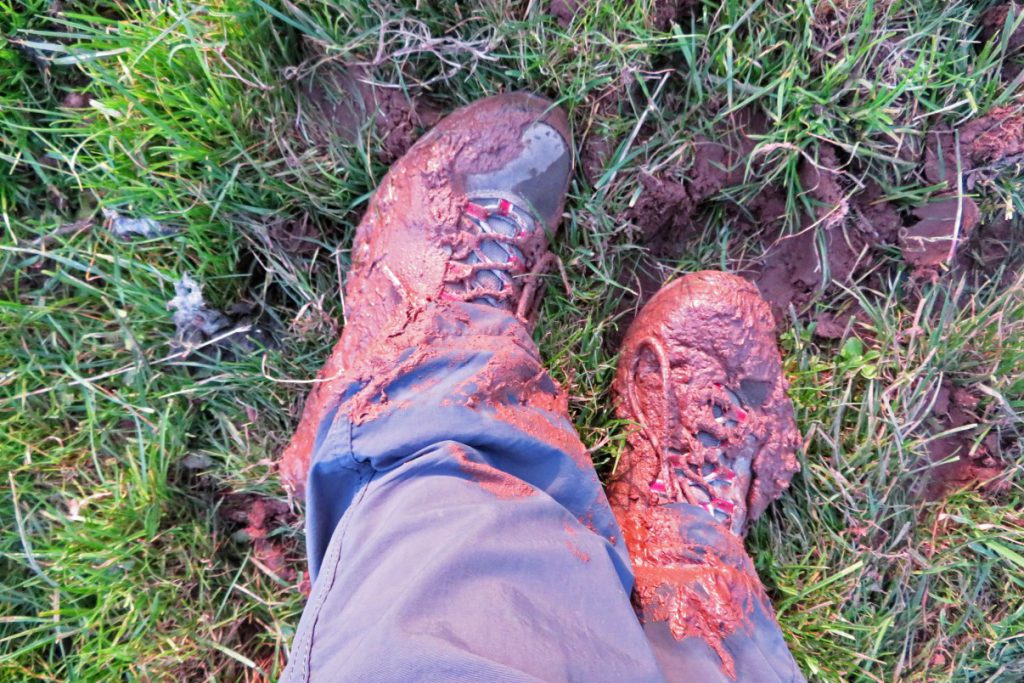 If you are getting hungry and you would fancy a first-class, gourmet pub meal, we would definitely recommend The Felin Fach Griffin just north of Brecon city. This award-winning inn slash hotel was named Dining Pub of the Year for Wales for the 6th time in the last 7 years! With such an impressive record of achievements, you would maybe expect some cockiness among the owners. But not at The Felin Fach Griffin! On the contrary, they stay true to their philosophy "the simple things done well" , which means you get a splendid meal in a rustic, uncomplicated setting. Highly recommended!