Rice. Those of you who have ever traveled through Bali, know very well how important this plant and its seeds are in the local cuisine, religion and culture of this island. The cultivation, production, practical utilisation and consumption of rice has been deeply rooted in everyday life in Bali for more than 2000 years. Rice is a popular and even essential ingredient of Balinese cooking. It is used as a side dish with almost every meal, so if you're (un)lucky, you can have it as breakfast, lunch ànd dinner.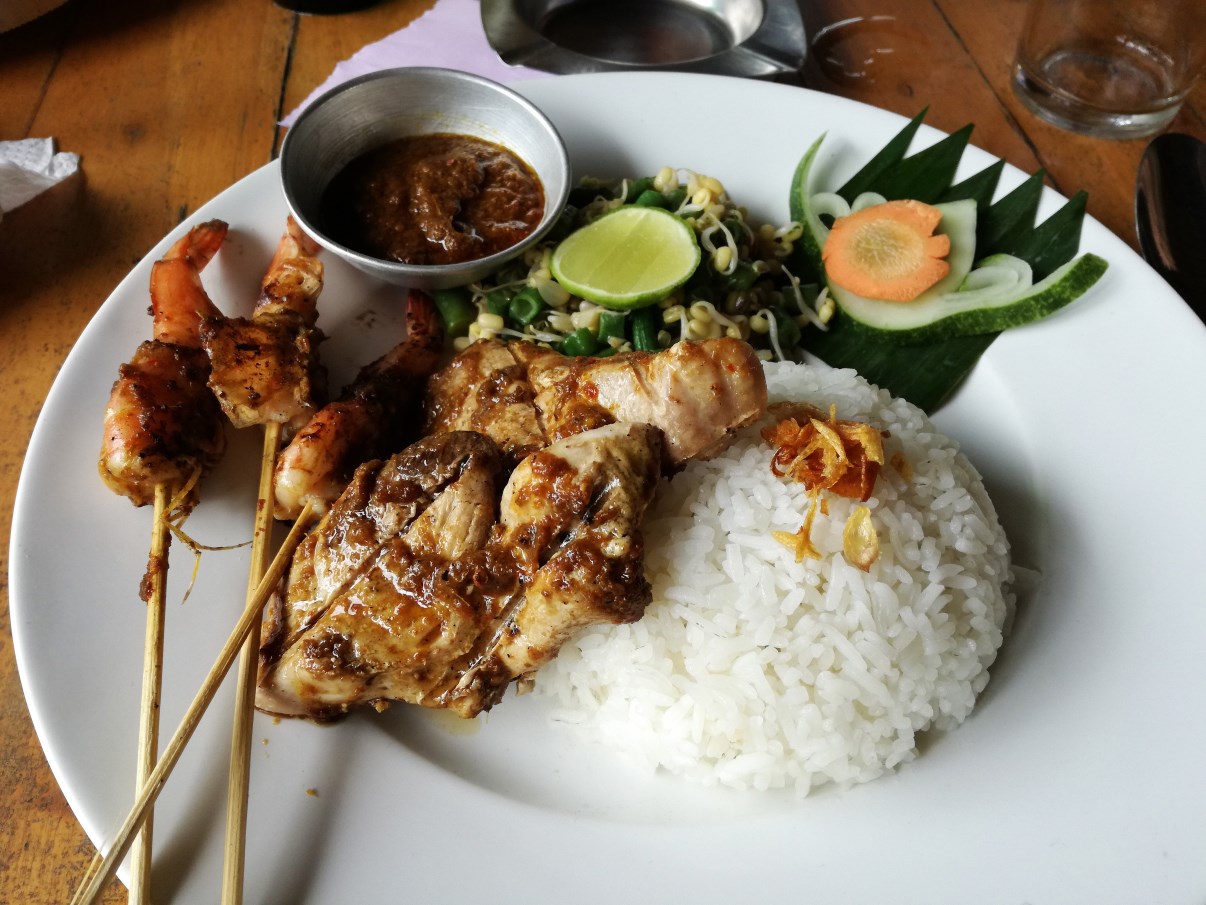 Rice is a starch-rich staple food that is the primary food source in many regions of the world, but to the Balinese people it is much more than a source of food and life. It's a soul food, a gift from the Gods, an essential component of Balinese religion (i.e. Hinduism) and an integral part of Balinese culture. Rice is used in all kinds of rituals, ceremonies and offerings. The Balinese put a lot of effort in the preparation of offerings for their deities, and rice is always included. After prayer, a few grains are also applied to the forehead to concentrate the energy of the chakra between the eyebrows.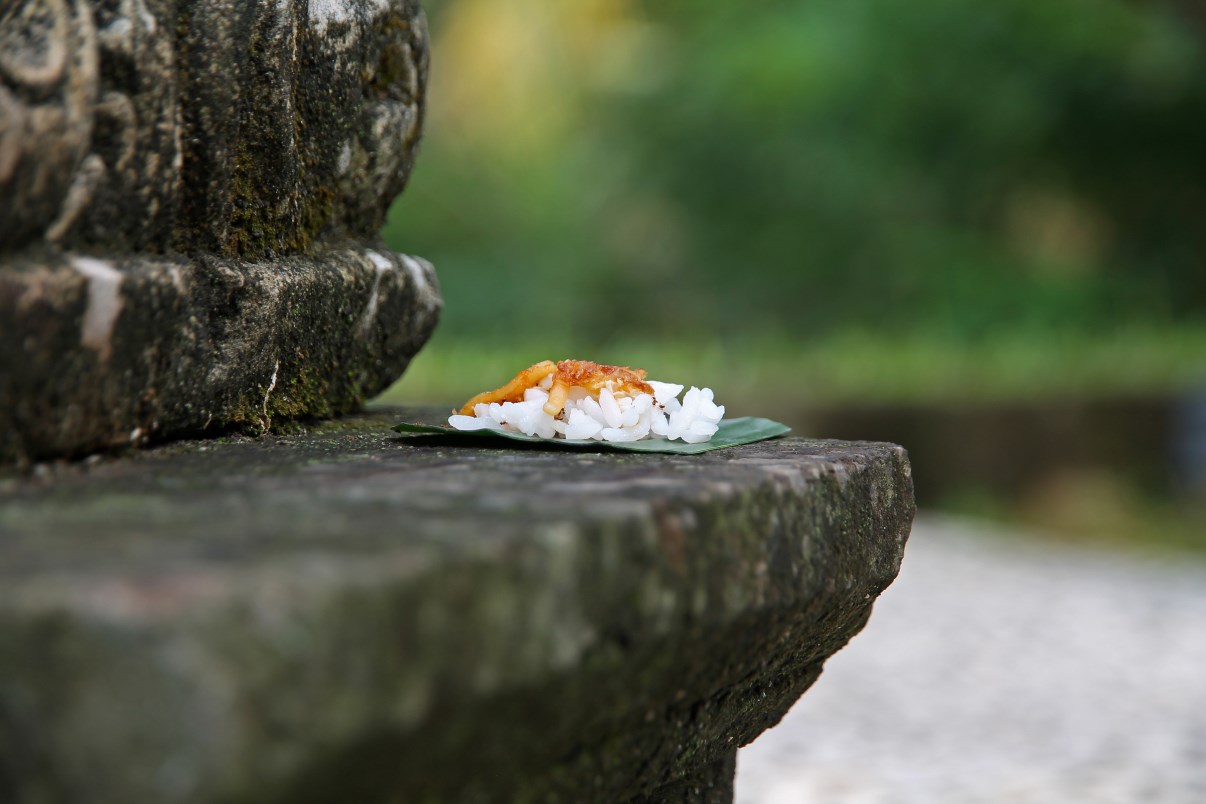 In Bali, rice is cultivated year-round on terraced rice paddy fields, which shape the landscape into something truly unique and stunningly beautiful. Rice farming units are still small-scale cooperations here, where farmers work together to maintain and care for the rice in elaborately engineered and irrigated rice fields. The ecologically sustainable, cooperative irrigation system for rice paddies in Bali, called Subak, is unique and the result of more than 1000 years of experience and tradition. Subak is an organization that has its origin in the 9th century; it's owned by the farmers and specifically regulates watering systems of rice fields in a traditional manner.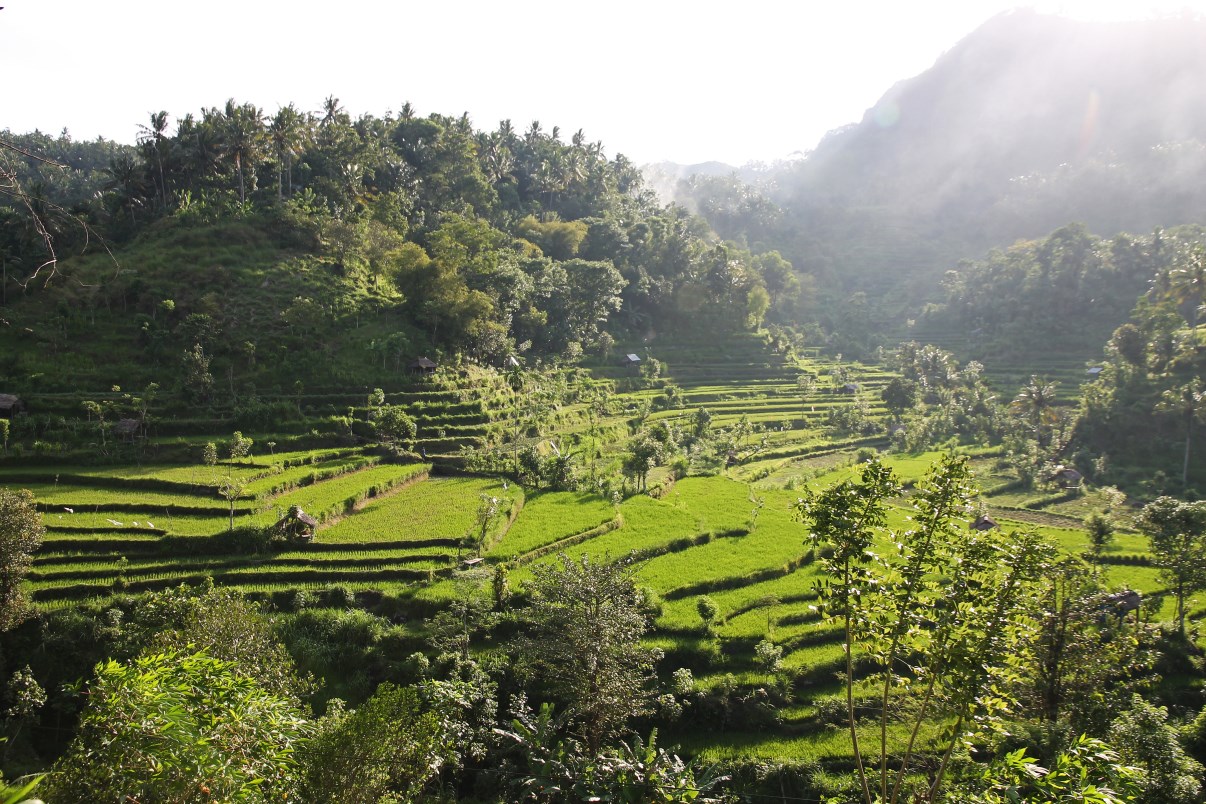 The Subak is also much more than an agricultural collaboration. It is seen as the glue between nature (providing rich soil and water), the Gods in their (water) temples (who are believed to deliver the rice), and Balinese society itself. As a result, Subak promotes a harmonious relationship between people and their environment. In this sense, Subak is a expression of the Balinese Tri Hita Karana philosophy, which promotes harmony between humans, the environment and the Gods. According to Tri Hita Karana, the harmony among human beings can be achieved through communal cooperation, in this case through rice farming.
It is clear that the cultural landscape of Bali is strongly influenced by Subak, which was granted World Heritage status by UNESCO in 2012:
Cultural Landscape of Bali Province (UNESCO World Heritage Site no. 1194)
The entire property consists of five rice terraces and their water temples and covers a whopping 19,500 ha. There's so much to discover in Bali and we were there for only 2 weeks, so we had to make a selection. All sites can easily be reached from Ubud by car, but you need at least 2-3 days to visit them all.  
The temples.
The Pura Tirta Empul temple complex is situated close to the village of Tampaksiring, to the north of Ubud. It is one of the oldest temples on the island. It was constructed in 962 AD around a holy mountain water spring ("Tirta Empul"), which is the source of the Pakerisan River. The Pakerisan Watershed is the oldest known irrigation system in Bali.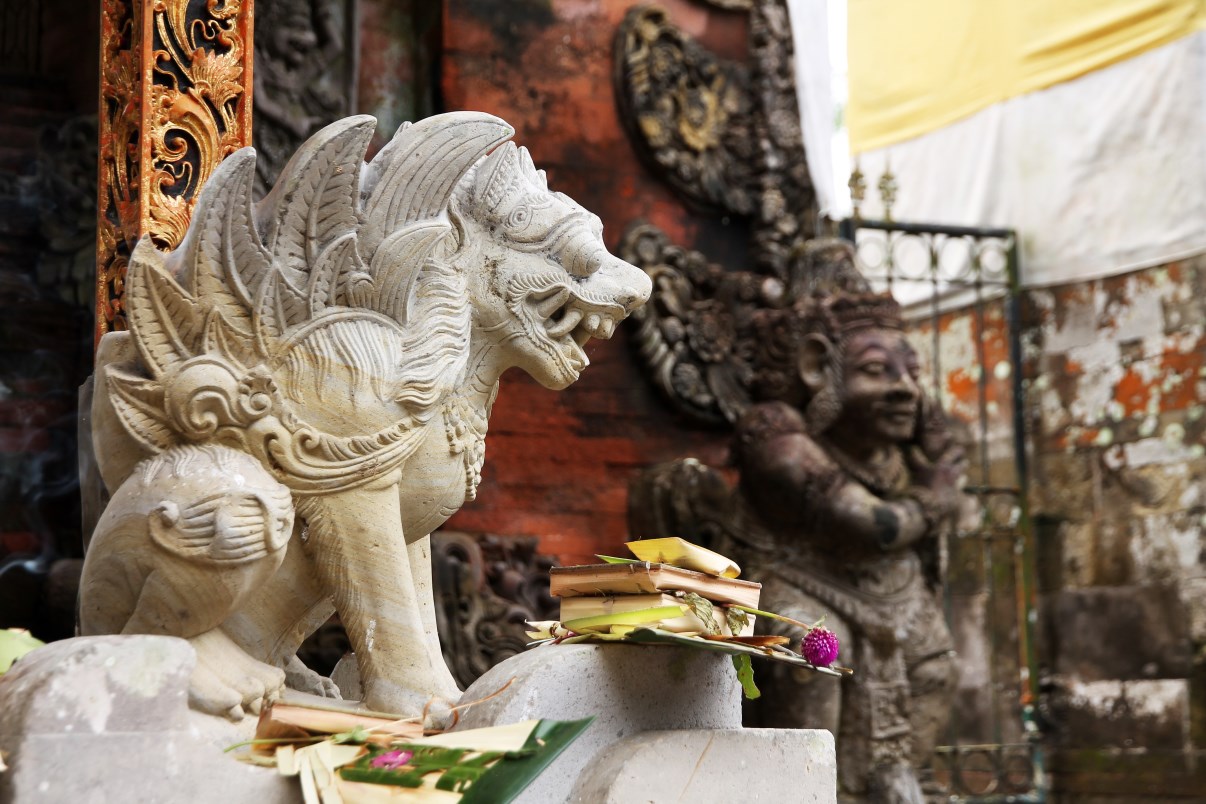 According to a local legend, the Tirta Empul Temple was built by the god Indra to heal his army after it was poisoned by the Demon-King Mayadenawa. The holy water is used for purification rituals that are held in two cold-water bathing pools. The rectangular purification baths are ornamented with 13 elaborately sculpted spouts which deliver the holy spring water. After prayer, pilgrims enter the cold mountain water where they bow underneath the gushing water of each spout, except for the last two, which are meant for purification in funerary rites only. It is not forbidden for tourists to enter the water, although it is considered inappropriate, so we didn't do it.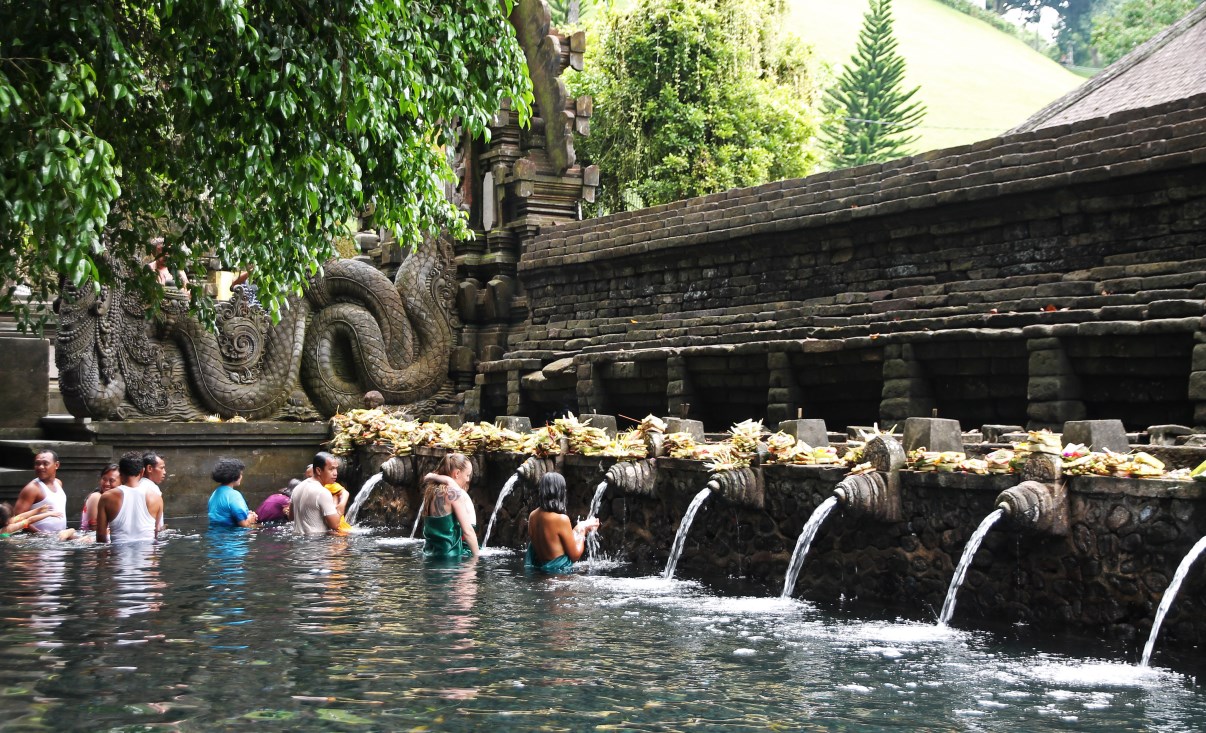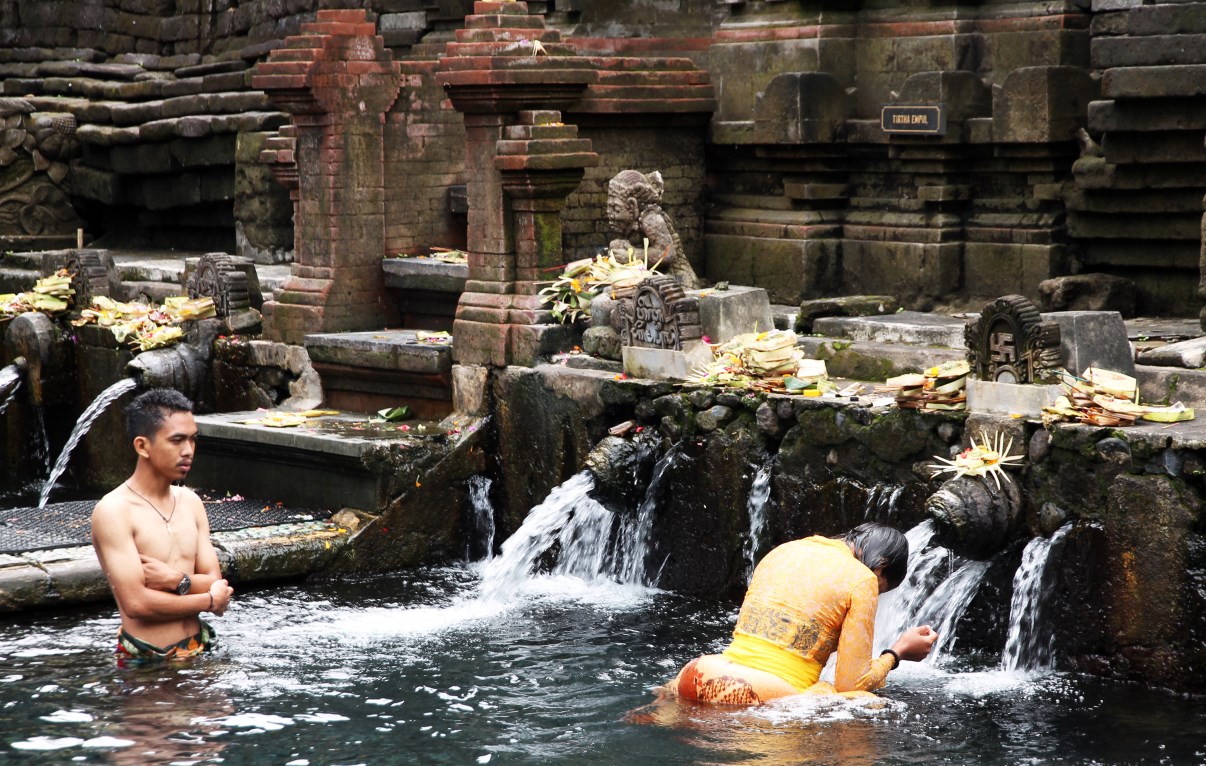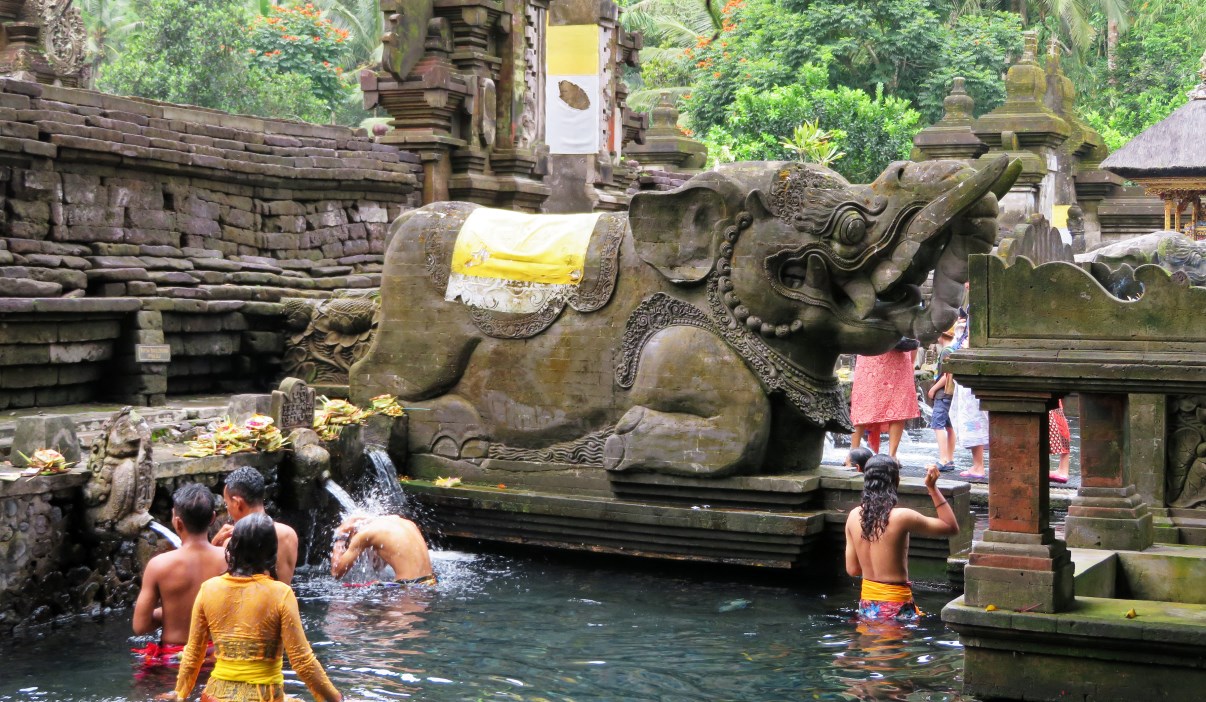 The inner courtyard is a silent place of prayer. Since we visited Pura Tirta Empul on Galungan, an important local day of celebration, the shrines were cheerfully decorated and elaborate offerings of fruit were deposited to please the Gods. This part of the temple was much more quiet than e.g. the purification baths, and there were almost no tourists here. We loved it though, because of the bright colours and the beautiful sculptures. The holy spring emanates in the inner courtyard, bubbling up in a crystal-clear pool that is considered the heart of the temple complex.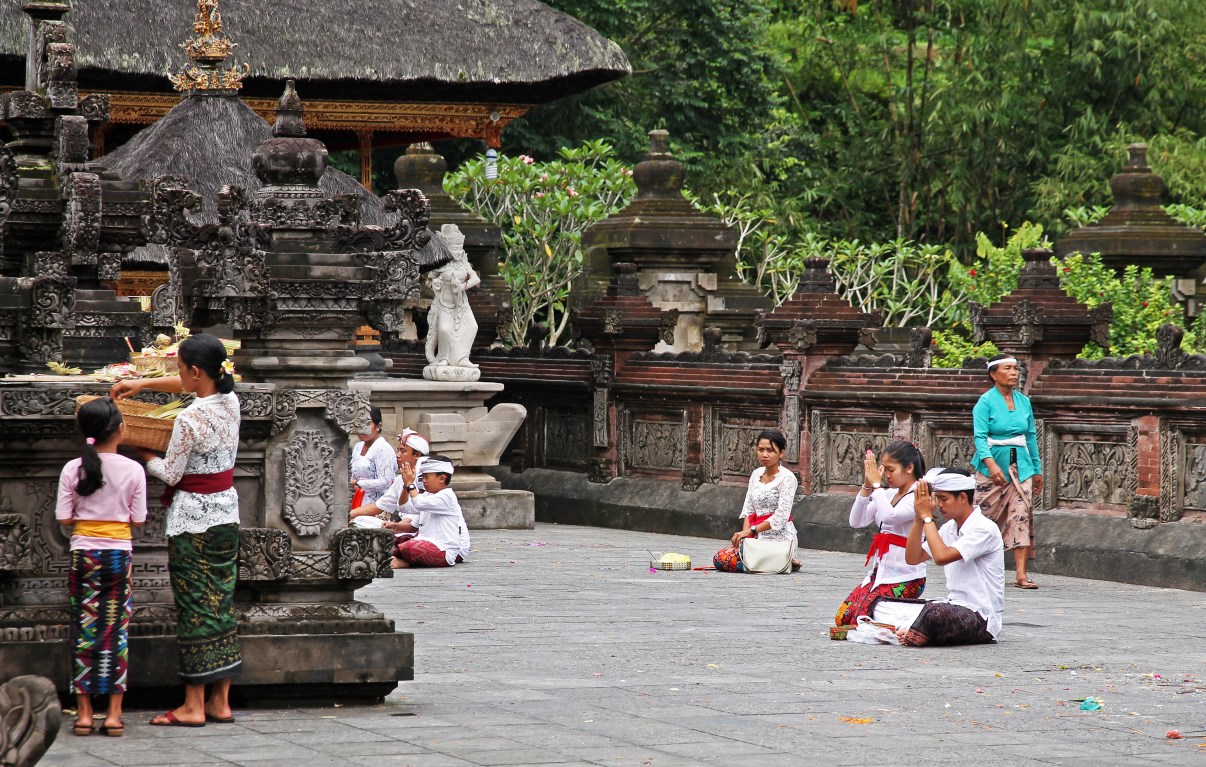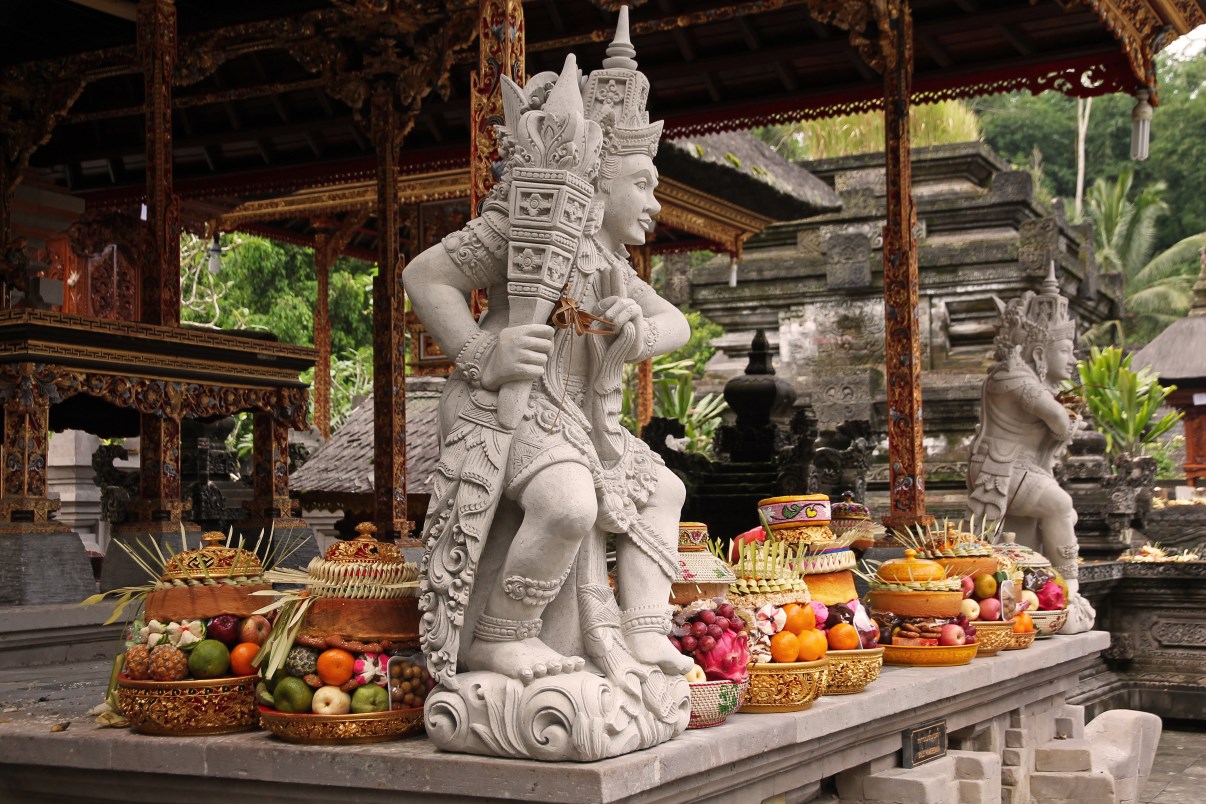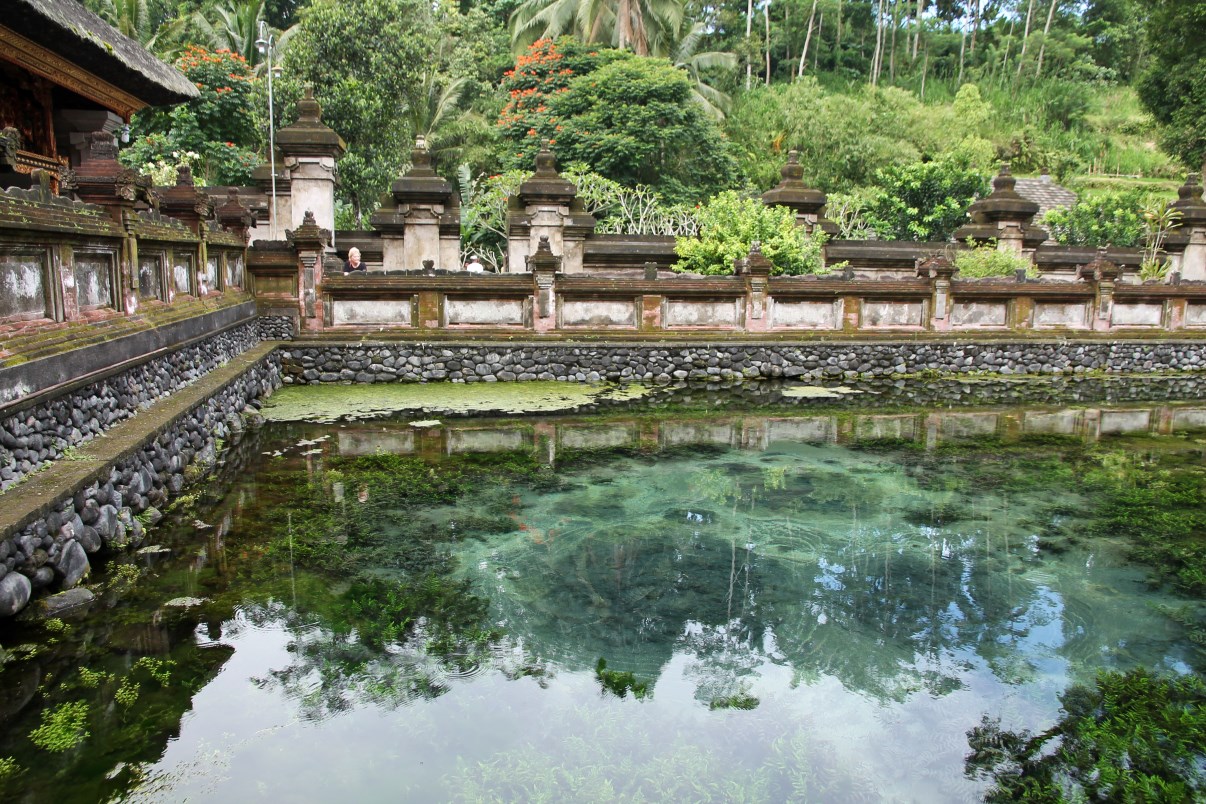 The holy water also fuels a large fish pond, full of Koi. We bought a small bag of fish food for Febe (which cost practically nothing), who loved to feed the giant fish.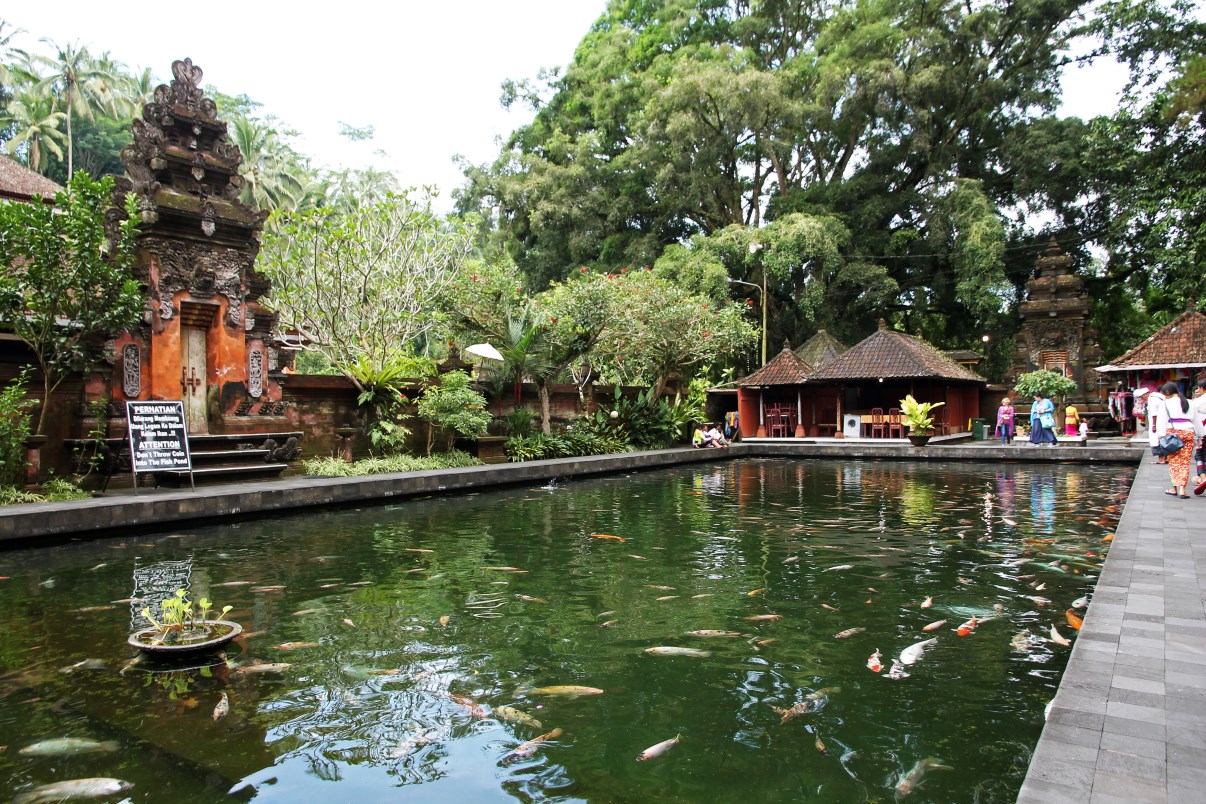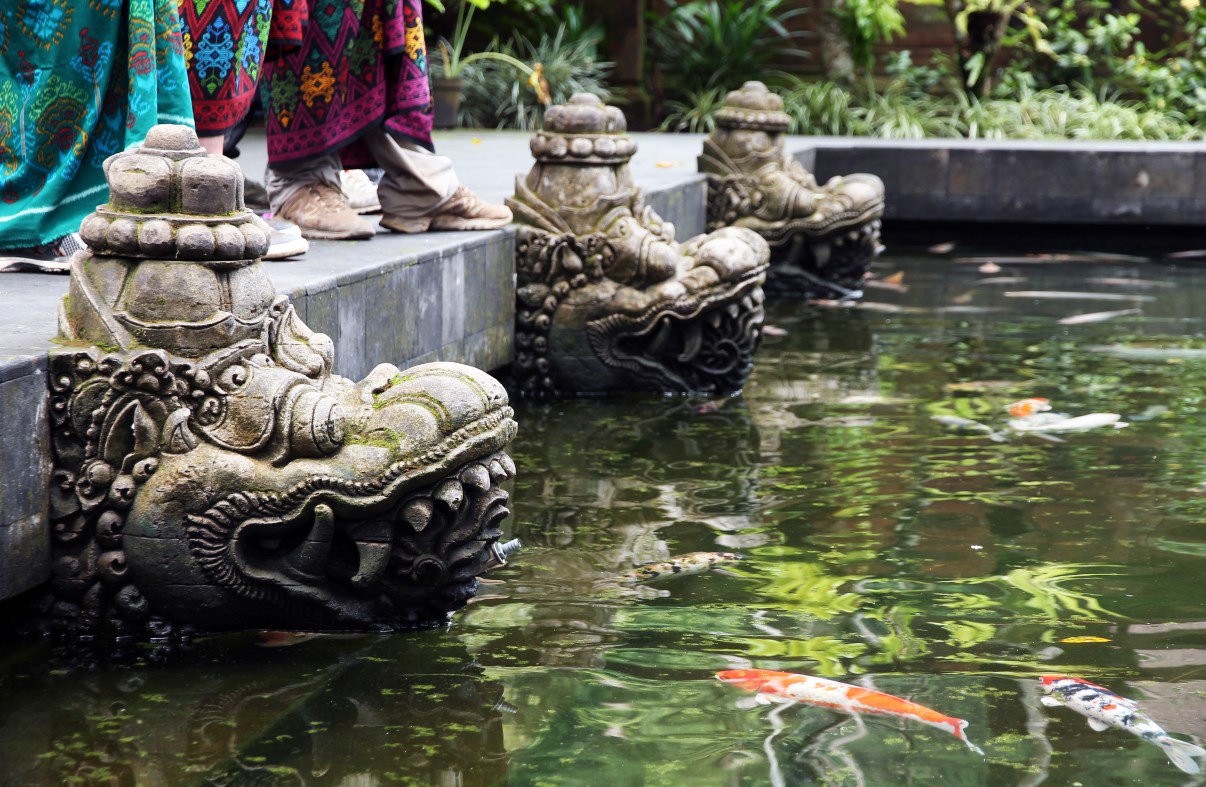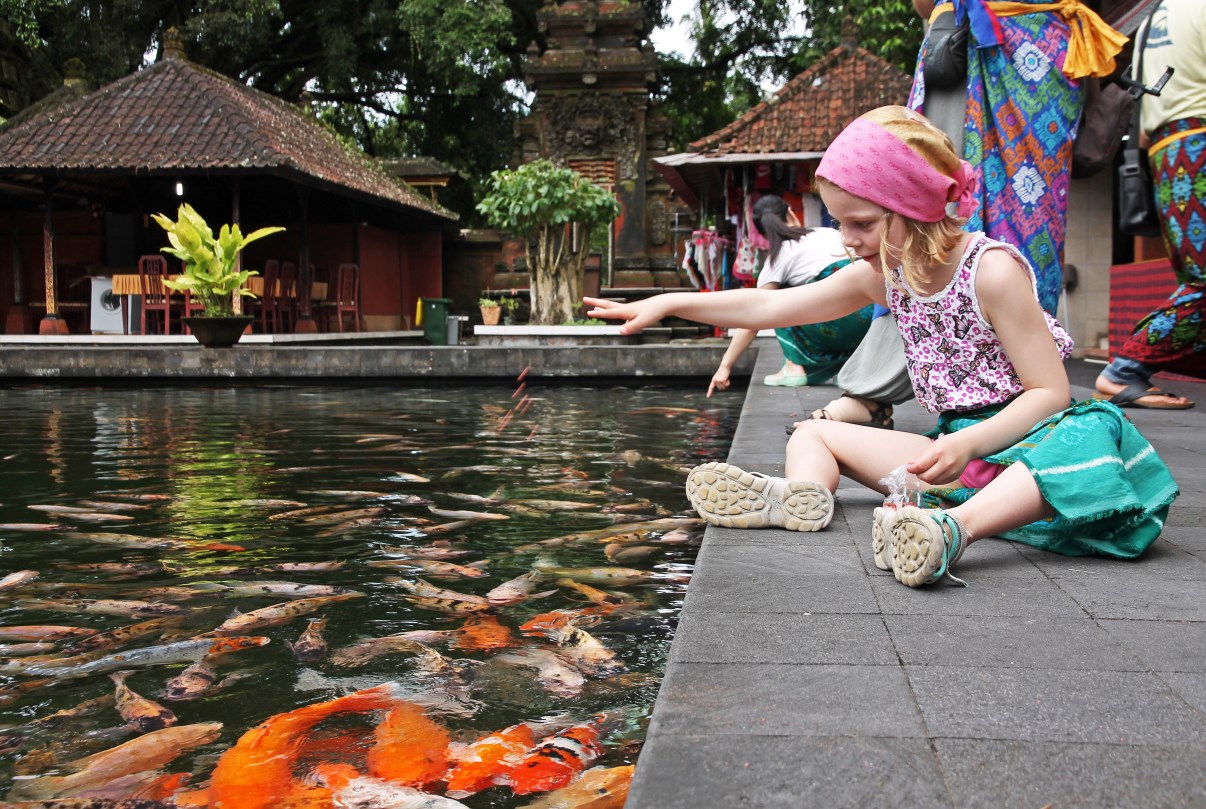 For those in need of resting their legs, there is a large, open-air pavillion near the temple's entrance.
Practical info:
– Entrance fee: IDR 15000 pp (IDR 7500 for children). A sarong is obligatory for adults.
– Opening hours: 9am-5pm
Only 5 min away from Pura Tirta Empul, the site of Gunung Kawi looks more like an archeological monument than a temple complex. Actually, it is both. The site is located deep down in the lush green valley of the Pakerisan River and can only be reached by descending a long, stone stairway (this site is definitely not accessible for wheelchairs or strollers!). Although the 300 or so steps might be a bit of a struggle, especially on the way up after your visit (and the damp heat in the valley doesn't really help with that), the surroundings make up for the hardship: terraced rice paddies and lush, tropical forest.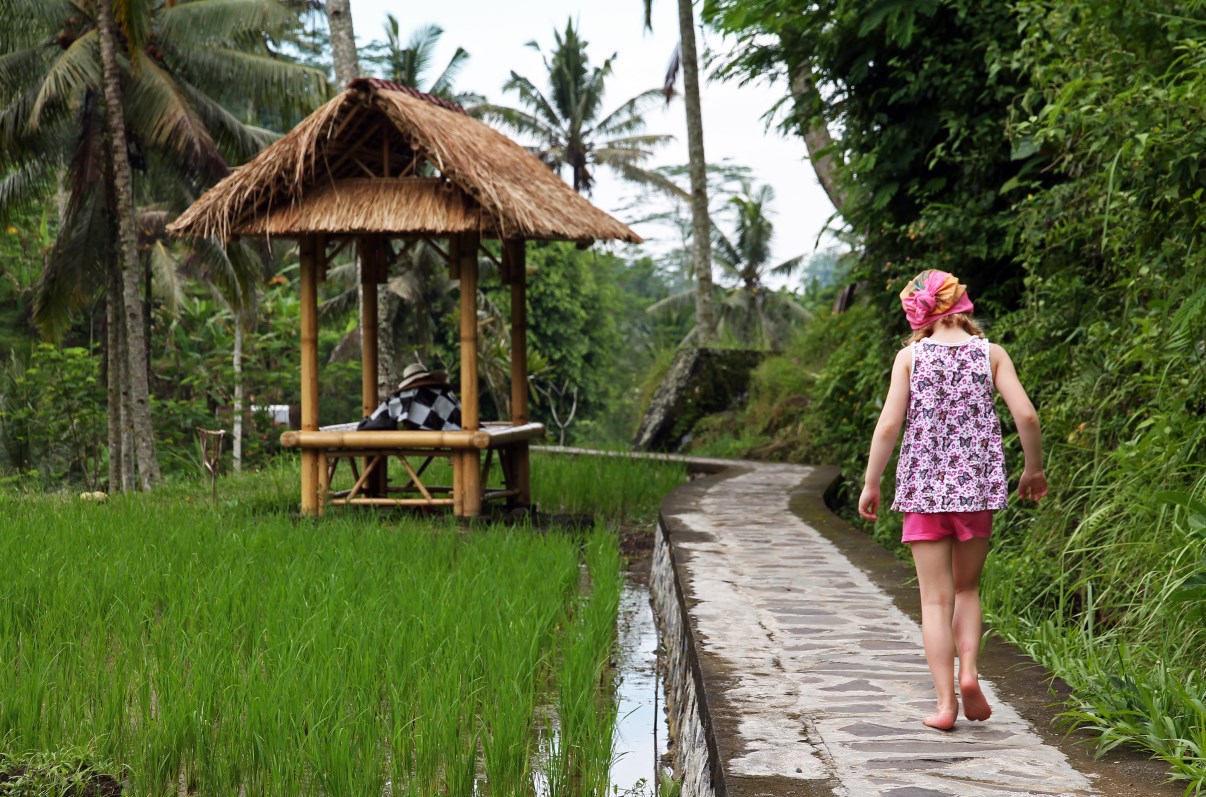 Once at the bottom of the valley, you enter a magical place dominated by two groups of impressive memorial shrines (candi) in 8m-high niches cut out of the rock face on both banks of the river. The actual purpose of these 10 candi is still a mystery, but they are believed to be constructed in the 11th century.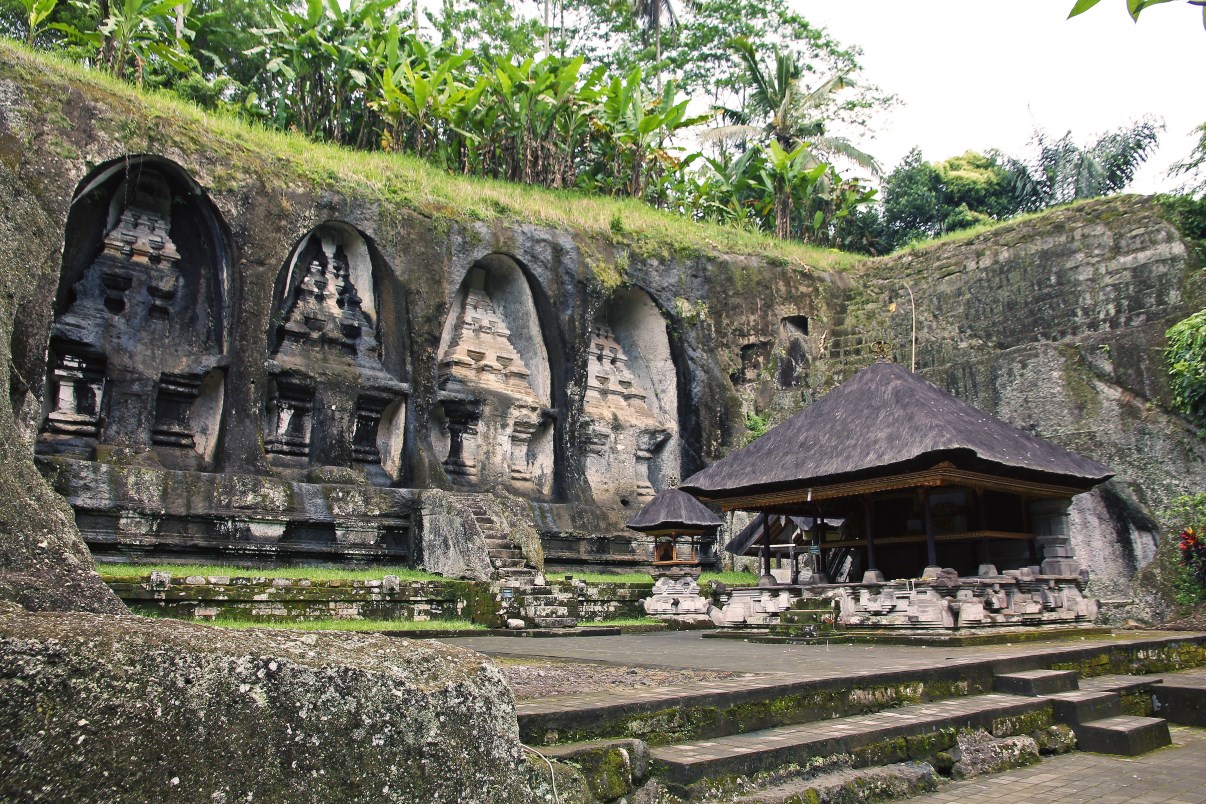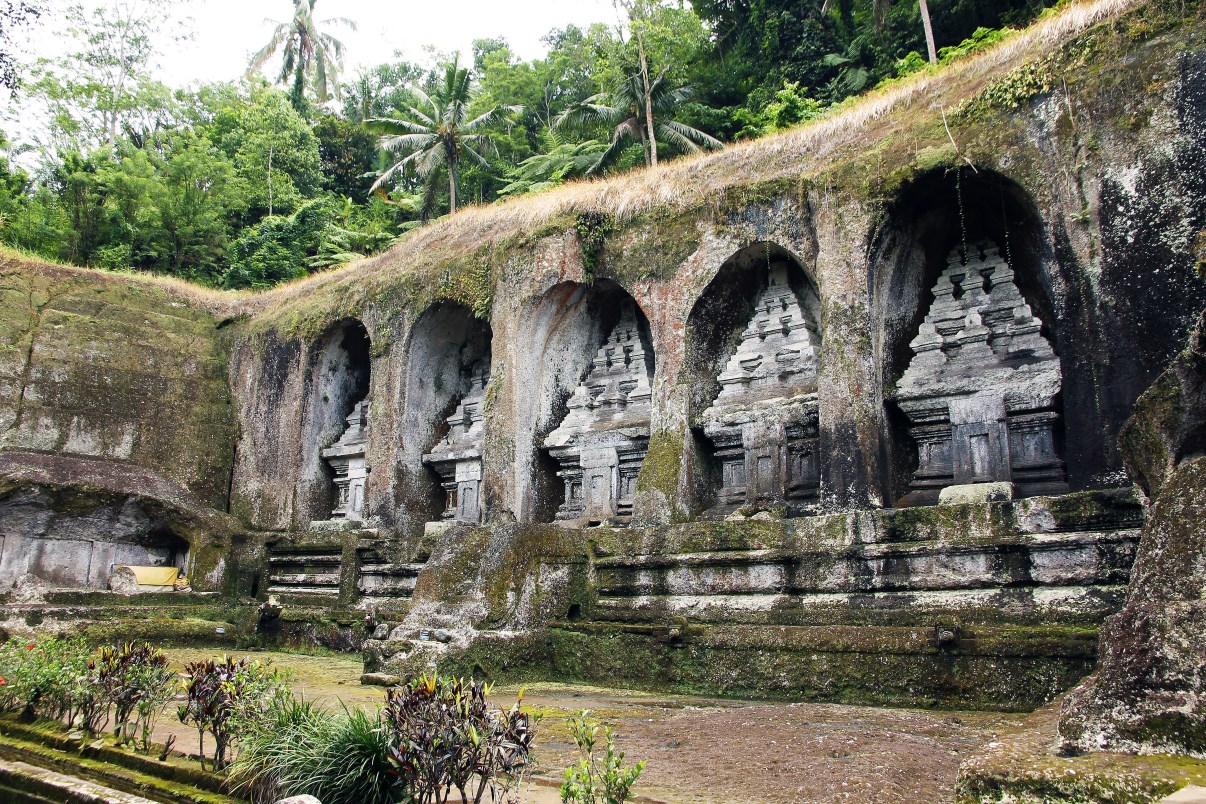 The temple complex itself is situated to the right of the 5 eastern shrines. It consists of a modern temple and a number of rock-hewn caves that are used for spiritual meditation by Buddhist monks. To us, this part of the site was the most mysterious and mystical.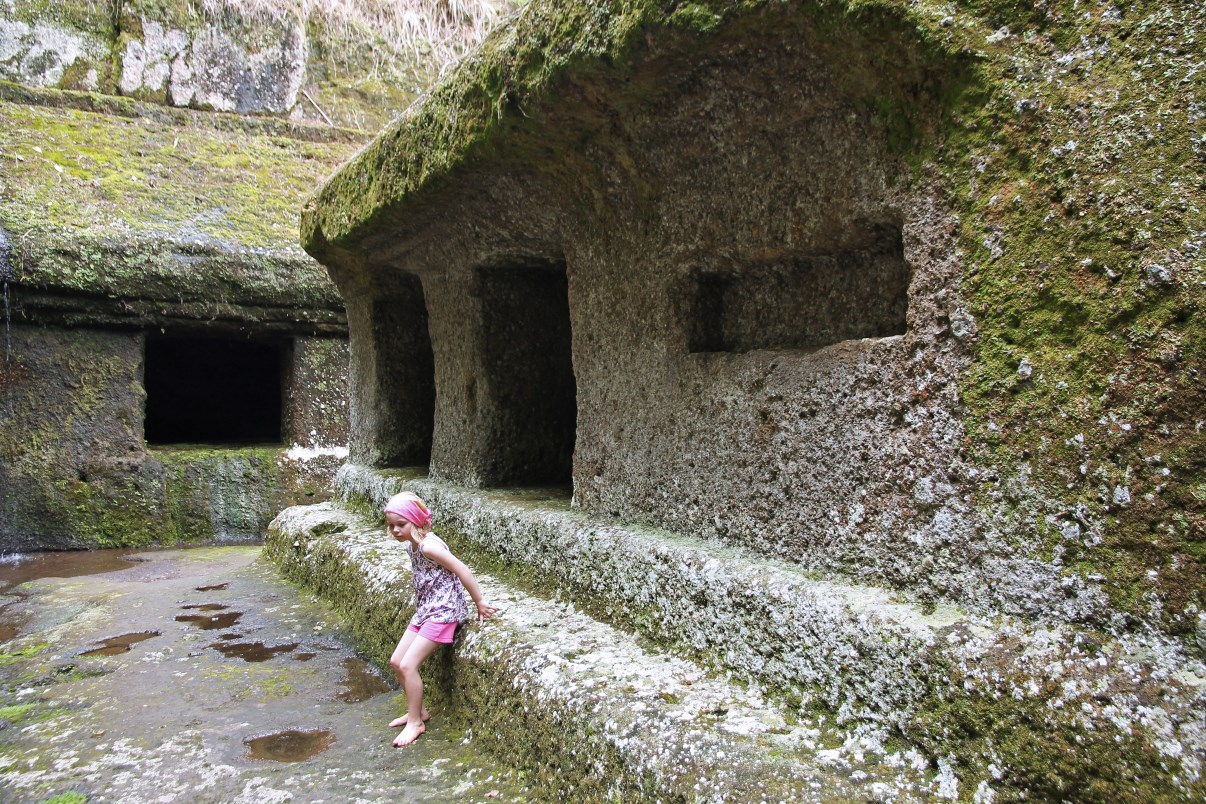 Practical info:
– Entrance fee: IDR 15000 pp (IDR 7500 for children). A sarong is obligatory for adults.
– Opening hours: 8am-6pm
The third temple we visited was Pura Taman Ayun, situated southwest of Ubud. Even though this temple has an obvious connection with Pura Tirta Empul and Gunung Kawi through their combined inscription as a UNESCO World Heritage site, it is not even remotely comparable. This is not a jungle temple, nor is it a place for purification rituals. This 18th-century royal water temple can only be described as a garden temple. The inner courtyard of the temple, which is off-limits for visitors, is isolated by a moat from the beautiful garden (this is also the literal translation of its name) that surrounds it. Both temple and garden are also surrounded by water, so you'll have to enter the complex via a bridge. Even though it is not allowed for tourists to enter the sacred centre of the temple, there is a paved footpath that takes you through the garden around it, which is a spacious place of serenity. The perfect spot for a relaxed stroll, ànd one with a view…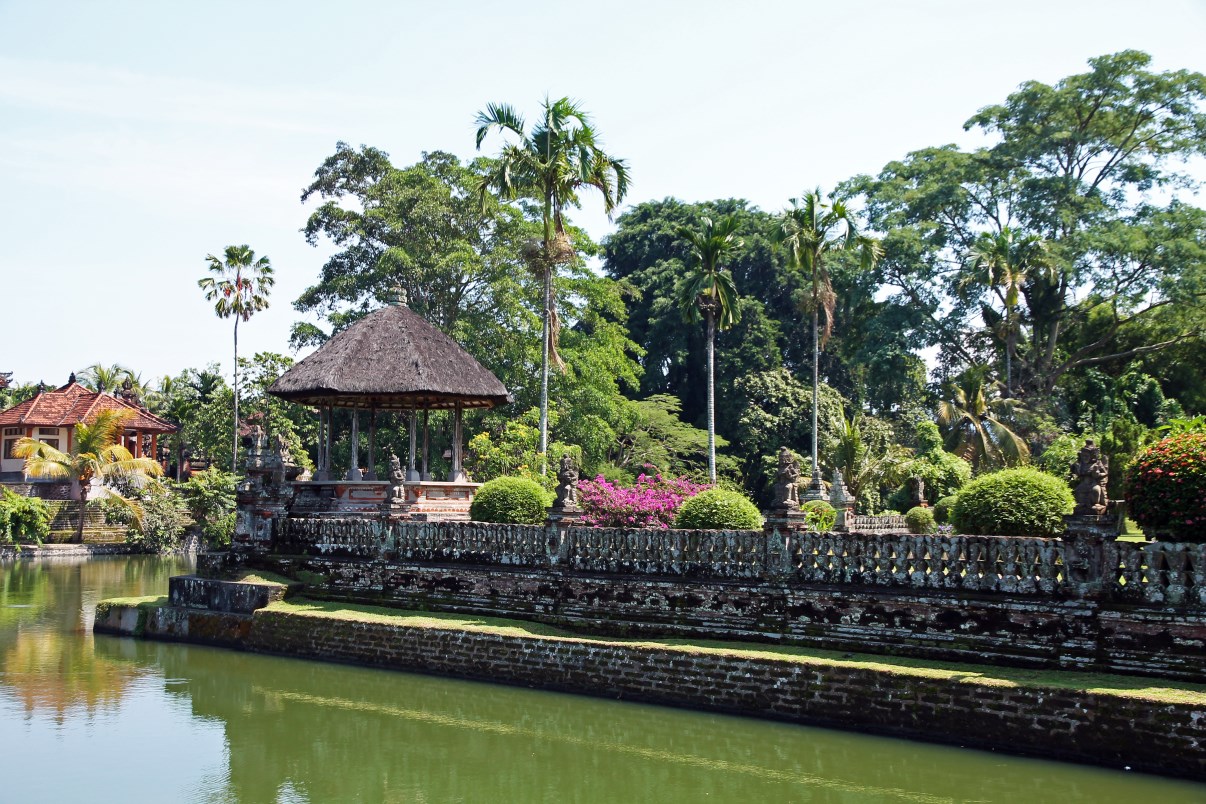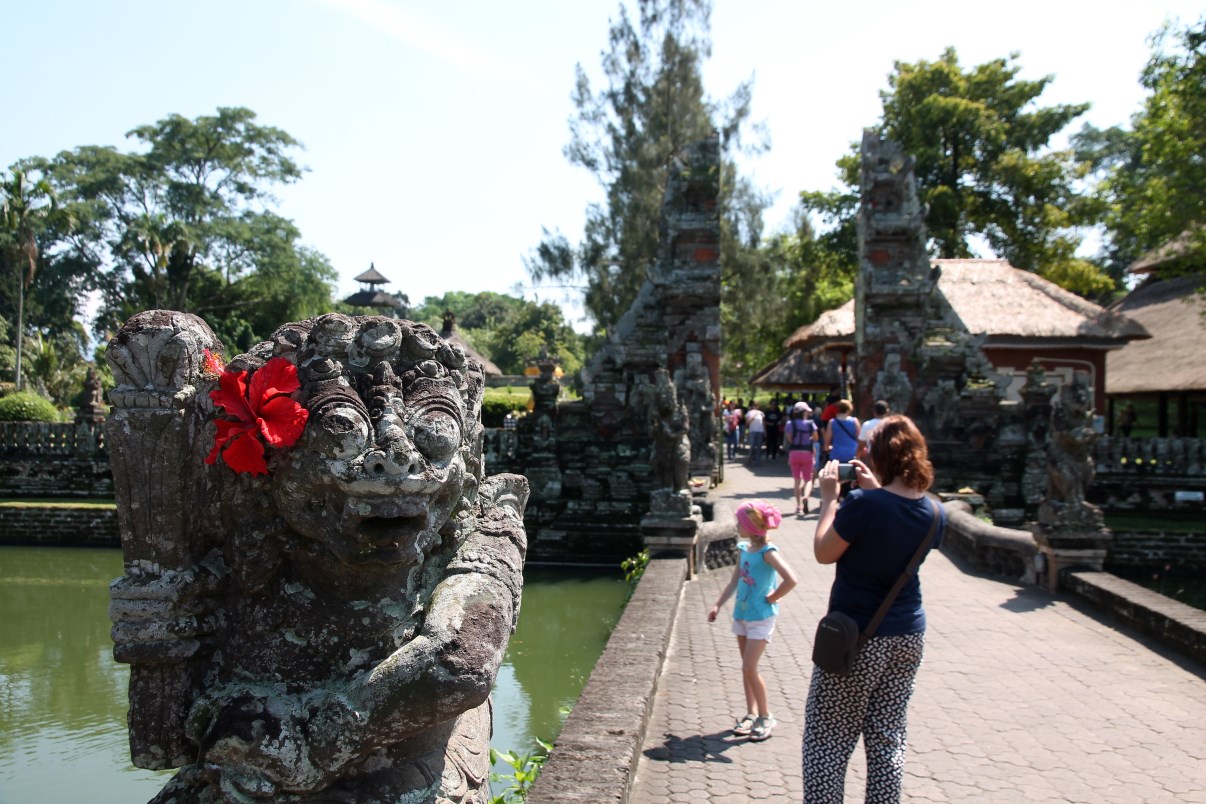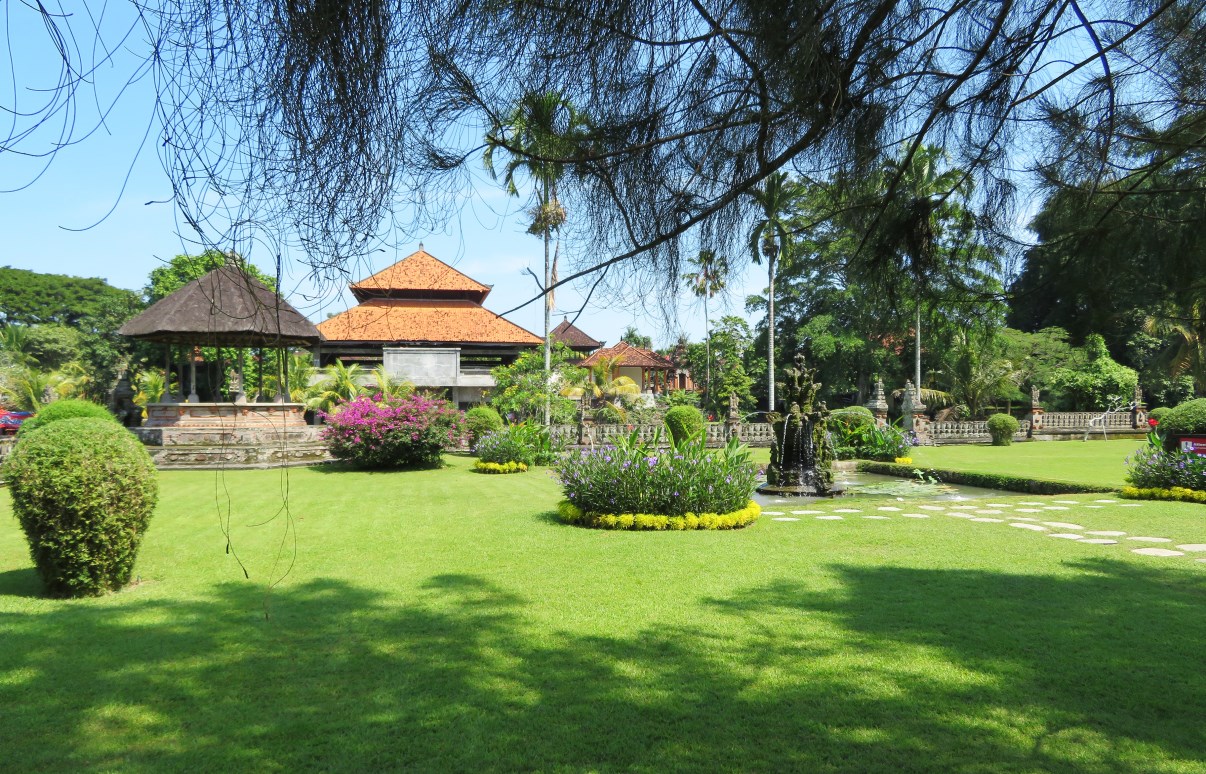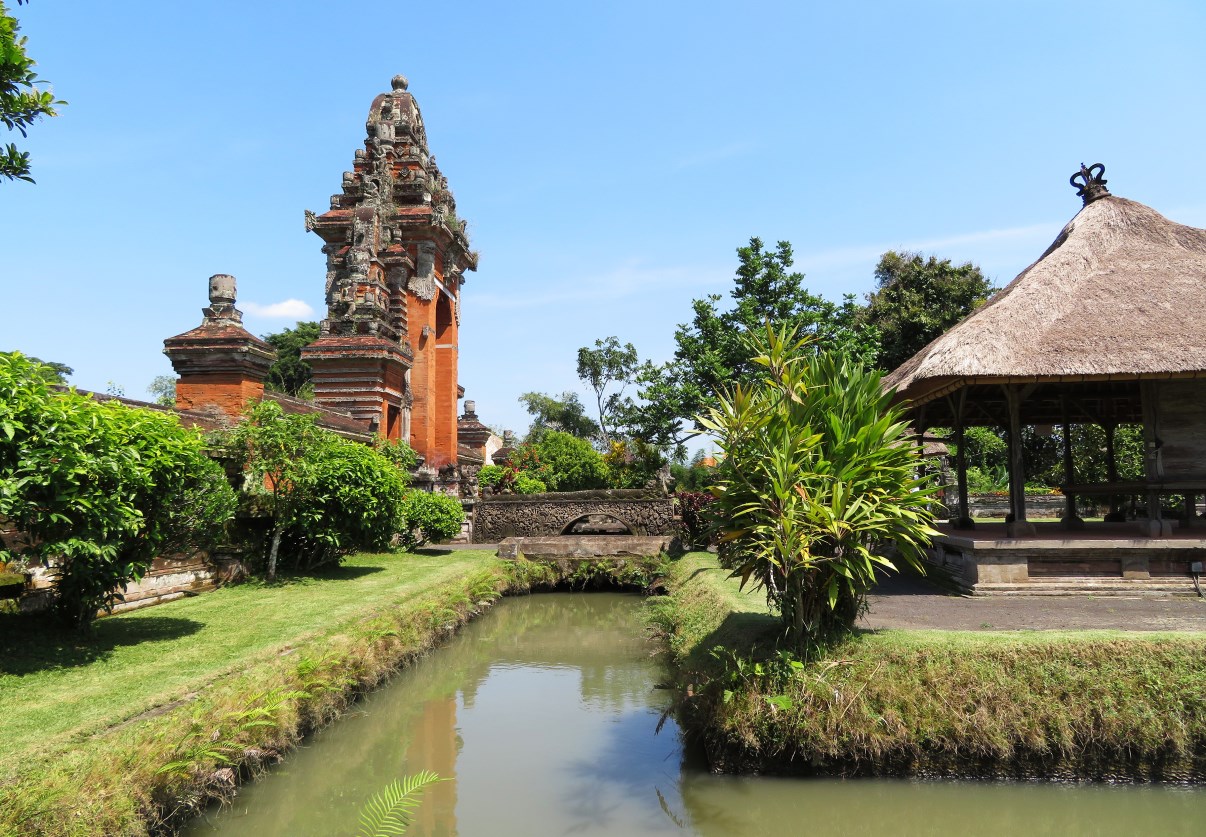 The most conspicuous elements of this temple are the large, multi-tiered shrines known as meru.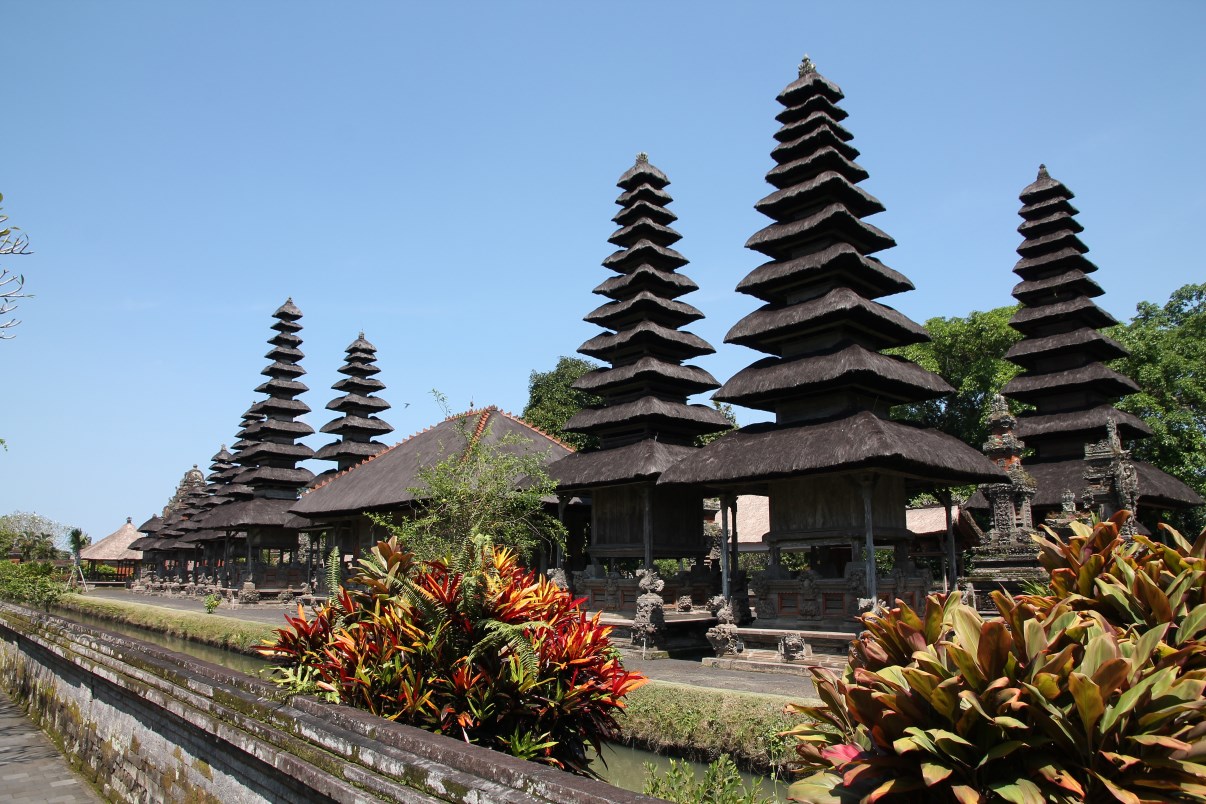 Practical info:
– Entrance fee: IDR 20000 pp (IDR 10000 for children). A sarong is not obligatory 'cause you don't enter the sacred part of the temple.
– Opening hours: 9am-4pm
The rice.
Even though there are beautiful rice paddies all over Bali which are all prime examples of Subak organisation, only a few rice fields are considered an official part of the world heritage property. The most important area of rice cultivation (according to UNESCO) is the Catur Angga Batukaru subak system in the Regency of Tabanan (in the island's centre). This is an area (20 Subaks, 17000 ha) with terraces that are mentioned in a 10th century inscription, making them amongst the oldest in Bali. The largest and most famous Subak in this region is Jatiluwih, a vast area of green, terraced slopes. Given the enormous vastness of this area, it is easy to find a viewpoint where you can take some breathtaking photos. It is also possible to go for a walk in between the rice fields, although you'll have to pay IDR 40000 pp (IDR 30000 for children) to enter the world heritage site. Since my wife suffered from an ankle injury, I went in with Febe. The experience was a bit less magical due to heavy wind and rain (it was April and the end of the wet season), but ploughing through the mud was quite adventurous as well (although slippery and tricky at places). I would definitely recommend the short walk, especially in good weather, although it is definitely not accessible for wheelchairs and strollers.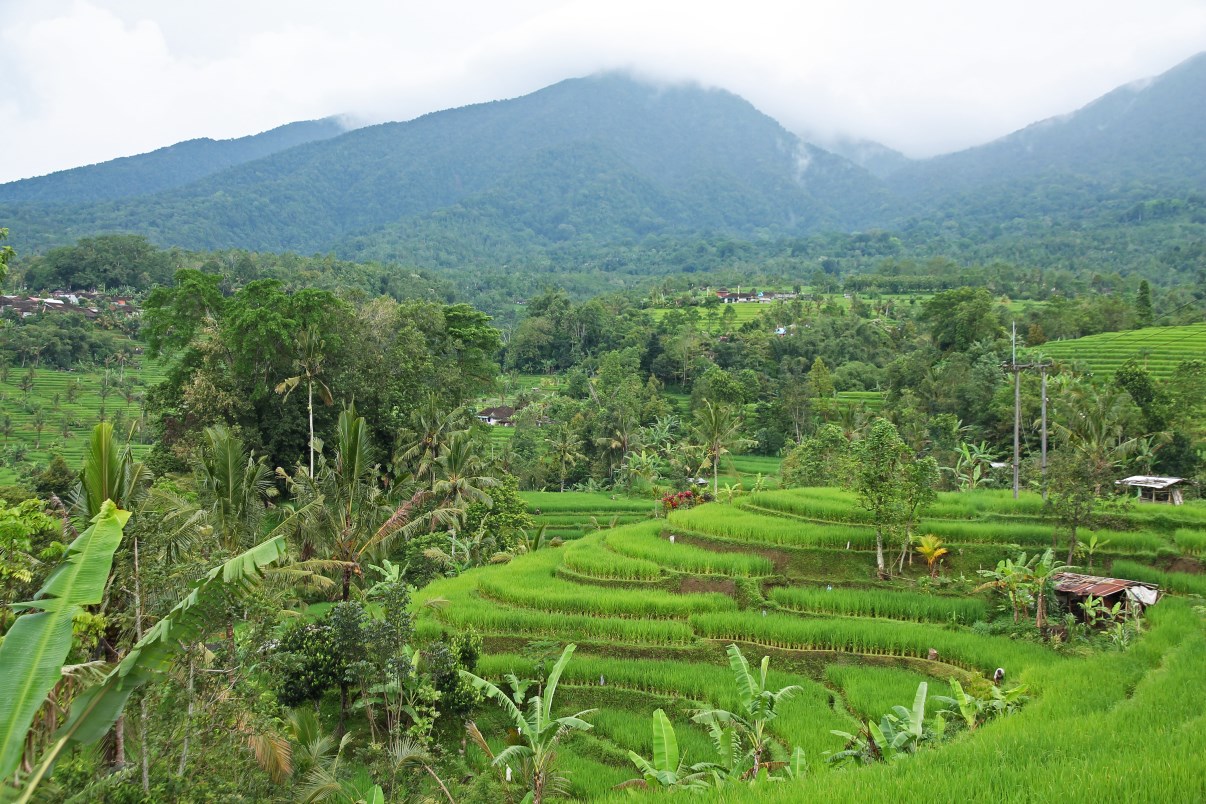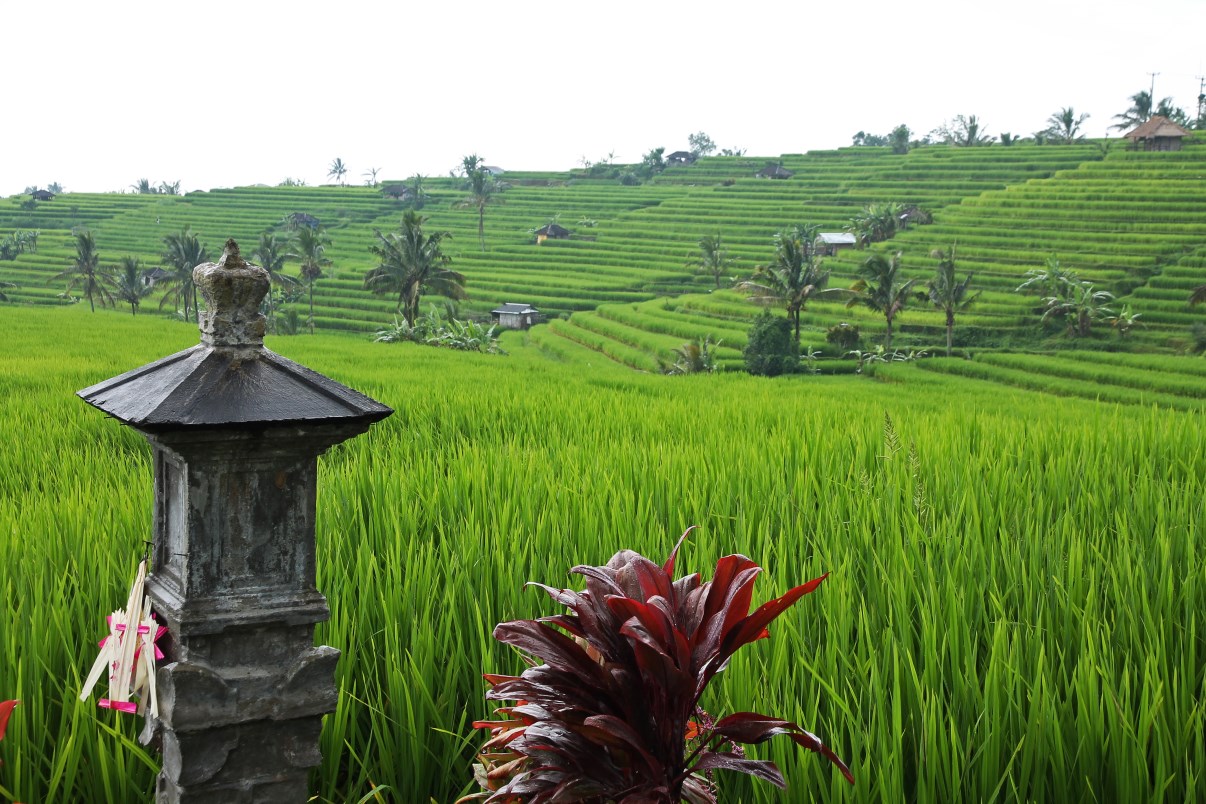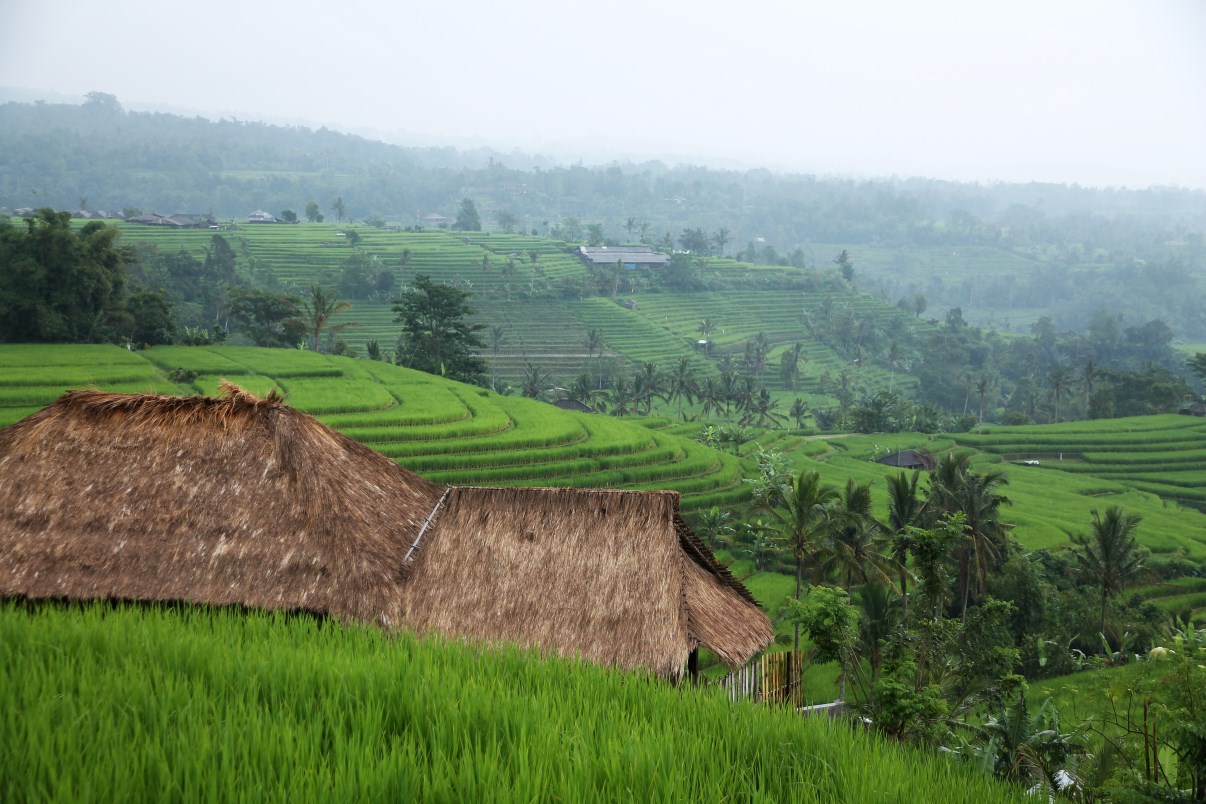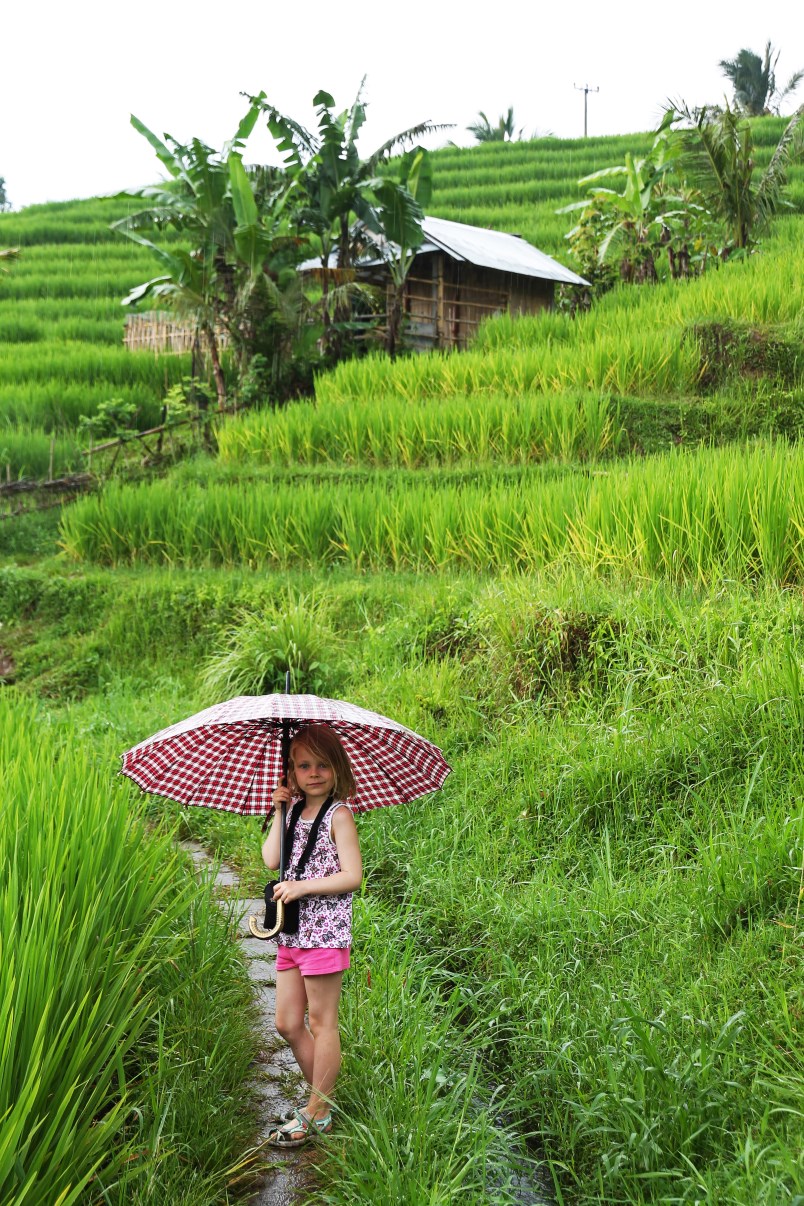 I think it is impossible to write about rice fields in Bali without mentioning Tegalalang Rice Terraces, although they are not included in the world heritage site. To me, this seems a bit strange since the rice paddies at Tegalalang are just as fine examples of the rice field irrigation system as any other, and they are situated only 7km from Gunung Kawi, which is a UNESCO world heritage temple. This rice field is much more secluded compared to Jatiluwih, which makes it also a bit more photogenic in my opinion. Tegalalang's only downside are the hordes of tourists that flood the area every day. Maybe we were lucky, since we didn't experience any big crowds during our visit. Hey, bad weather can have its advantages!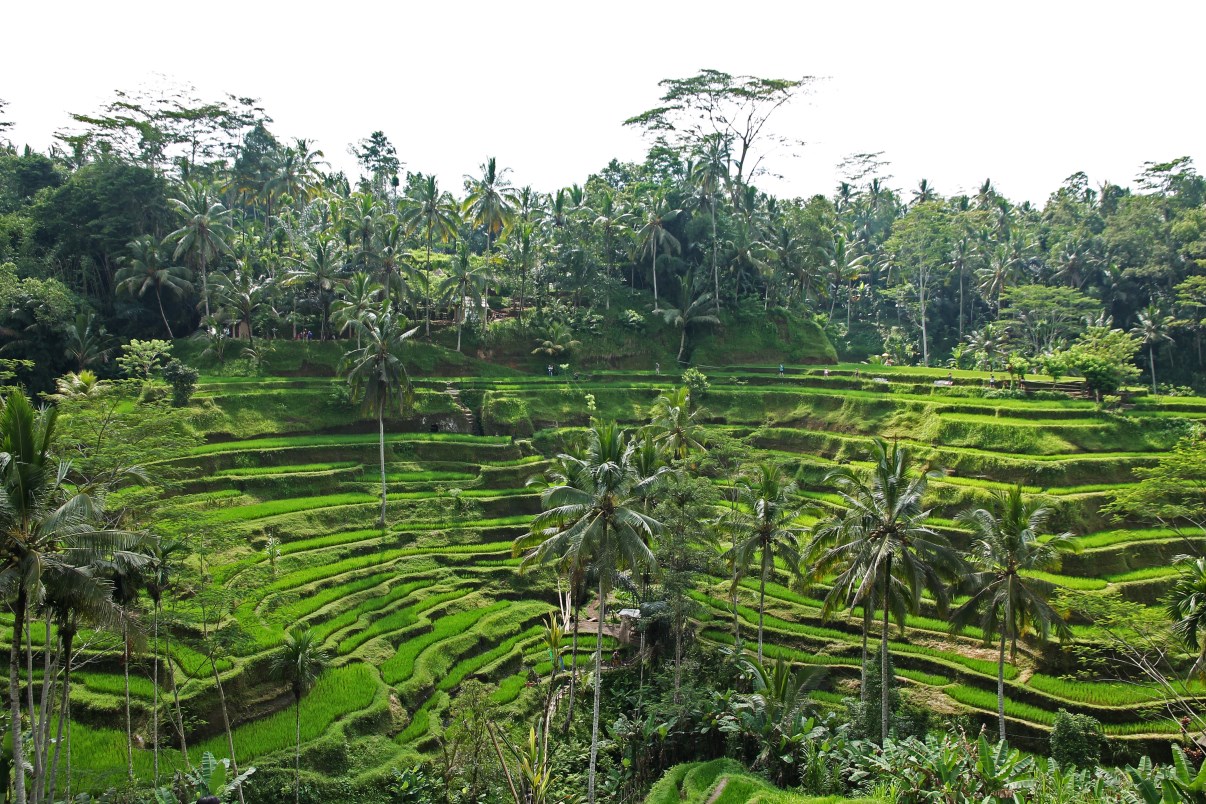 The water.
Although we didn't visit the Supreme Water Temple of Pura Ulun Danu Batur, the most important temple of this UNESCO property, we did go to Lake Batur and its hot springs for some swimming pool fun with our 6-year-old daughter Febe. A 1h 15min drive to the north of Ubud, this crater lake is regarded by Balinese Hindus as the ultimate origin of every spring and river in Bali, the ultimate source of water for the subaks, and in a more general sense for all life on the island of Bali. To view the Batur mountain and its lake from an elevated viewpoint (Penelokan), you'll have to pay IDR 30000 pp (children are free of charge).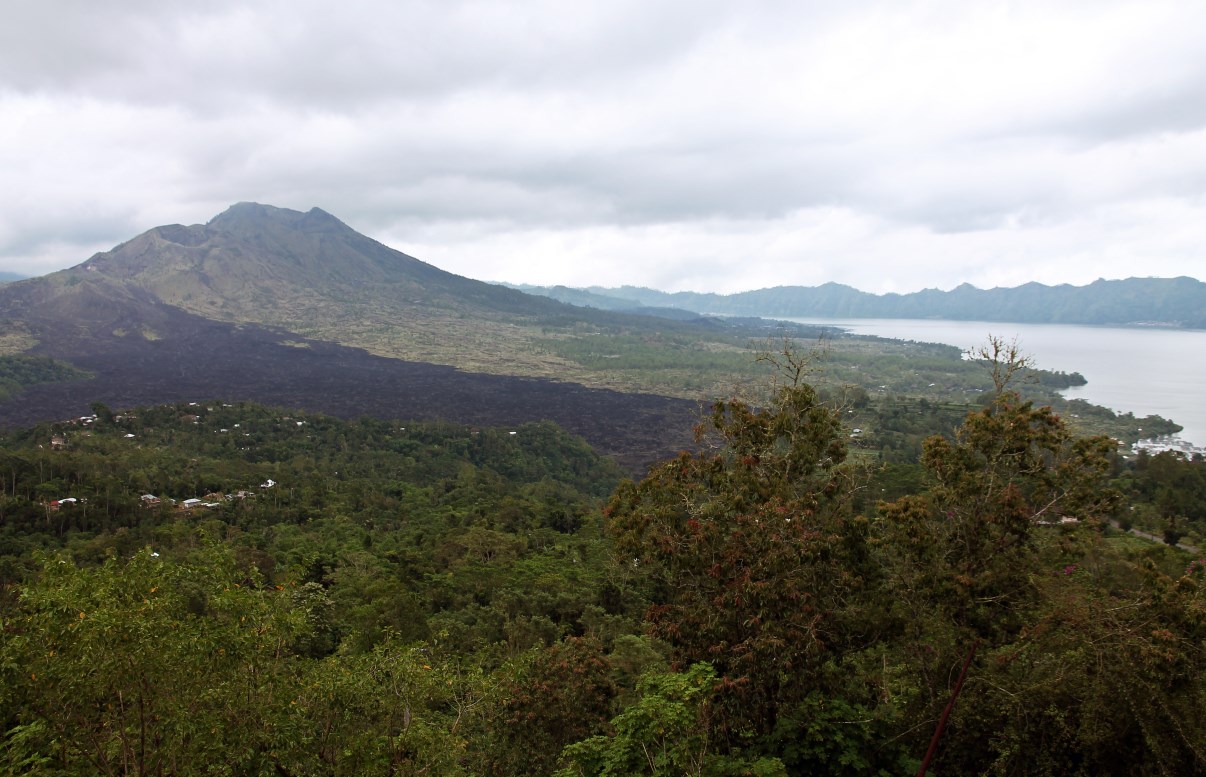 If your child is tired from walking through temples and the like, just take it to The Ayu Hot Spring in Kintamani. Even though it is not cheap (IDR 180000 pp), this swimming pool guarantees an afternoon of fun in natural hot spring water. The setting isn't too bad as well, since the pool lies on the edge of Lake Batur and the panorama of the volcano's caldera is breathtaking. Surely a place to become relaxed and totally zen again after a day of walking about…