The COVID-19 crisis forced us to alternate in our family-activities: there really wasn't much we could do for almost the entire year 2020. Walking and cycling were the only options. Even when there were (temporarily) more possibilities, we decided to stay closer to home and discover the nature that surrounds us.
In this blog post we will give you some tips on beautiful forests in our area, which is called 'Het Waasland'.
The forests described in this blogpost used to form one big chain of woods. Nowadays, settlements are scattered in between, but they still offer small spots of nature, abundant with wildlife. It's hard to tell which is our favourite: we love to walk in all of them.
Kloosterbos – Wachtebeke

This forest, that used to be full of Corsican pines, is now slowly being reforested towards a natural oak and berch forest. There's also space for some heather.

Starting from the parking lot you can take two walking routes (the red and the green). They are clearly marked with signs along the way.

We found the forest surprisingly beautiful. Maarten used to walk there with his grandparents (30 years ago) and back then the forest was littered. The conservation works that the province of East Flanders are doing, have clearly paid off.

Next to two walking routes, there's also a route for cycling, mountain-biking, horse-riding and a large play-zone for youth groups.

We often pass by this forest on our way to Maarten's parents, but somehow it never occurred to us to take a hike there. From now on, it will be a regular stop for us!

More information (in Dutch) can be found here.
The parking area is at Gebroeders Naudtslaan in Wachtebeke.
Heidebos – Moerbeke

A forest we've been exploring for some time now, since it is so close to our home. Heidebos is a combination of heather landscape (quite scarce in our area, though you wouldn't say so if you're reading this post) and forest. It is sustained by a herd of Galloways, who help the forest by grazing in it.

There are 3 marked walking routes in the forest.
The green (4.1 km) and yellow (6.4 km) walk start at Parking 1 (P1). The red route (3.9 km) starts at Parking 2 (P2). The green & red are only for hikers. Dogs are not allowed there, because this is the grazing area of the Galloways. On the yellow route you can bring your dog, or you can also cycle / ride a horse.

The forest is beautiful in all seasons and it used to be a favourite spot for Annick to go running (before she wasn't allowed to anymore). She came across the Galloways a couple of times, but also spotted the occasional roe deer there. The area is also well known as a habitat of the nightjar.

Heidebos is known for a large variety of mushrooms – so a walk in fall is always extra special.

Parking 1 is situated at Keizershoek in Moerbeke, Parking 2 at Heidestraat in Wachtebeke.
More info (in Dutch) here. You can download the hiking folder from this location.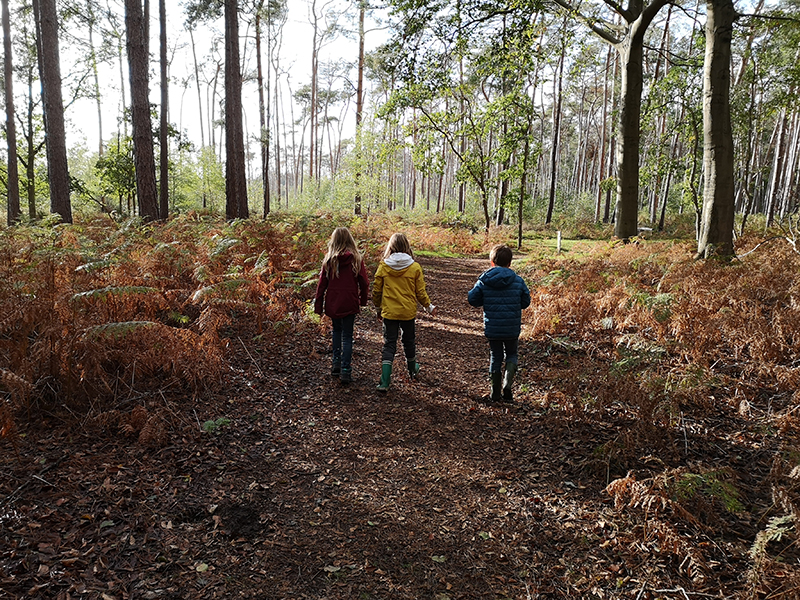 Fondatie van Boudelo – Klein-Sinaai

This nature reserve was our first major discovery in the COVID-19 period. Very close to our home and a spot we pass by several times, on our way to Stekene. The area is well known for the cute pine marten that lives here. We never spotted this fellow yet, but we did find out it's an excellent location to spot roe deer.

As you can see on the map in the link below, there is a marked hiking route (about 6.5 km) that takes you through forests, alongside grasslands and through orchards. The ideal spot for roe deer to flourish!

So far we've hiked there 4 times and spotted roe deer on all occasions. The whole area is classified as a quiet area.

More information on this area can be found here (in Dutch). On this page you can also download the interactive leaflet "Op stap met Eufrazie", where a pine marten called Eufrazie tells your children all about the wildlife around. We haven't tried this one out, but it's on our to do.

Parking spaces are scarce here. You can park your car alongside the Weimanstraat, or in the Liniedreef – where the route starts. Here you will also find a watchtower (8m high). Due to COVID-19, the tower is currently inaccessible, but we hope to take some pictures there soon.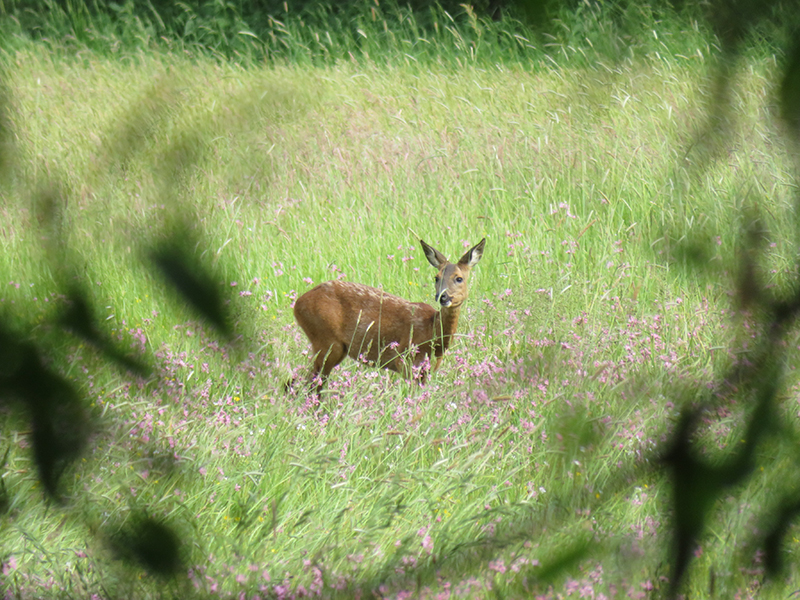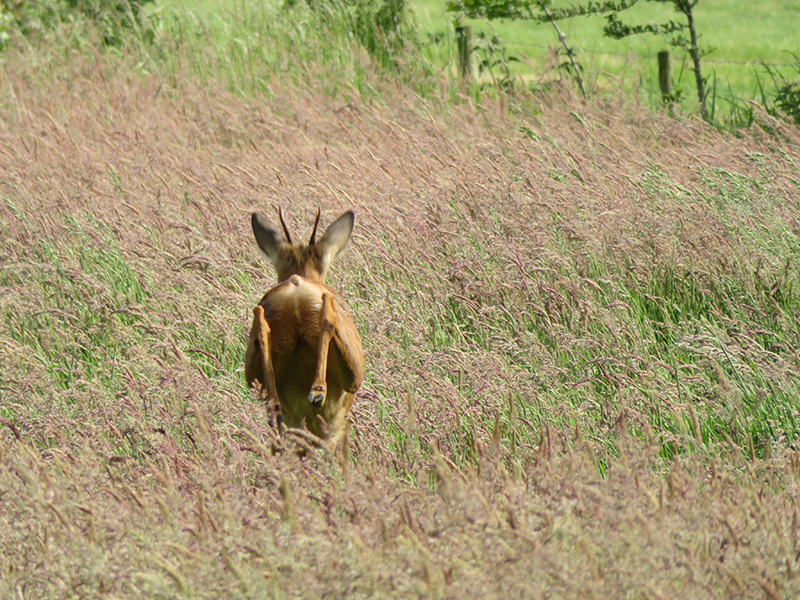 Stropersbos – Stekene

In this lovely forest in Stekene you will find two hiking routes. Both are loops of 4 km. We did the first one, who starts at Zavelstraat in Sint-Gillis-Waas. The second route starts at Fort Sint Jan, Stroperstraat in Kemzeke.

We found the forest quite beautiful, but you should bring protection against mosquitoes in summertime. We were eaten alive by a hungry swarm of those annoying mosquitoes, who chose to follow us around during the whole walk. This mainly resulted in Febe disliking the area a lot, ending in a very noisy hike, scaring off all the wildlife 😉 We did manage to see some roe deer though, despite the massive amount of noise our daughter was making.

You can find more info on the forest here (in Dutch).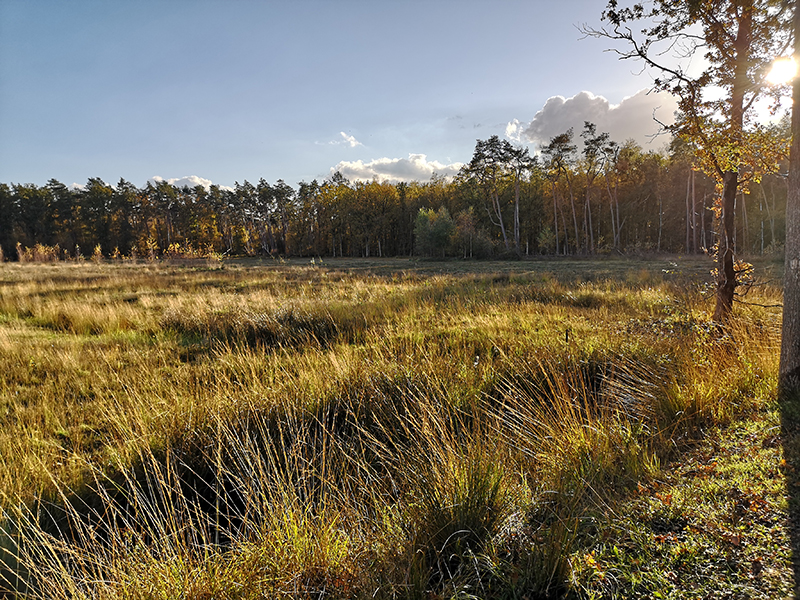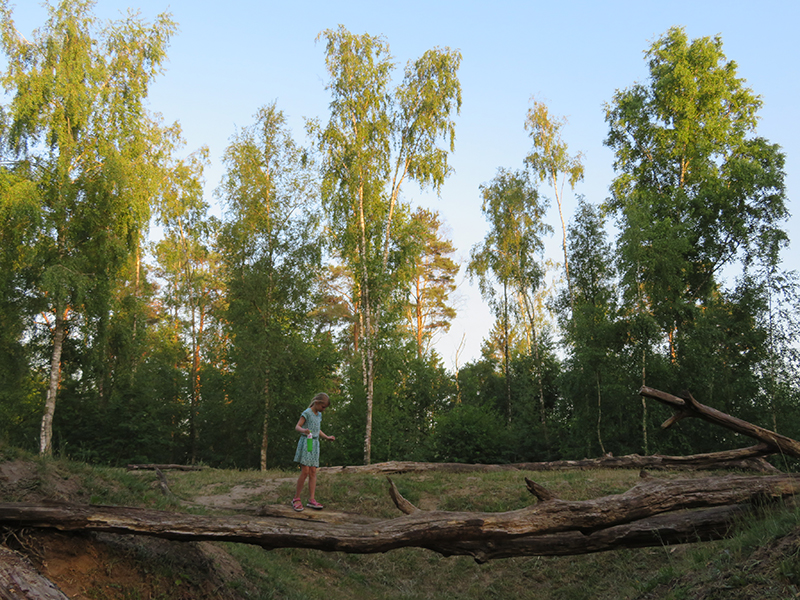 We hope we inspired you to take some hikes in our local forests. After all, it doesn't always have to be the other side of the world to be something nice… 😉