In november 2022 we went on our first suprise me trip. For those of you who don't know the concept, you book a trip with an unknown destination. The Dutch company has several types of trips. We picked New Places, where you can rule out any cities in Europe you've been to. They then pick a new destination for you. You decide on what type of accomodation you'd like (ranging from very basic to a 5-start hotel) and if you'd like breakfast included. We went for the accomodation level "comfort" which means you have a 3 or 4 star hotel and the location is in the city centre. And that's all you have to do 🙂

A week before you leave, you get a weather report, which updates during the week. That way you can start guessing your location. A few days before your departure, you learn which airport you are leaving from (when you book, you can decide which ones you want to include) and what time you have to be there. At the airport, you get a countdown in your app and you can reveal your destination.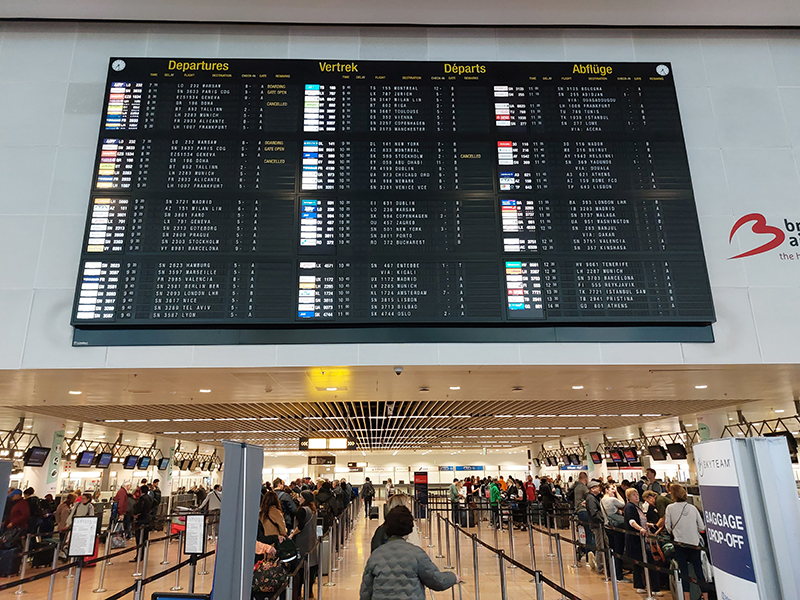 Everything went really smooth once we revealed our destination. We were already checked in and since we had only cabin luggage, we had plenty of time at the airport to look up some ideas of things to do. You get a very handy map from Surprise Me with the highlights and nice places around town for a drink or a meal. Once you arrive in the city, you have directions to your hotel using public transport. We found this all very practical and loved it from start to end! Our hotel was situated smack in the middle of the old town and even had a swimming spool & spa.
For us it was really nice to travel like this. Where normally we plan everything ourselves, we now only had to think about which clothes to pack. We found that very relaxing! The element of suprise was pleasant as well. We, and a lot of people who knew us, were guessing our destination the week before we left. We guessed the broad region correctly (though we were doubting, because the UK had more or less the same type of weather), but we didn't think we would end up going to Riga. It turned out to be a great city though!
The old town of Riga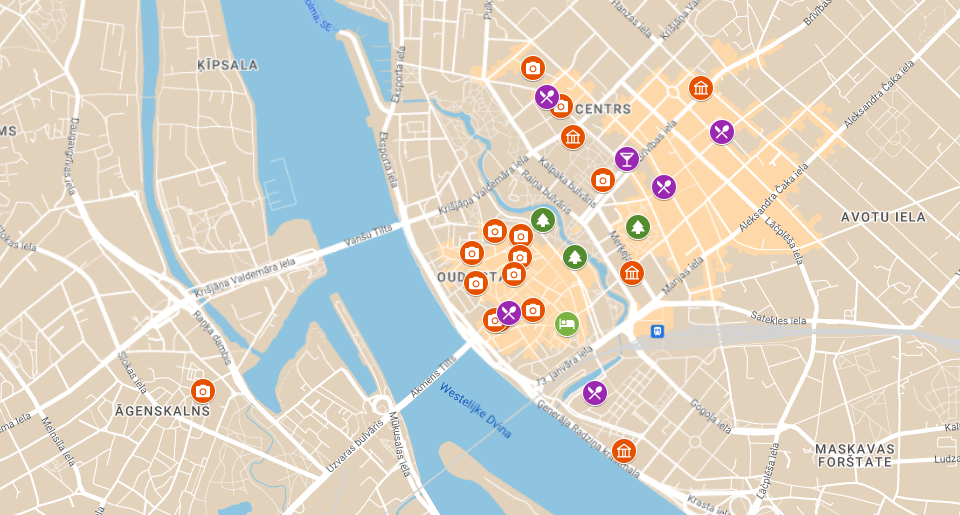 As you can see from the map above, most locations were centered around our hotel in the Old Town of Riga. This part of the city is also Unesco World Heritage. Riga is a beautiful city, with stunning buildings. A lot of the locations you see on the map are worth passing by and photographing.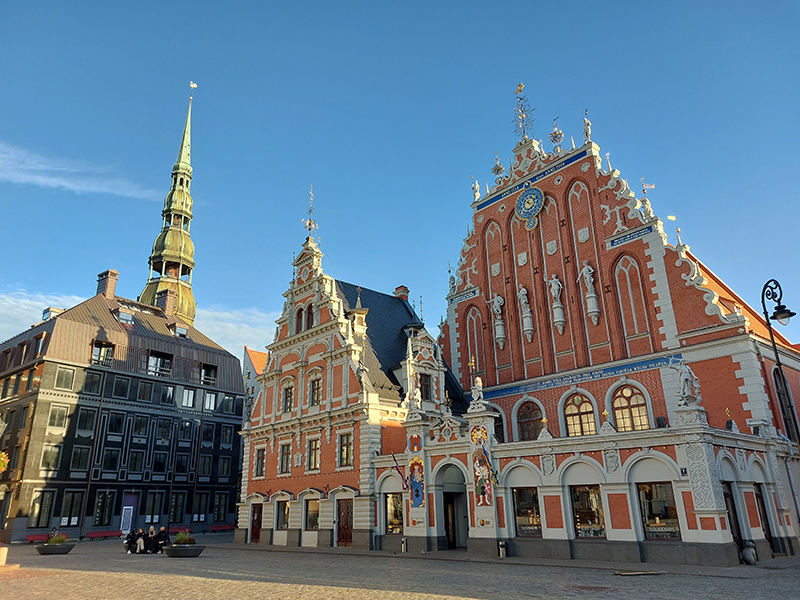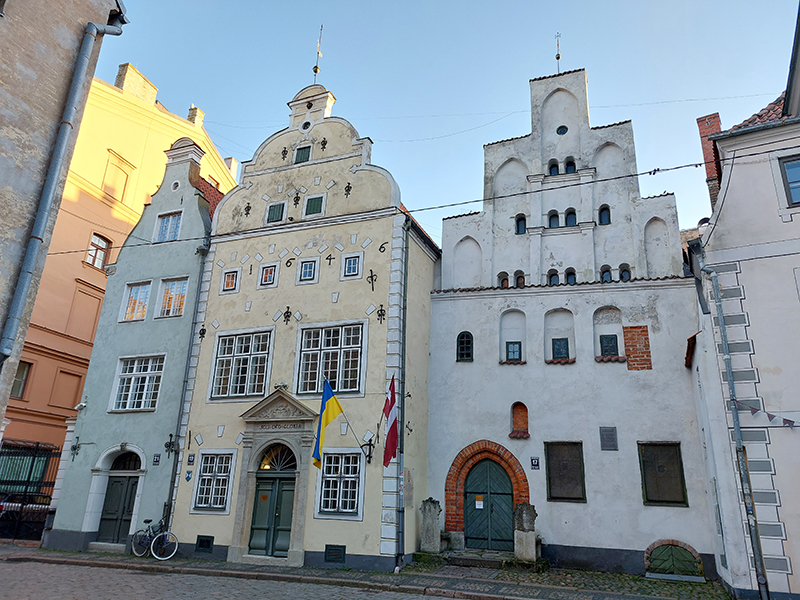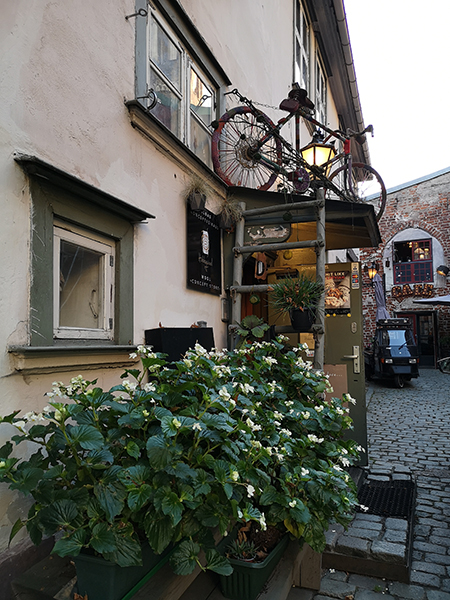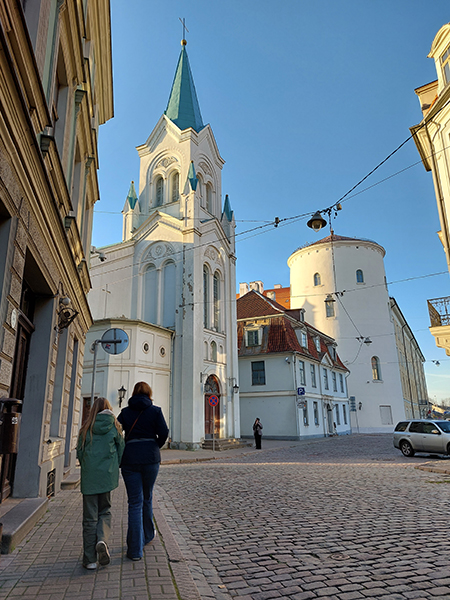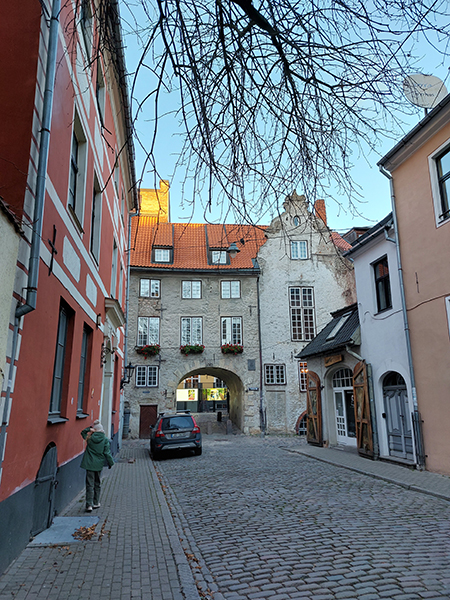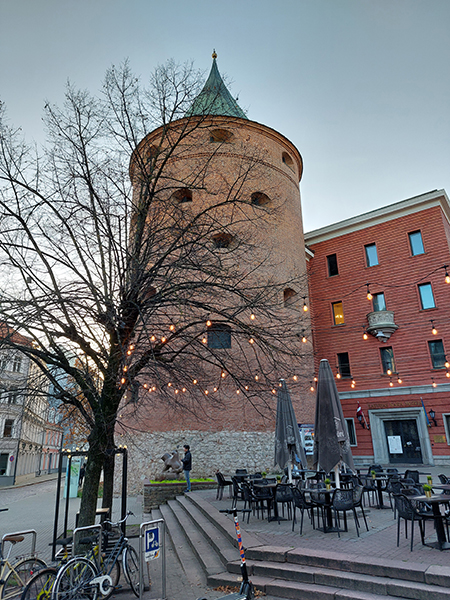 It's also a very green city, with the Bastejkalna Park and smaller Vērmane Park as green highlights, but you'll see trees and green area's throughout the whole city. This gave the city a very pleasant atmosphere. We loved just walking around and soaking all the sights in.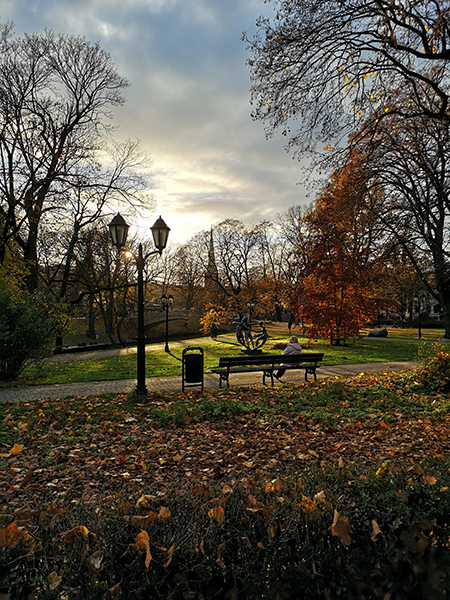 Although more or less everything is walking distance, we decided to buy a public transport card at the airport when we arrived. For €10 you can buy a 5 day ticket and save yourself some walking, especially when heading out again in the evening for a meal or drinks. We also used it to see various street art locations (more about that later on) and the Ethnographical museum, which are further out of the way. The Latvian public transport is smooth & reliable.

If you'd like to use our map when you're in Riga, you can find it here.
Food, drinks & Art Nouveau
Just a little bit outside of the old town (still walking distance) you find Alberta Iela & Elizabetes Iela, both streets with stunning Art Nouveau buildings. It's also the area to go to for some excellent dining or for cocktails at the Skyline Bar of the Radisson Blu Hotel. We found the food great in Riga, but expect Western European prices – it's not a cheap destination.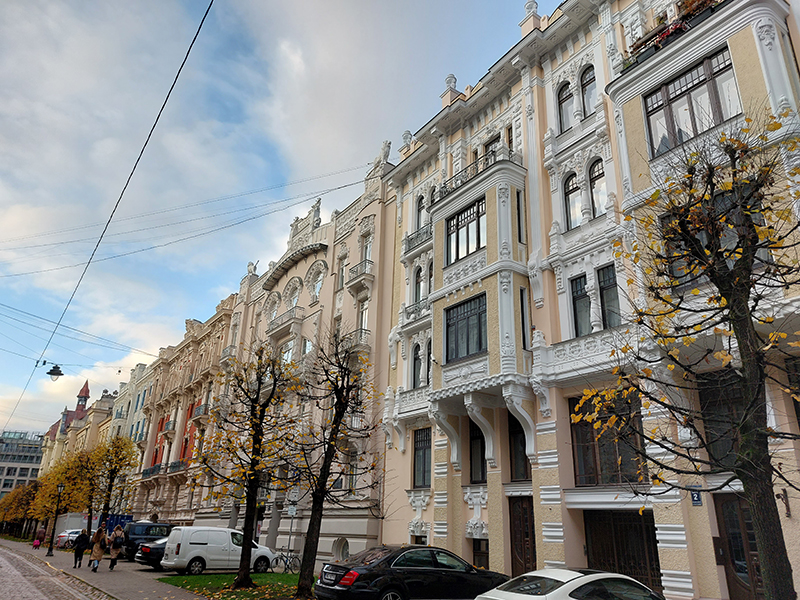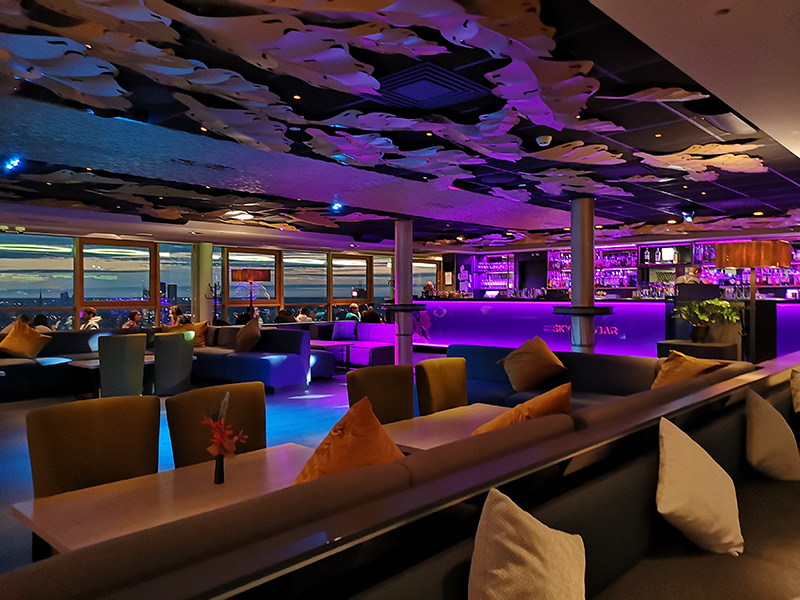 Two restaurants we can really recommend are Cod (Japanese grill & sushi) and Province (traditional Latvian Food). We also recommend a visit to the Central Market, that has some nice food stalls for lunch next to the traditional market stalls as well. The market stalls are inside former zeppelin hangars.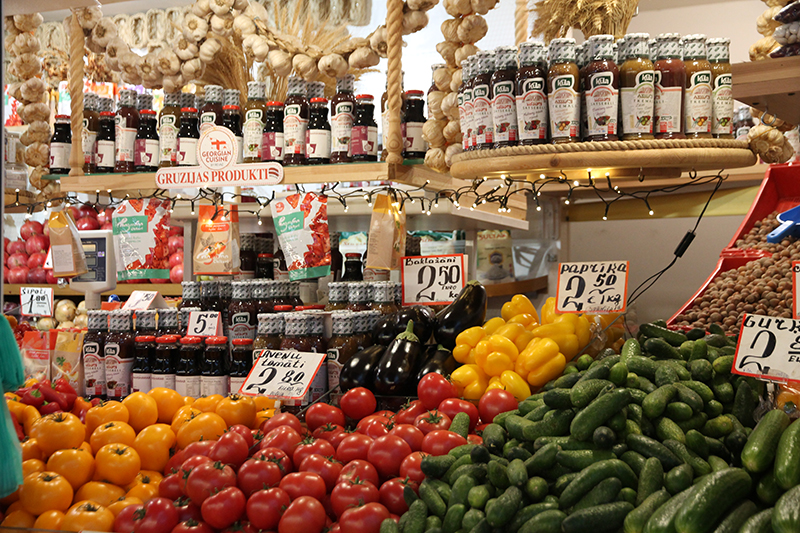 Museums to visit
When citytripping, we always check out some local museums. Here are the ones we did during our stay, though they are not the only ones Riga has to offer.
KGB Corner House
KGB history is something we don't know a lot about, mainly because it's a part of history that isn't in our school books. It something we only know through movies or TV series, and so we were very curious to experience it while we are there. If you only do ONE museum in Riga, this should be it. The permanent exhibition is really good, but please book a guided tour to see the interrogation rooms and cells as well. It's hard to imagine that people got prosecuted for, well, often no good reason at all and were often executed without a trial, but it was very much a reality – and not even that long ago.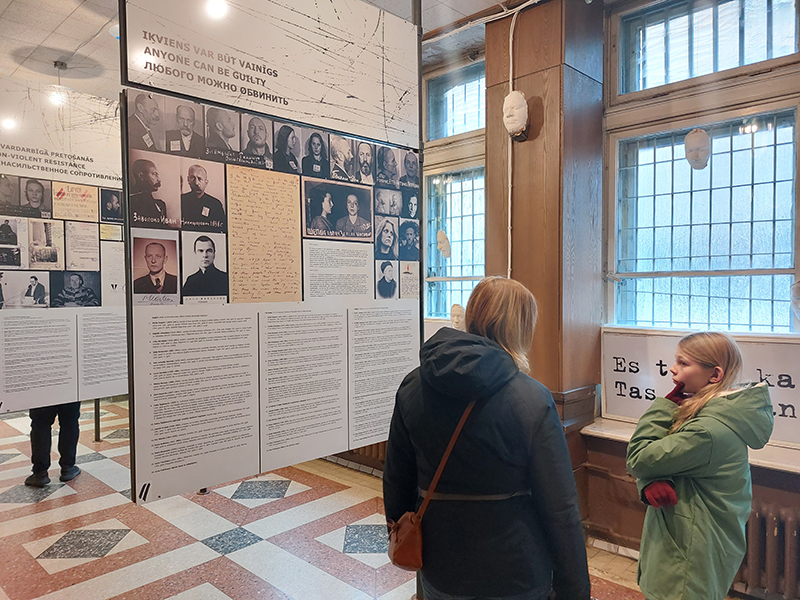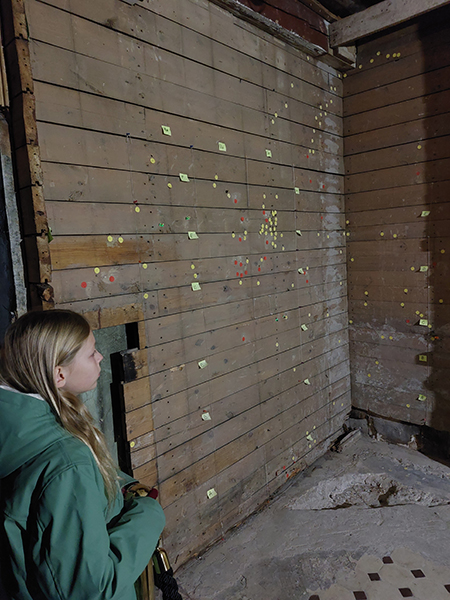 Riga Ghetto and Latvian Holocaust Museum
Another dark part of our European history. This museum really makes the Holocaust visual, which we found an added bonus when visiting it with our 12-year old. The hall with lamps decorated with pictures of families who all died in concentration camps made a big impression on her.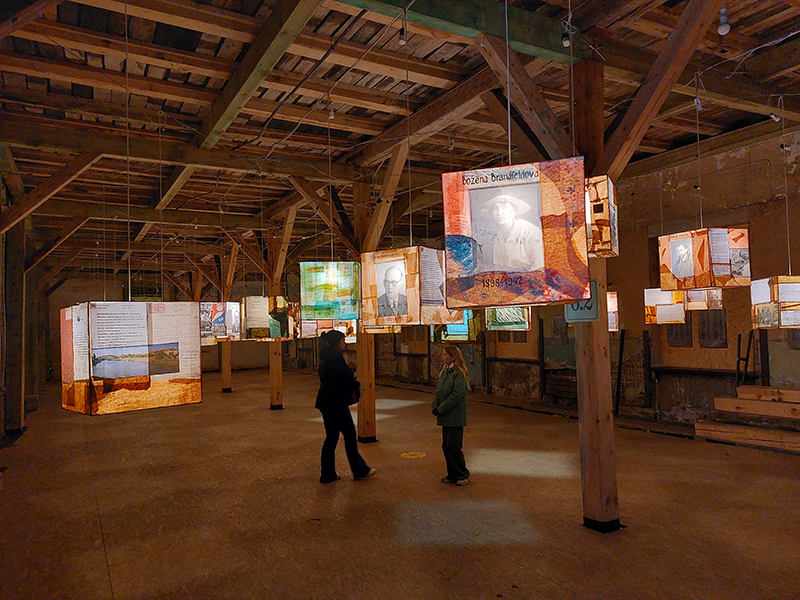 Latvian National Museum of Art
Though you won't see any internationally famous artists in this museum, we always like to see some local art as well. Febe liked the interactive parts a lot.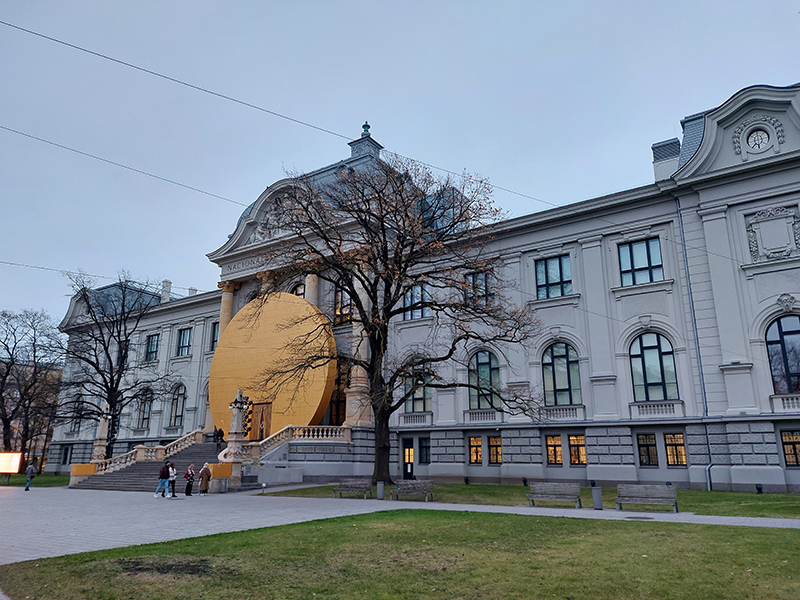 The Ethnographic Open-Air Museum of Latvia
We visited this museum after the 1st of November and due to that late date, almost all of the buildings were closed. So, it's probably better if you plan your visit between the 1st of May and the 30th of September, during the summer period.
We still found it worth the visit though. The entrance price was really cheap in this period & it's a nice park to stroll in, along a beautiful lake. The few buildings we could see & the exhibition about sleighing made it worth our while.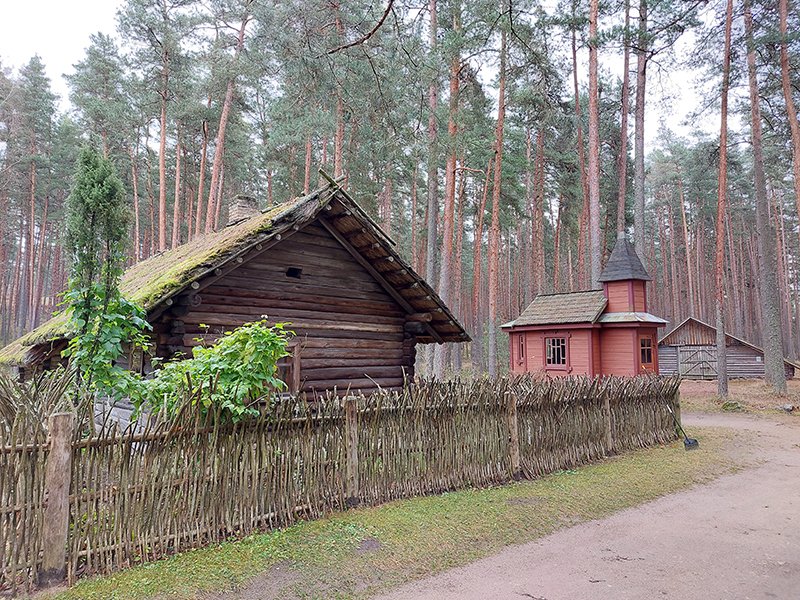 Latvian Museum of Natural History
Febes favourite type of museum, so for us always worth a visit. Though you have some interactive parts in the museum as well, it's mostly an old-school museum with a large collection of stuffed animals.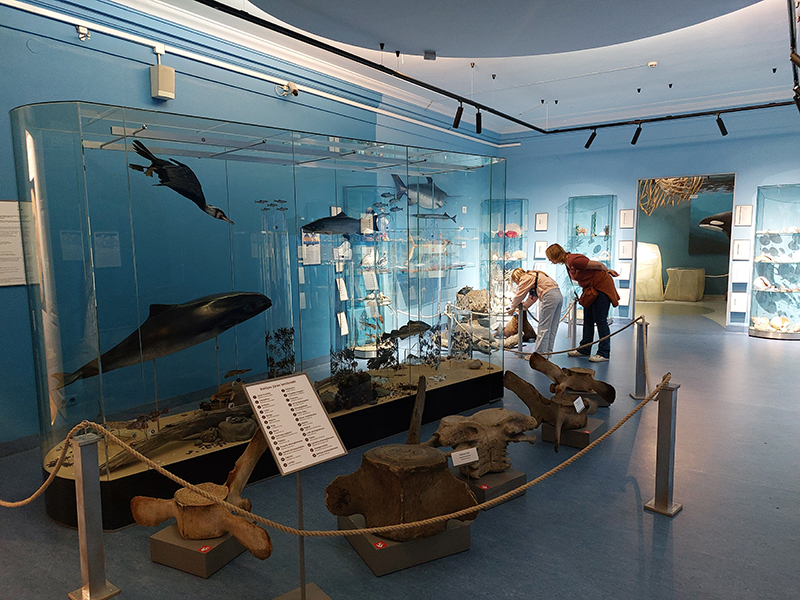 Streetart
We are big streetart fans, and so we also set out to find some spots in Riga. You can find a lot of locations online – and for those of you interested in street art, we recommend checking out our Polarsteps-trip to see the exact locations.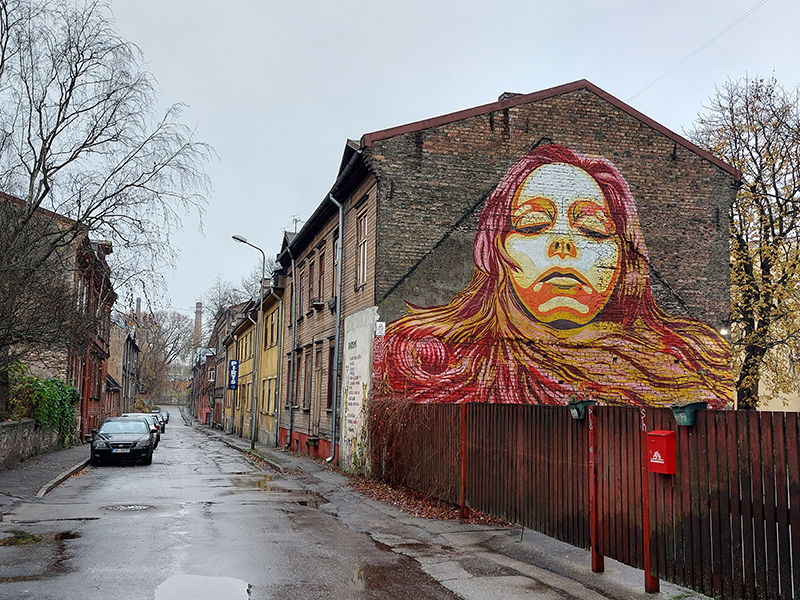 Our conclusion?
I think it's fair to say that we will book a Suprise Me trip again and that we will explore the Baltic region a little further. We saw some great natural sights around Riga (but would need a car and more time to explore those) and by guessing the region we also thought we might end up in Talinn or Vilnius, who both looked great as well. Maybe these cities are lesser known and certainly not a lot of people we know would decide on going there spontaneously, but you might want to give it a look. We found Riga a perfect city to explore for 5 days and had a blast!