A famous quote by Audrey Hepburn… and one that is very true: Paris is always a good idea.
Annick has visited the city in winter, summer and early fall. Maarten and Túrin once joined her, but the other occasions were with work or when she was younger. Having spent a couple of weeks there in total, she knows the city pretty well.
Here's her guide to Paris! To get an idea of the geography, open our public Paris map.
You'll see 4 layers: Paris in a day, in 3 days, in 5 days and tips for shopping and food. You might have to put some layers on to see it all! You can follow along with the post here. Enjoy!
Paris in a day
Paris is a big city, but the main highlights are almost all situated along the banks of the Seine. That means you can take a walk along them, and if you don't actually visit any buildings or museums, it also means you can see Paris in a day. Great, isn't it? The walk is about 9 km long, which would take you about 2 hours without stops for photos. I've done this walk several times and it's good to fill up a day!To reach your starting point or to get back from the last point, it's best to use the metro system of Paris. Quick and reliable! All info on the metro on this page.Start at Place de la Bastille (1). This is the place where the prison of Paris used to be. Admire the Colonne de Juillet in the middle of the square and walk to Place des Vosges (2), one of my favourite places in Paris. It's the oldest planned square in Paris and I just love the atmosphere there.Now walk towards the banks of the Seine and continue along the Voie Georges Pompidou untill you see Ile de la Cité, with the Notre-Dame Cathedral (3) in the river. You can walk onto the island and snap the Cathedral from a bit closer, but don't go in for a visit unless you've got more than 1 day time.Instead, head back up the Voie Georges Pompidou and take a picture stop at the magnificent hotel de Ville (4), the city hall of Paris. In wintertime there is an iceskating rink in front of it.Continue your walk back along the banks of the Seine untill we see Pont Neuf (5), the oldest bridge across the Seine.
Our 6th stop is one of the most famous sights of Paris: the Louvre Museum with the pyramid in front of it (6). It's a magnificent place to take pictures, even if you don't have time to visit the museum.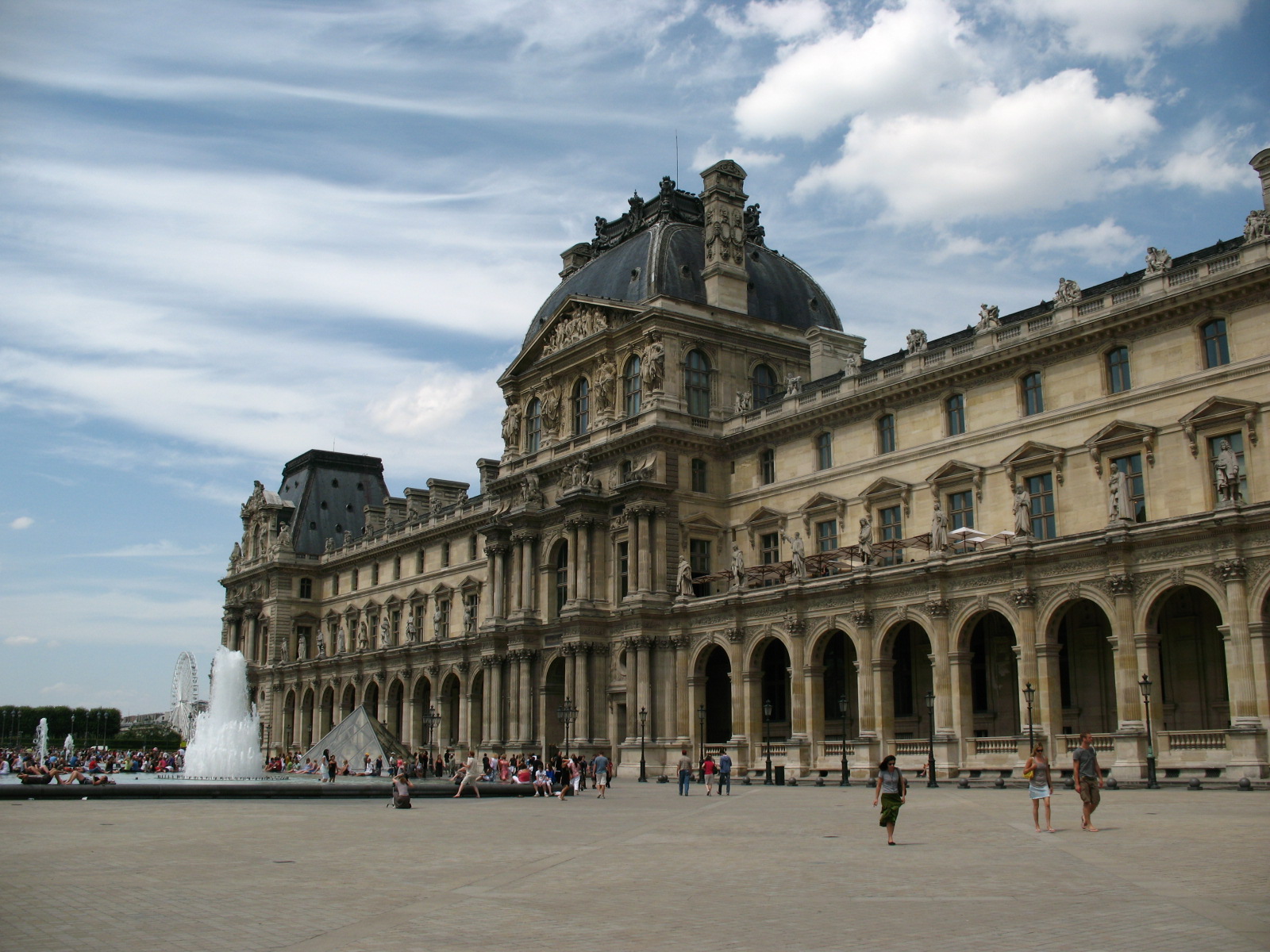 Walk right past the museum, towards the Place du Carrousel, with the Arc du Triomphe du Carrousel (7). This arc was built to celebrate the triomphs of Napoléon in 1806. Walk underneath it and enter the fantastic Jardins des Tuileries (8). This big park is ideal for a stop on a sunny day, to eat a takeaway lunch or just watch kids playing with little boats in one of the ponds.You now continue your walk to the ever busy Place de la Concorde (9). The obelisk in the centre is actually a real Egyptian one, once marking the entrance to the Luxor temple (more info in this post).
When you continue along the banks of the Seine, you'll soon reach the Pont Alexandre III (10). Not the oldest one, but the prettiest in Paris. Walk on it and admire the view on Les Invalides across the river. If you've got time for a stop and it's a sunny day, take a break in the park there before you head up the Champs Elysées (11), by walking through the park surrounding Grand & Petite Palais, two formal exhibition halls.
You continue your walk on the Champs Elysées up untill l'Arc du Triomphe (12), my favourite building in Paris. You can reach the arc by going underground to the metro tunnels; that way you avoid crossing the hectic roundabout. If you have time and the line is not to big, go up the arc for a great view over the city. Certainly take a look at the sculptures on the arc and the Tomb of the Unknown Soldier underneath it, a symbolic grave for all the unknown soldiers who died during both world wars.
Now take the Avenue Kleber up untill the view on the Eiffel Tower (13). Going to the tower from this way is guaranteed to give you the best view. You can now walk through de Jardins de Trocadéro, accross the Pont de Lena to the actual tower. If the cue is not too long you can visit the tower; though I never actually did. It's thé symbol of France and there are so many other viewponts where you can see the Eiffeltower in your view, that I never bothered to pay the big fee to go up there. More about those viewpoints below!
You have now reached the end of your walk and can take the metro back to your hotel or trainstation…
2. Paris in 3 days
If you have a little more time to spend in this city, then it is a good idea to start visiting some parts. You could spread out the walk we described over your stay, but you could also do the walk and then head back to some of the points by metro the following days, for a more thorough exploration.
A must-do museum wise are both the Musée du Louvre and the Musée d'Orsay. While the Louvre has different collections (art, but also for instance a big expo about ancient history with a ton of artifacts from all over the world), Musée d'Orsay is 'only' focused on art.
For the Louvre you need to take out at least half a day, if possible longer, and narrow your visit down to your points of interest. You can easily spend days in there, so do your research well in advance. This is not a museum you want to visit when you are not prepared!
You can visit Orsay in a couple of hours.
Both museums are located inside stunning buildings, so take your time to appreciate the architecture as well. To avoid long cues at the entrance it is advisable to book your tickets in advance through the internet. More info on the Louvre here and on Orsay here. By the way, you can visit Musée d'Orsay for free the first Sunday of each month… Might be crowded though!
Another must-do when you've got some more time on your hands is Centre Georges Pompidou. While there are often great exhibits in this building (check here before your visit), it is also great to visit this building for its view over Paris. Simply take all the escalators up to the top of the building (this is free!) and enjoy Paris. You can see the magnificent rooftops and see the Eifel Tower, the Basilique du Sacre-Coeur and other famous landmarks from there. This is my favourite viewpoint in the city!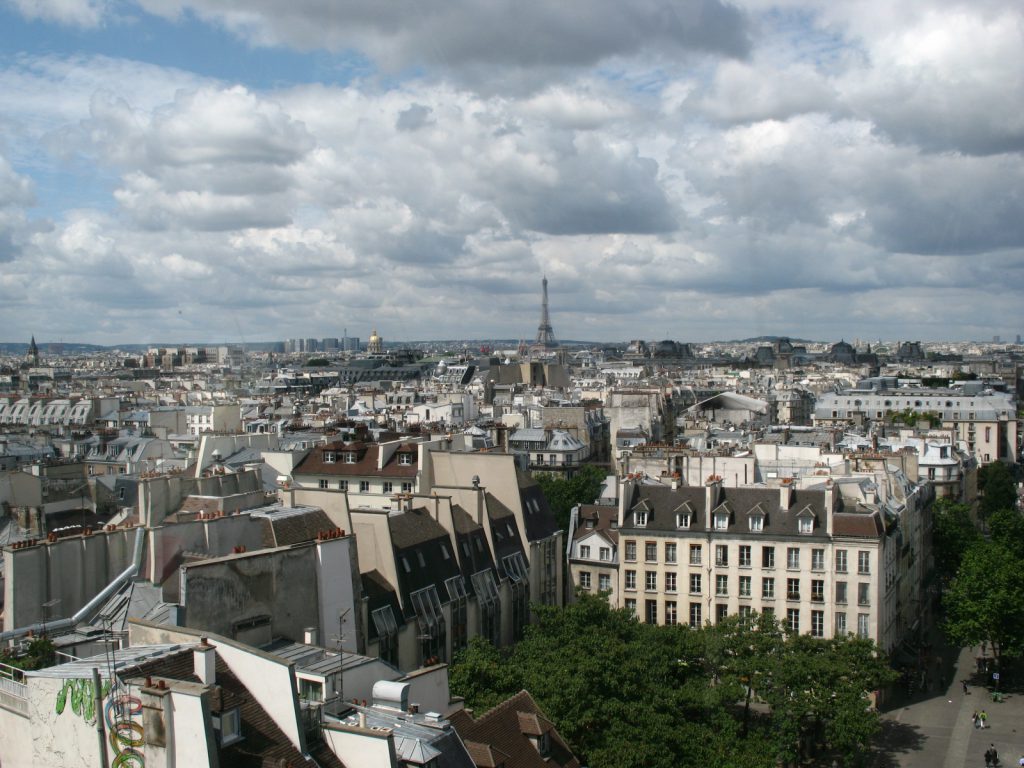 Certainly not to be missed in the 3 day itinerary is a boattrip on the Seine. Aboard one of the famous bateaux-mouches you can view the city from the water, which gives you a different perspective.
And last but not least, if you have good weather (sunny, not too cold), head over to Ile de la Cité for a picnic on the waterside. Loads of locals do it. Bring some French bread, a bottle of wine, some French cheese and grapes and watch the sun set over Paris. You won't regret it!
3. Paris in 5 days
When you've got 5 days, then you've got enough time to really soak up Paris!
First of all, there's the area of Montmartre, which is a hilly neighbourhood. You should take the metro to 'Blanche' and start your day at the famous Moulin Rouge. For those who enjoy a little cabaret, you can also book dinner shows there (more info here).
After a picturestop there, it's time to climb up the narrow streets of Montmartre to the Sacre-Coeur. Climb up to the vineyard of Montmartre (corner of Rue Sainte- Vincent and Rue des Saules). You can't actually visit, but in spring / summer / fall it makes for a great picture.
Then head to the Basilique du Sacre-Coeur. The interior is not that pretty, but the view over Paris is stunning… once again 🙂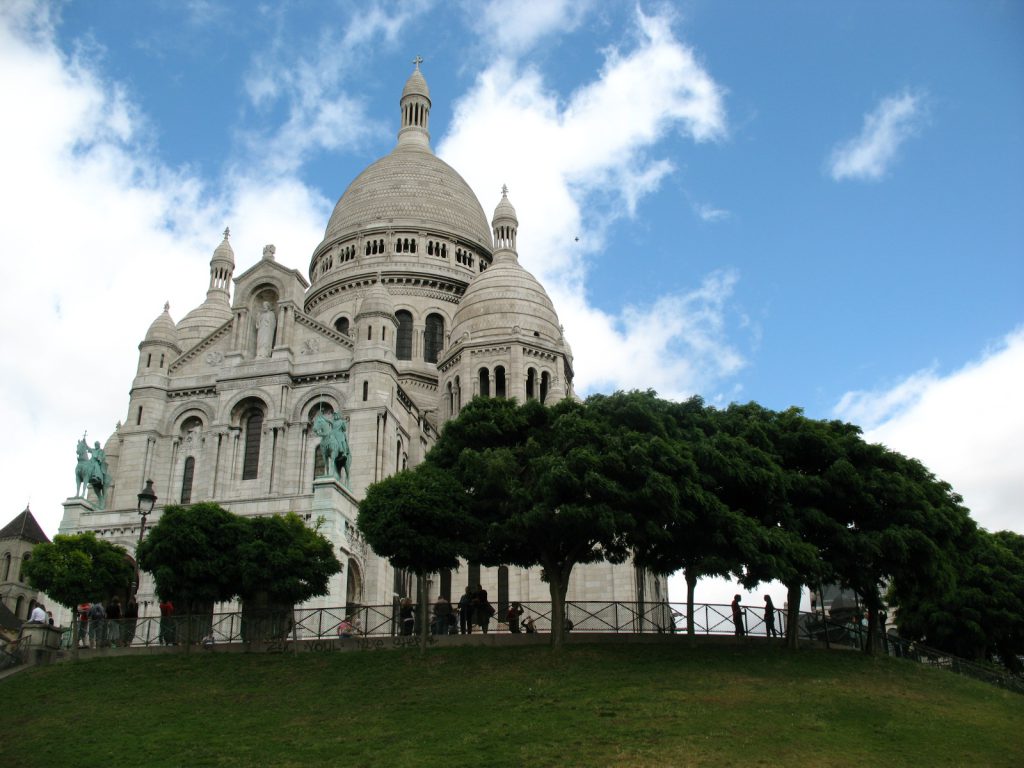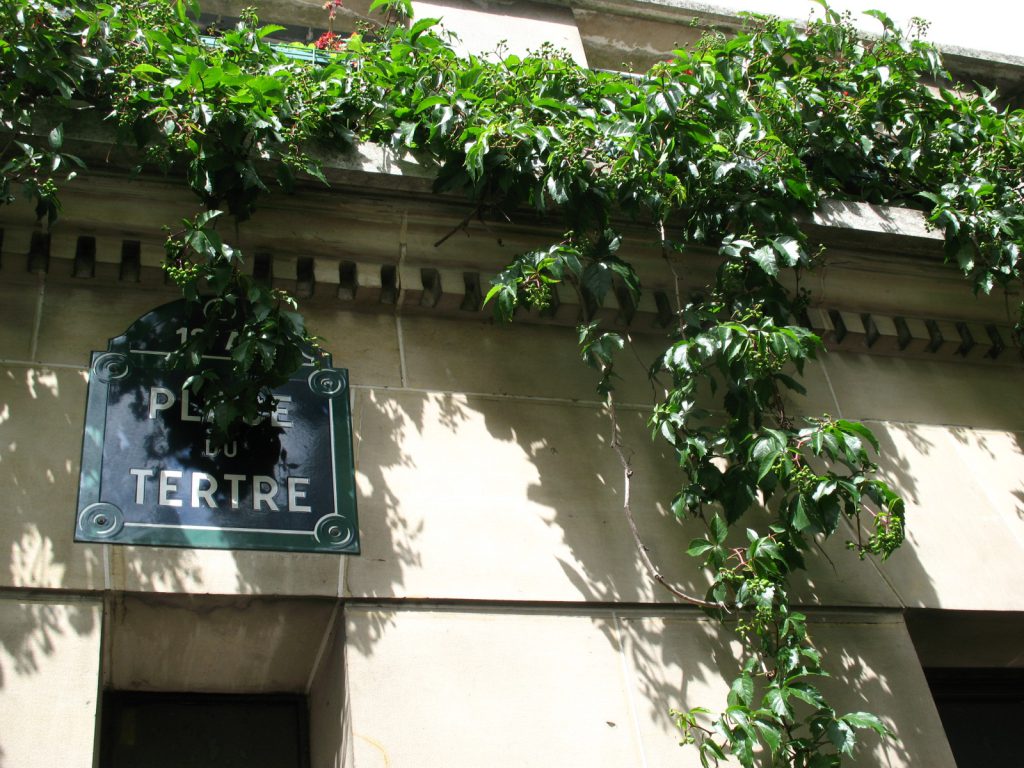 Near the Basilique you will find Place du Tertre, a cosy square with loads of painters doing there thing. Just behind the square is one of the best restaurants I've eaten in Paris – Chez Plumeau. Their steak with blue cheese sauce is divine and on a summers day it's great to sit outside. You'll also find my favourite museum in Paris there: the Espace Dali. I'm a big fan of his work and this small museum has a changing collection. I've been there 3 times and it never bores. You should factor in about an hour for this museum.
If you are a fan of weaponry and history, the Musée de l'Armée (Les Invalides) is well worth a visit. Not too far away you'll find the magnificent Jardin du Luxembourg, one of Paris' incredible parks. Each season the flowerbeds are different, with flowers that are blooming in that period of year. It's a place where I like to soak up the atmosphere and get inspiration for our flowerbeds in our garden.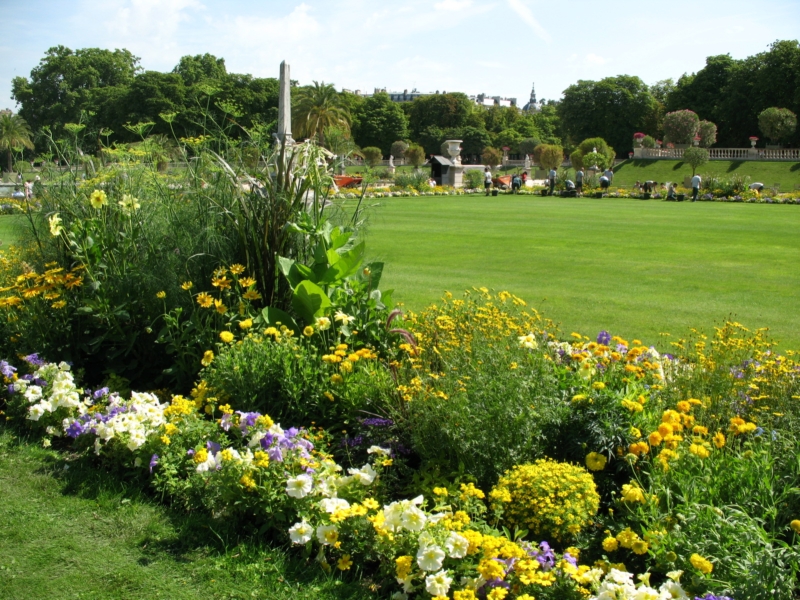 After soaking up all that fresh air, head over to l'Eglise Saint Sulpice, especially if you have read The Da Vinci Code by Dan Brown. Even if you haven't, it's a great church to visit inside.
Then, continue along to l'Ile de la Cité. Now would be a good idea to actually visit de Notre-Dame, but there's a far better place to soak up some Christian vibes: la Sainte Chapelle. Tucked away in one of the smaller streets on the island the church is hard to miss: there's always a cue waiting to get in. La Sainte Chapelle has the most stunning glass windows you'll ever see –  you won't regret standing in line!
To top this part off, I'll share two more viewpoints in the city:
– La Tour Montparnasse: this high tower has a panoramic observation deck on the top floor. It's not free though, and tickets are quite pricy. More info here.
– Grande arche de la Defense: also a payable view, slightly cheaper than Montparnasse. You have to take the metro a bit out of the city, to la Defense – which is a high-tech office area. The Grande Arche is perfectly aligned with the Arc du Triomphe, making it a viewpoint well worth the effort – on a clear day that is! More info here.

4. Tips for shopping and food
For me Paris is not that much about shopping, though I know a lot of people will disagree with me. If you would like to go shopping, I've added a few links to the map that might be convenient: Galeries Lafayette, Les Halles and the Champs Elysées. The fourth one, Le Marais, is the area where I like to shop. It's full of little stores, with curiosities. But it's not where you'll find the big brands…
Paris and good food is something rather difficult. I'm sure there are loads of good places to eat, if you have a fine budget to spend. But for the average traveler, those will be a little too high prised. You have to keep your eyes open at all times, because often food is overpriced and not that good. In Paris it's always more expensive to eat outside than inside, and you will pay less for a glass of wine than you will for a softdrink. Water is almost always free at the table if you ask for it (tab). When you order your wine from the bar, you'll pay even less.
There are a few places that I love to eat. As I mentioned above, my favourite spot is in Montmartre, near Place du Tertre: Chez Plumeau.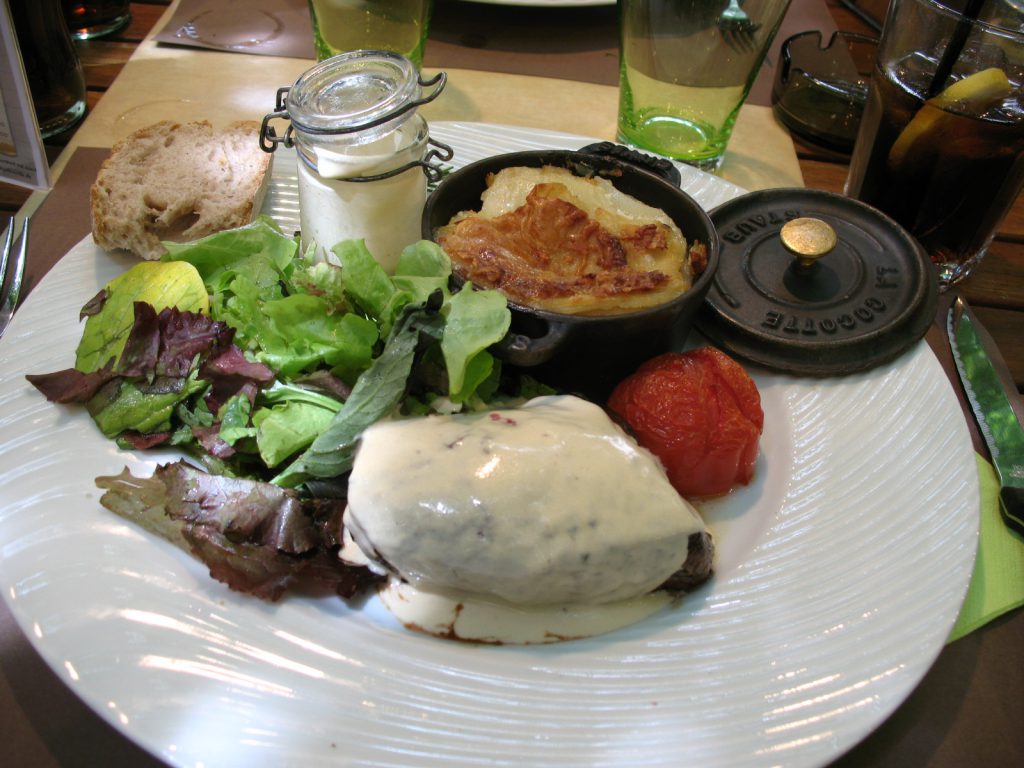 Other than that I can really recommend Quartier Latin for great value food. This is the area of La Sorbonne, the university of Paris. A lot of the restaurants there offer good quality 3 course menus, for a fair price. Be sure to try a traditional raclette, a lovely cheese dish.
Near the Eiffel Tower you'll find Café de Trocadero, which is also a good spot to eat out – with a magnificent view as well. And if you really can't find what you're looking for, your sometimes safer with MC Donalds as an option – if you like fastfood that is. It'll be less pricy than most of the tourist scam restaurants, and at least you'll have an idea what to expect 😉
---
Paris, banks of the Seine ( nr. 600)
All the important buildings in Paris can be seen from the banks of the Seine: the Louvre, the Eiffel tower, the Notre Dame Cathedral, … Walking these banks is a lesson in Parisian history.

---