While our original plan for this summer was Sri Lanka, the COVID-19 pandemic forced us to change everything. We booked a trip to Portugal when numbers in Belgium were low and travel was allowed again.
At first, we wanted to travel around the area of Lisbon and then head out to the Algarve. But Belgian government didn't quite seem to be possible to make up their minds of what was allowed in travel terms – so after having booked at the end of June, we had to change everything again two days before departure (only two weeks after booking). Belgium had decided to work out a color code system, and Lisbon became a "red zone", meaning we could not stay in the area.
This meant we had to rethink our plans and search for a COVID-neutral zone, which we found in the stunning Alentejo. A small downside (well, for the two girls traveling anyway) is that the Alentejo is inland, close to the border with Spain. And that means the Alentjeo is HOT. We had temperatures over 40°C every day, which meant sightseeing in the early hours and pooltime in the afternoon. After a while, and some hints from our lovely Air BnB hosts, we decided to escape to the much milder climate of the Atlantic coast.
While the places described below are actually visited on two different occasions (we did Cabo de São Vicente & Praia do Amado from our homebase in the Algarve), we decided to group them in one post, since it is the same region after all. I've arranged them from South to North.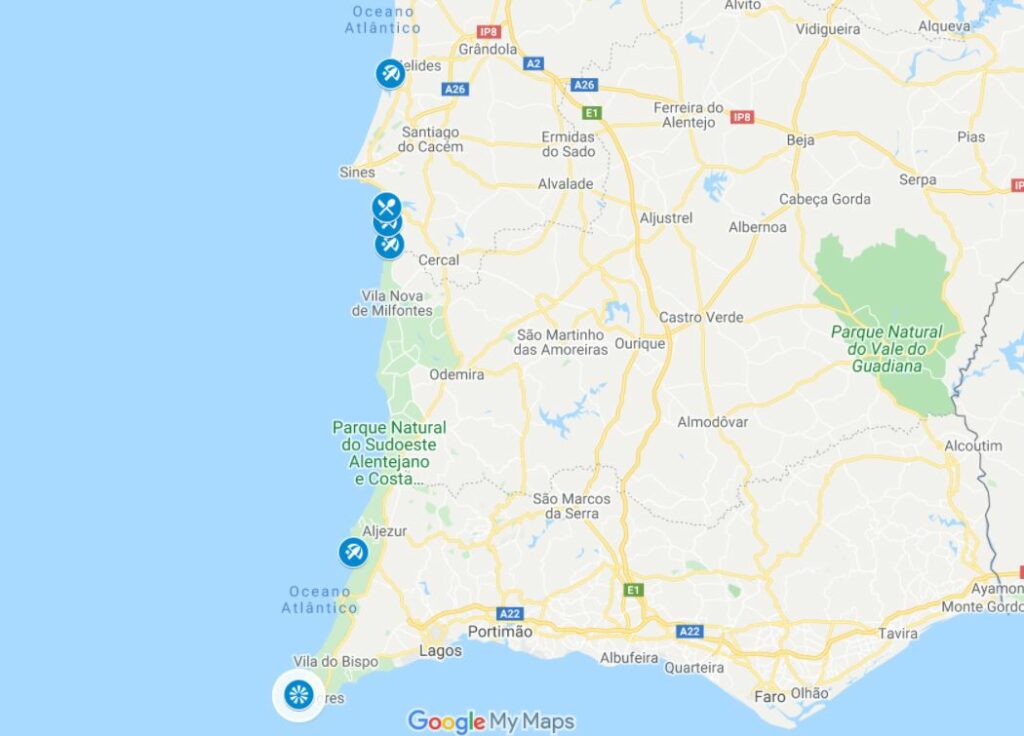 Cabo de São Vicente
This cape is the most southwestern point on the European mainland. Before we all knew that the earth is actually round, people in Europe thought this was the end of the world. Only for that fact, it's a place that should be on your to-do when you are in the area. But it's also a stunning stop, with views on some amazing cliffs. It's also quite amazing to experience first hand what an influence the Atlantic ocean has on the climate. We had lunch at a beach in Salema, where it was hot. We drove for 25 minutes to reach the cape and temperature had dropped from 27°C to just 18 °C (which felt like heaven for the two girls and left Maarten shivering).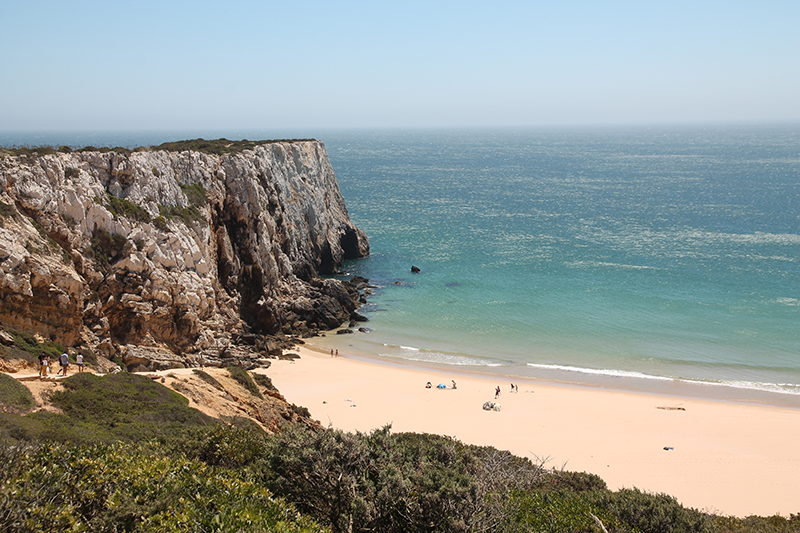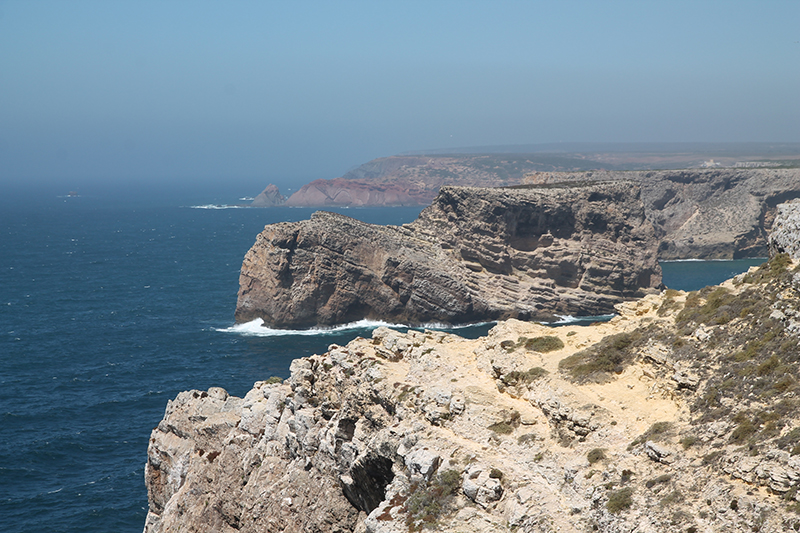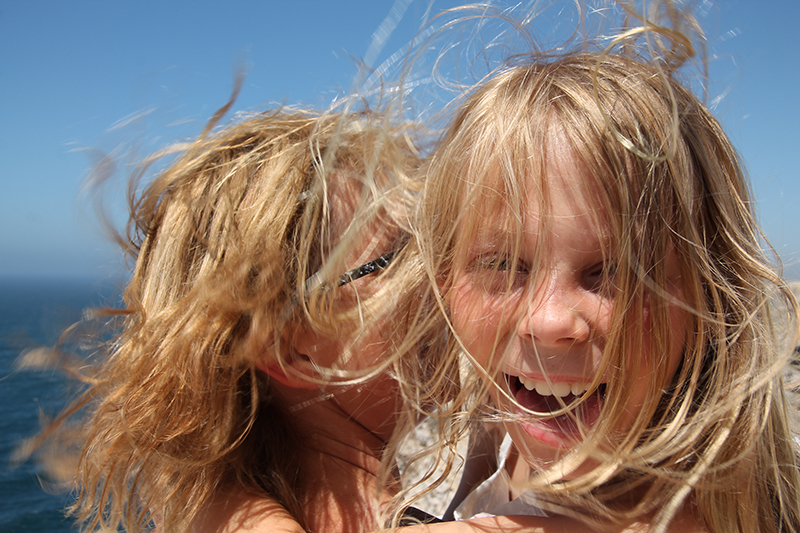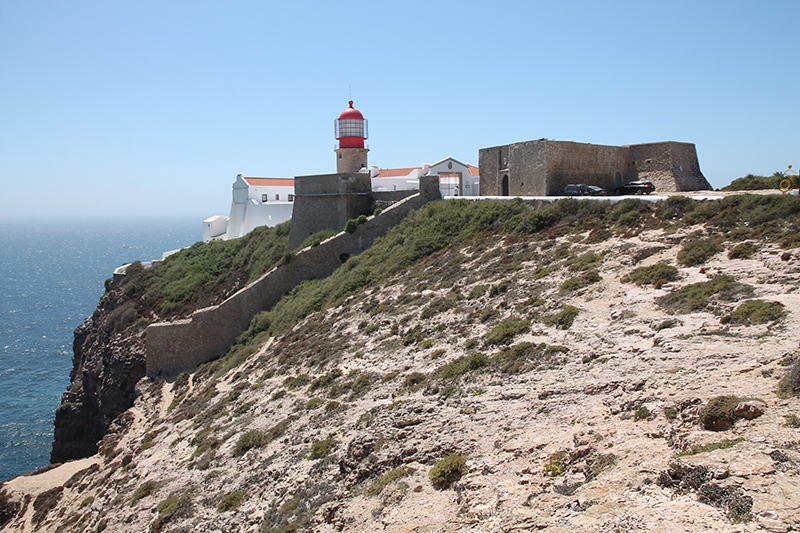 Praia do Amado
After leaving the beautiful area of Cabo de São Vicente, we decided to drive a bit further along the coast. We made a stop at Praia do Amado, a stunning surfers beach. Not only was it a pleasure to see all those surfers in the water, the coastline is simply amazing. There was a relaxed atmosphere – the ideal campervan spot!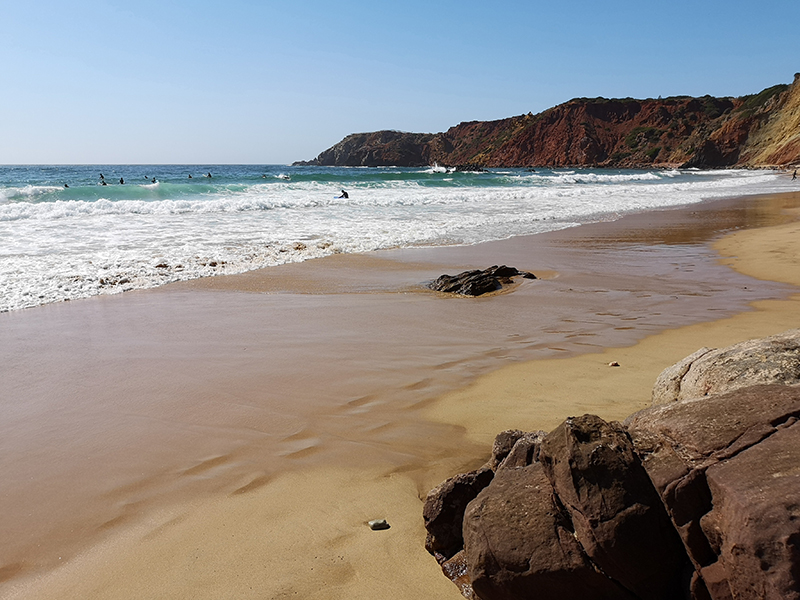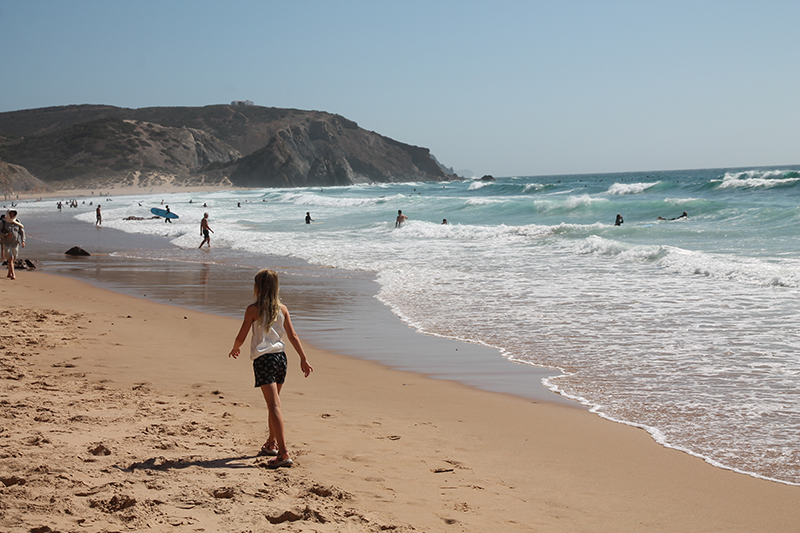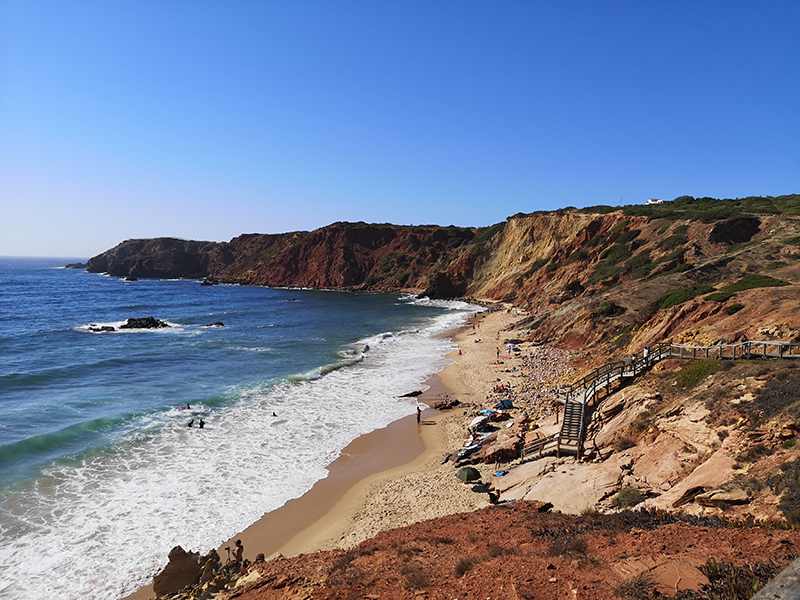 Pesseguiero Island Beach
This part of the coastline brings us to the part we did when we were staying in the Alentejo. The beach is actually named after the island you can see from the beach. The name probably comes from ancient Roman times, where there was a factory salting fish on the island – piscatorius and now pesseguiero.
It's a less crowded beach than the beaches further up north. It has a small beach bar and a parking area, which makes it easy to acces.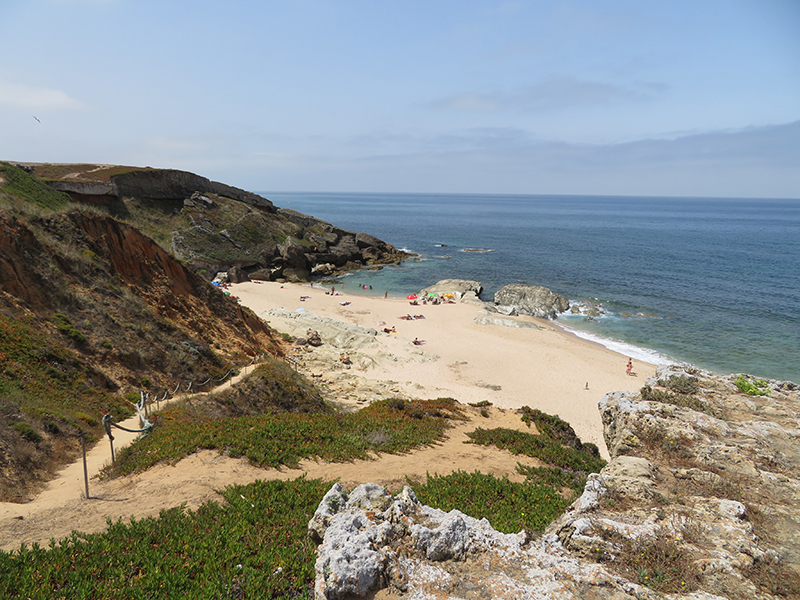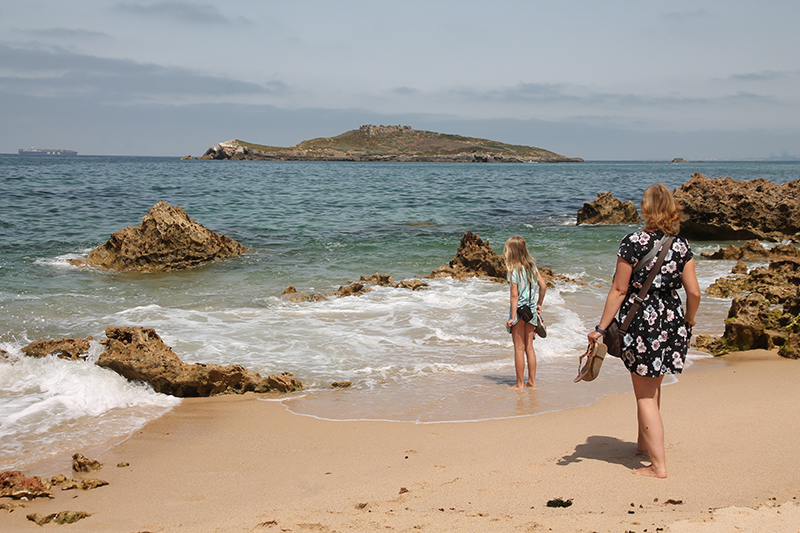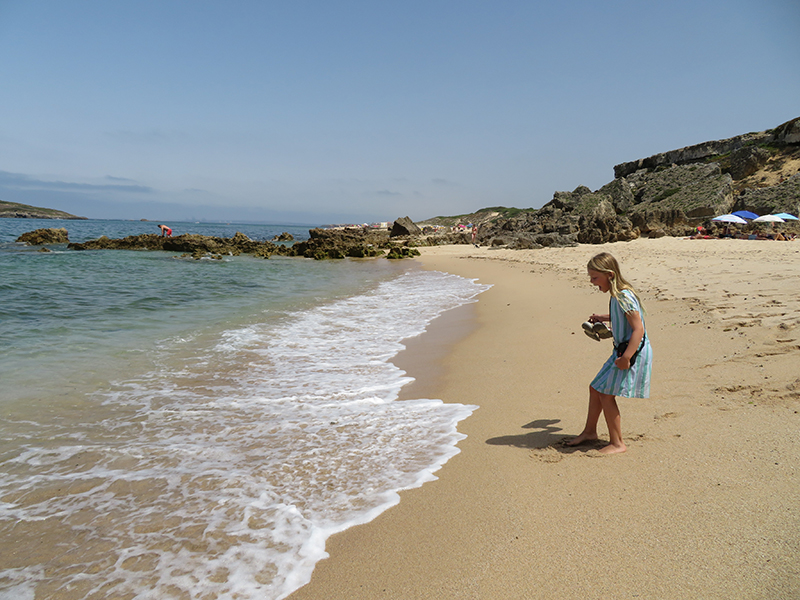 Praia da Samoqueira
A bit to the north of Porto Covo, the popular coastal village in the region, you'll find Praia da Samoqueira, a stunning beach with cliffs covered in wildflowers overlooking it.
What we found especially great about this beach is the point where waves collide both from your left and your right side. It's a natural phenomenon we hadn't seen before.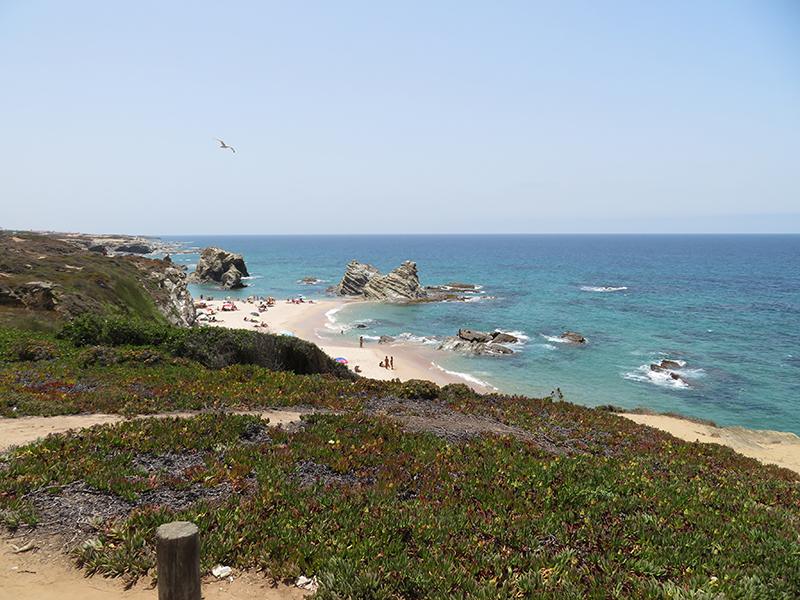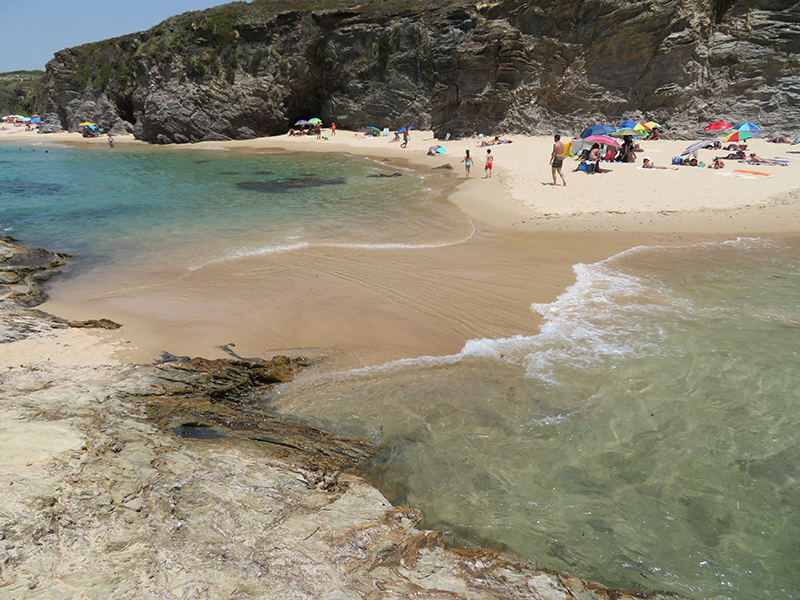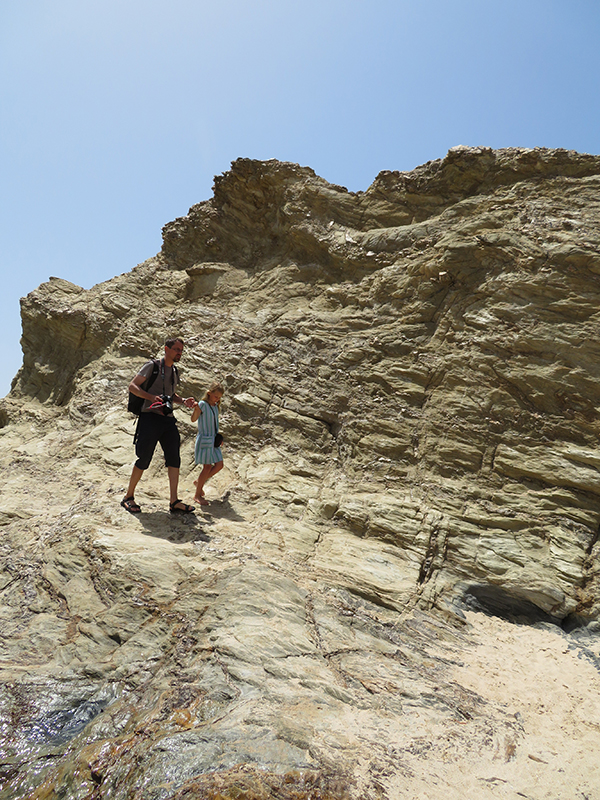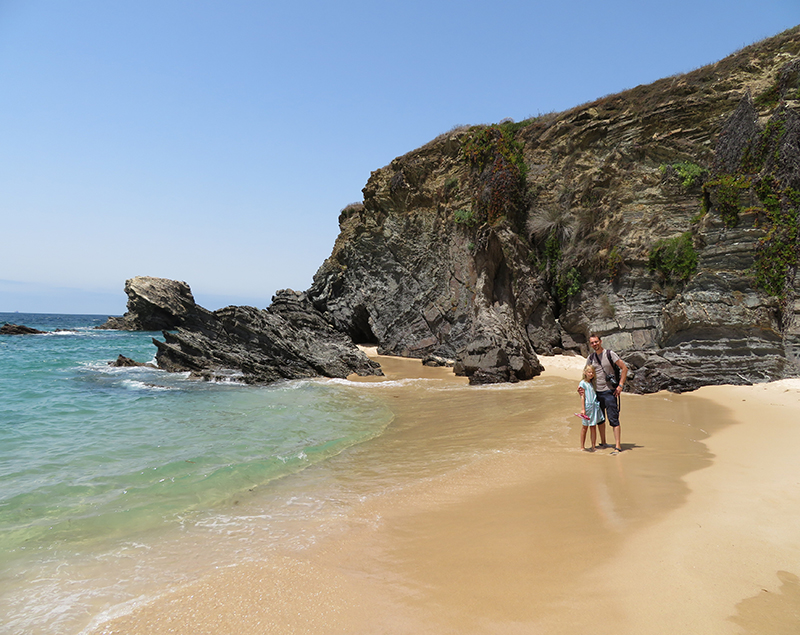 Magic Cactus
Not a beach, but a beach bar overlooking Praia da Vieirinha – and if you ask us: a must-stop when you are in the area. The bar has shady or sunny spots overlooking the beach and the kitchen serves delicious food. Ranging from omelets to toasts and salads and a variety of typical Portuguese dishes, such as pica pau – a dish you absolutely have to try. The grilled fish is stunning as well.
Besides its excellent food I can imagine in non-covid times it would be an excellent bar to have a few drinks with your friends and soak up the atmosphere. Have a stop there. You will not regret it 🙂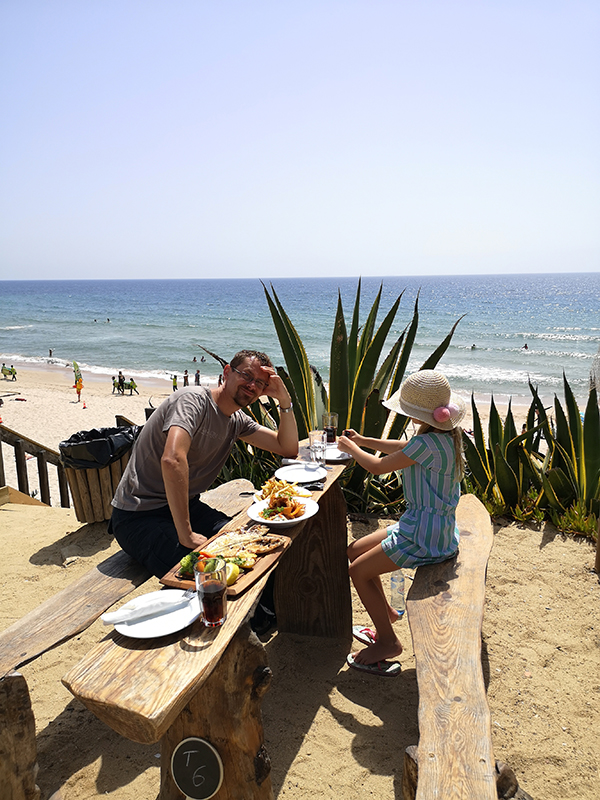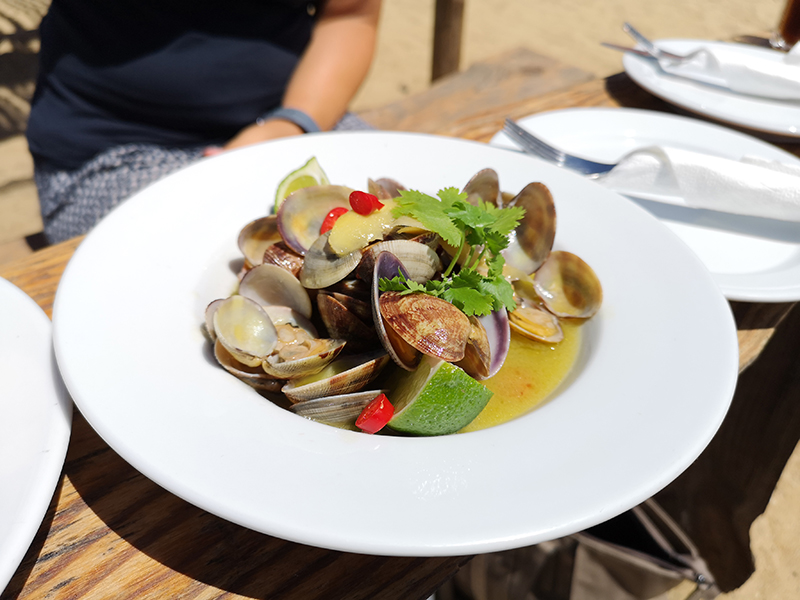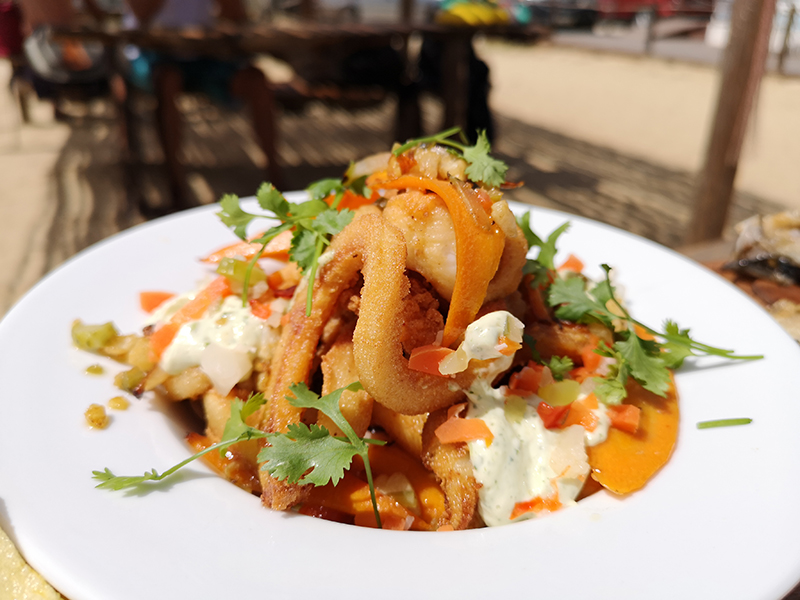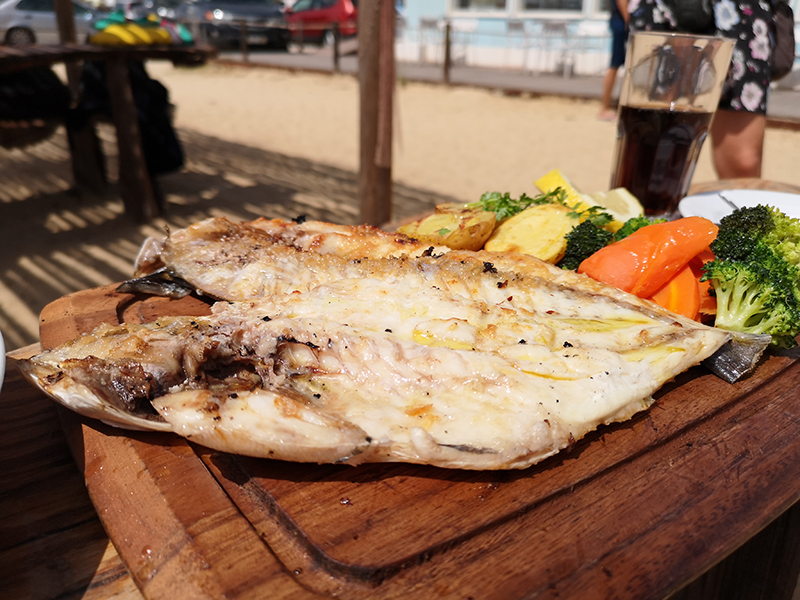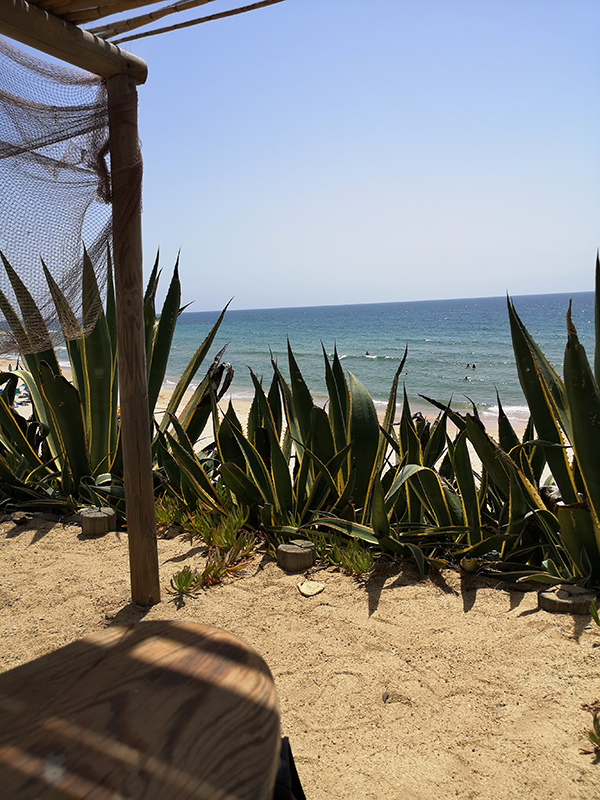 Praia da Aberta Nova
There are many stunning beaches we didn't do, but time was limited. We decided to drive up to Praia da Aberta Nova as our last stop of the day. Surrounded by beautiful sand dunes, this wide beach is simply stunning. The waves we saw there were huge and it made our visit to the beach extra fun.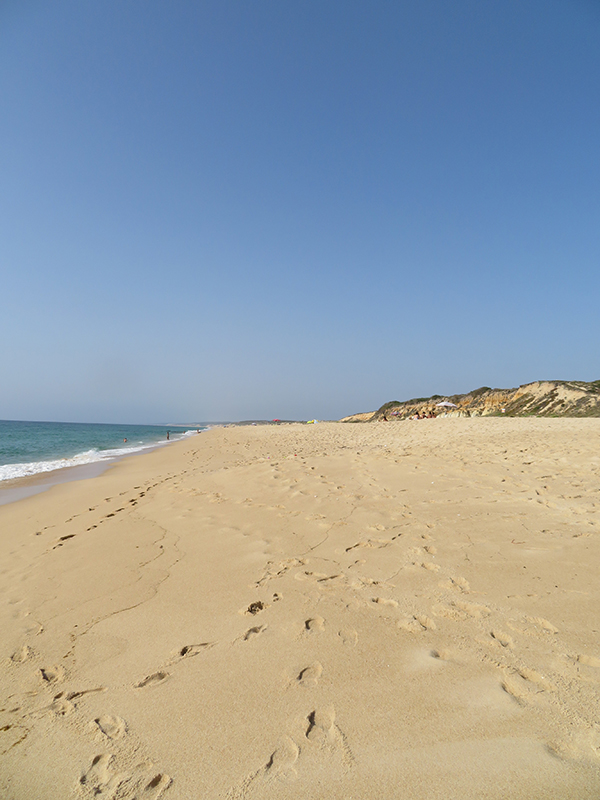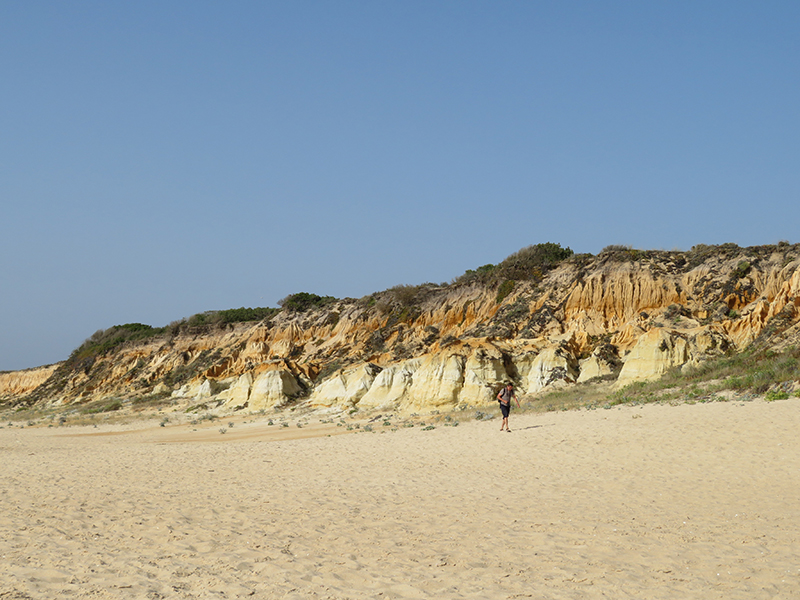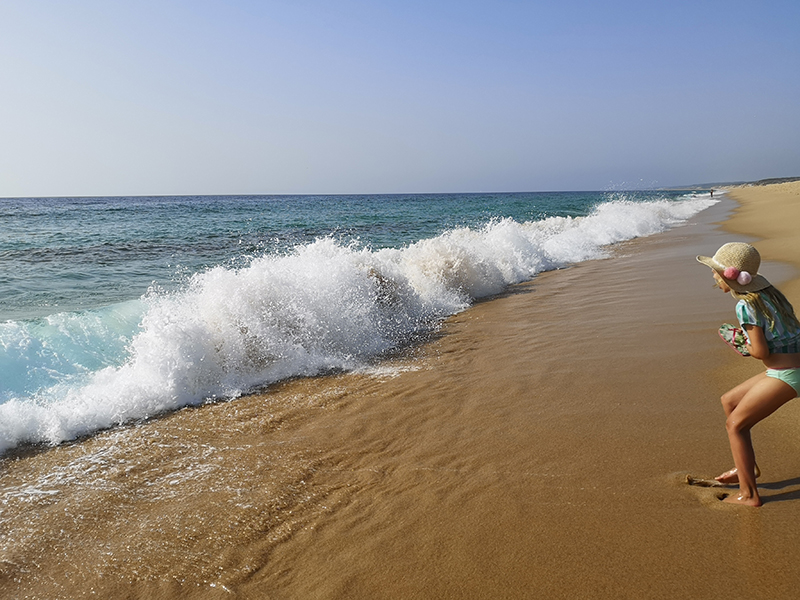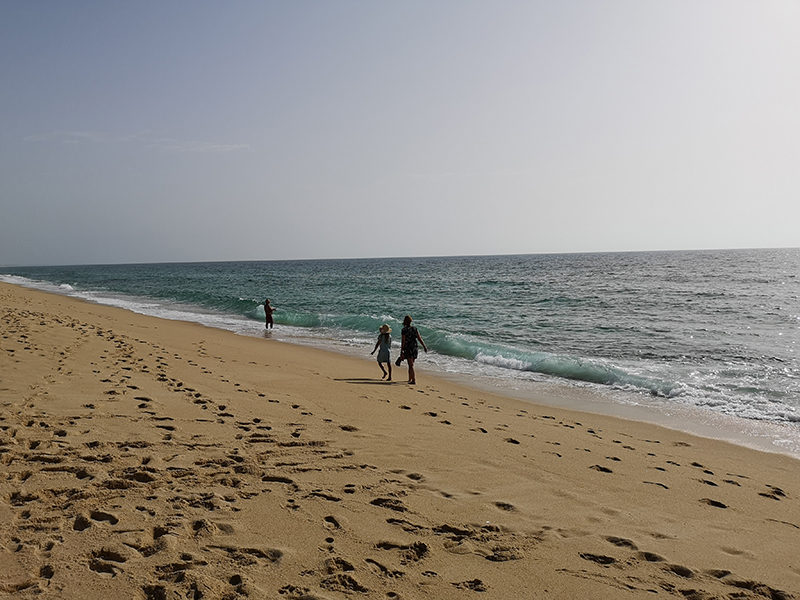 Now – which is the best one?
It's hard to tell. They were all stunning, but I think on me personally, Praia do Amado left the biggest impression.
One thing that you should now is that the currents along Portugals beaches are strong – everywhere we went. Waves crash hard, and there is often a strong current that you can feel pulling at you – so beware if you go in with younger children or if you're not a great swimmer yourself. Febe is great in the water, but felt somewhat threatened by the currents. She found it more pleasant to jump in the waves than to actually swim.