A few years back, we went camping in Wales during our fall holiday. Those who have been following our adventures for a while know we had some serious issues with moist during that trip. Due to COVID-19 camping is hotter than ever and we see a lot of people exploring Europe in a campervan or mobile home. We also started to see more people using rooftoptents, a concept that seemed quite cool to us. After some research, we decided to give it a go ourselves!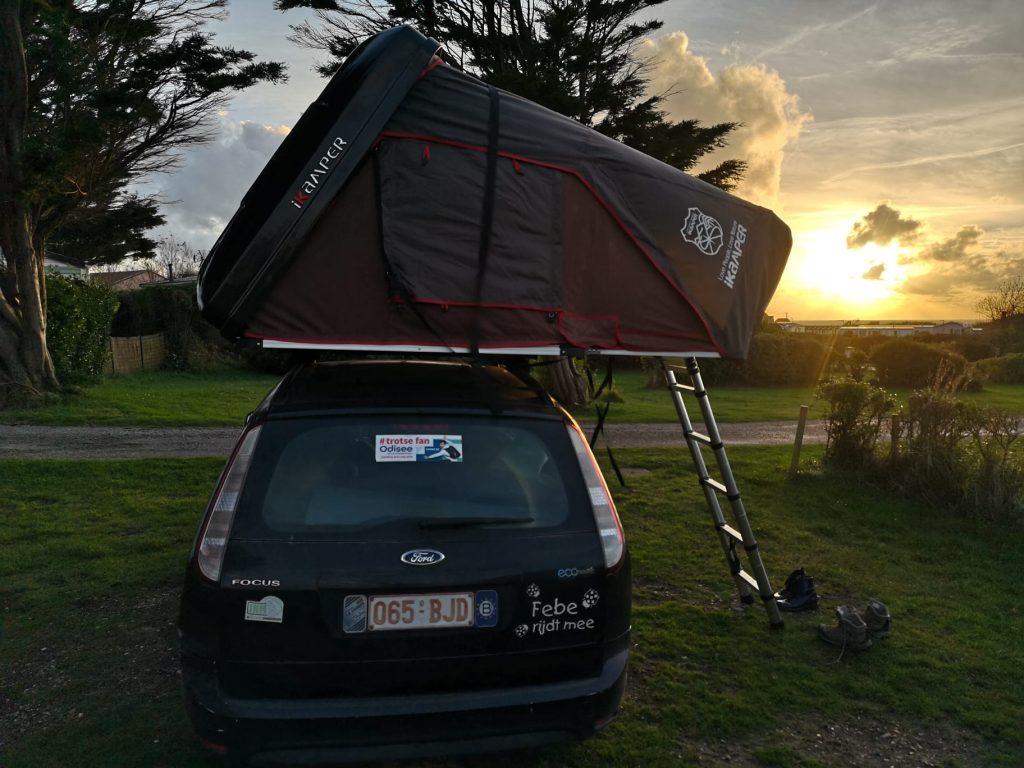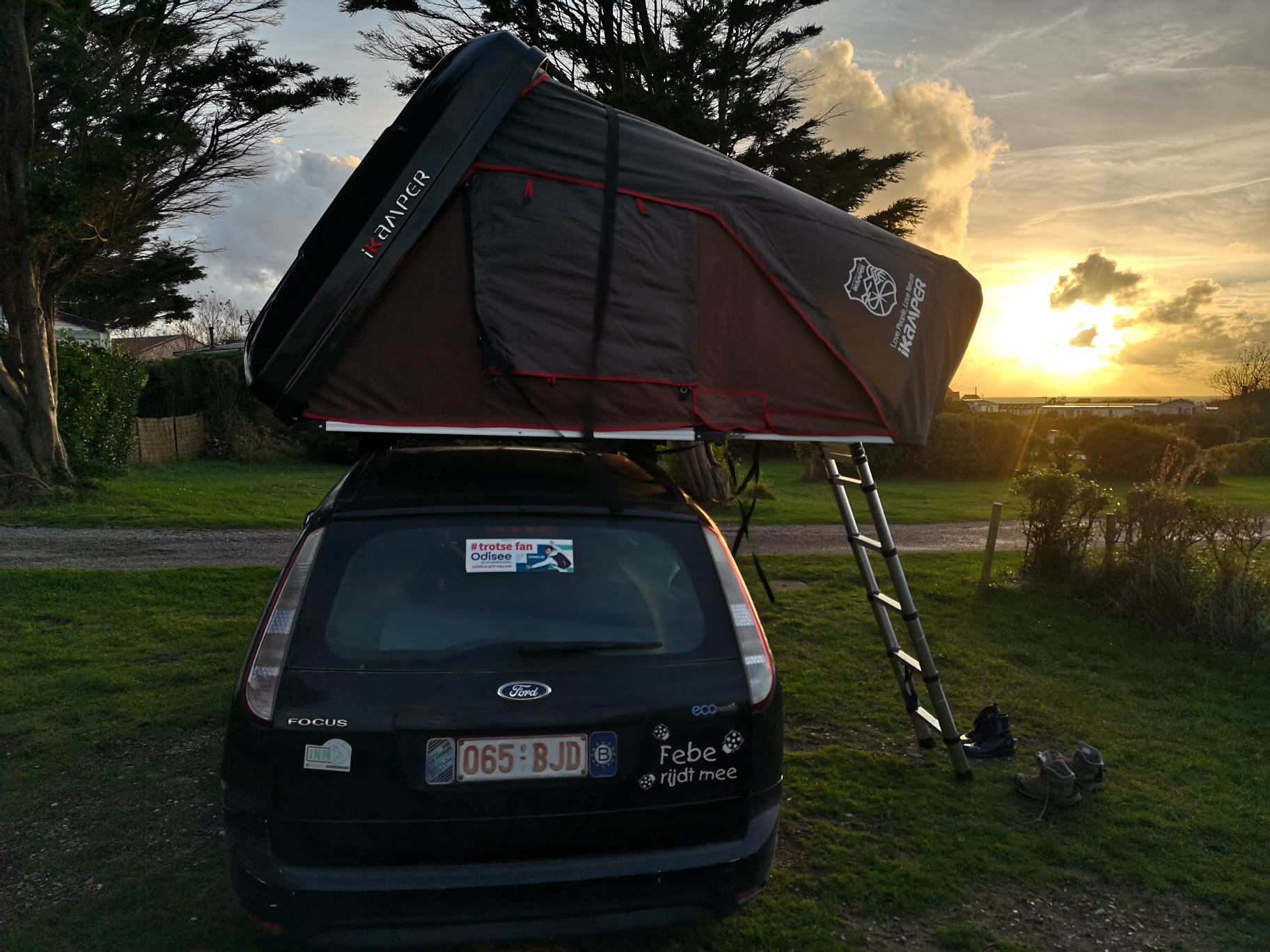 We first explored the advantages of a rooftop tent. The setup is really easy: most cars can actually support a rooftop tent, though not always a bigger one like we rented. It all depends on the amount of weight your car can support on its roof and the length of your car. We rented our rooftop tent from Overland Adventures, a small company near Bruges. Should you decide to try one out yourself, we can highly recommend their service! They give excellent advice on what type of tent fits your car, and you can take a look at different models in their shop.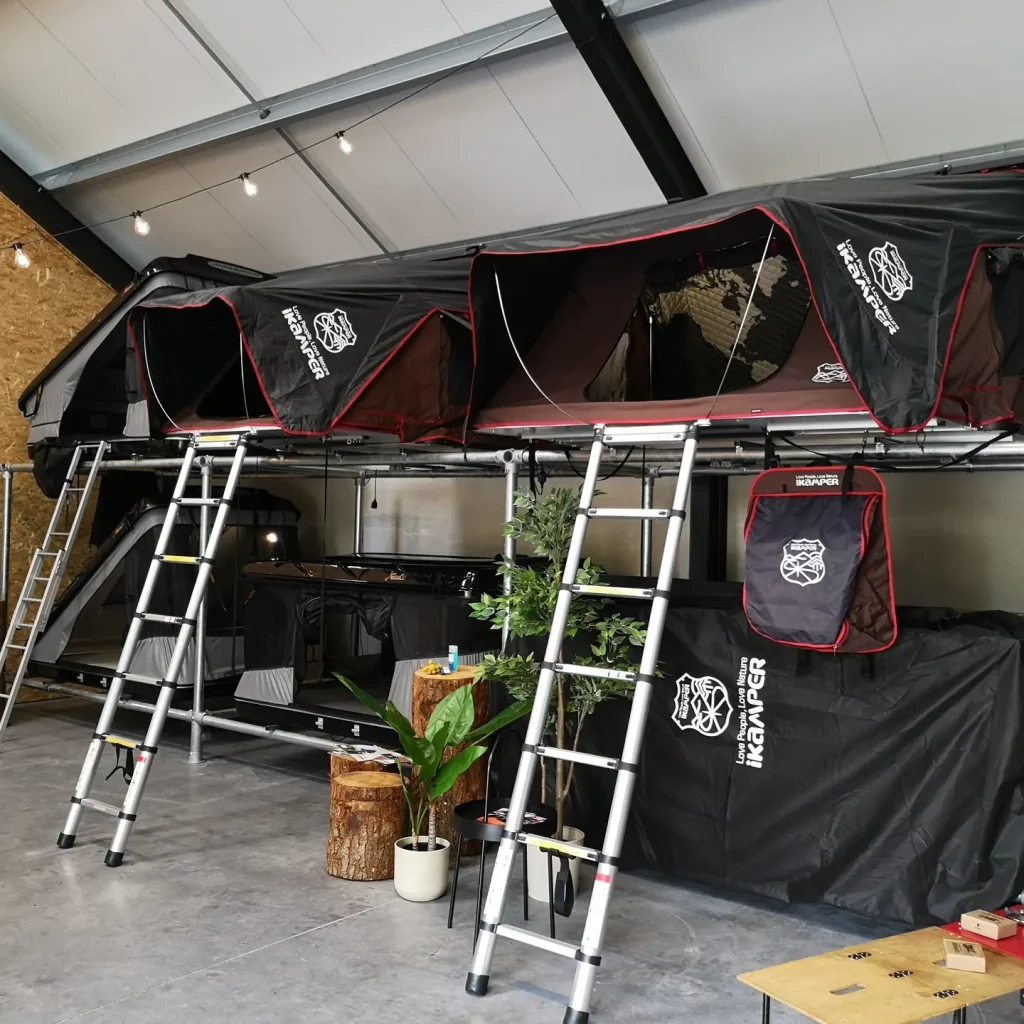 We decided to rent a hardshell tent. Hardshells are really easy to set up when you go camping. Our tent was an iKamper Skycamp 2.0 and this tent sets up in literally 2 minutes. It's even quicker than our regular tunneltent – which is obviously and advantage. It's also really easy to put the tent back in the cover, also a matter of minutes. Ofcourse you still have to organise your tent before you sleep (put the matrasses in place, put the sleeping bags in, your books, spare clothes…) but that's nothing different than when you go camping with a regular tent.
You also have softshell tents. They require a bit more work to set up, and for us that was a disadvantage. Our regular tent is so easy to put up, so we wanted this system to be even better. Should you decide on buying, you'll see that there's quite a difference in pricing between the two options. A hardshell is more expensive, but we think it's a fair price for the amount of comfort the tent has to offer. Pricing for rooftop tents goes from around €2000 to €5000 (depending on what tent and which options you pick). That's nothing compared to a campervan or a mobilhome, but more expensive than your regular camping equipment.
We also read that a rooftop tent has less issues with moist than a regular tent, because it's not placed on the ground and there is a fair bit of air between the roof of your car and the bottom of the tent. Another advantage is that you can set up your tent even on a hard terrain. When wildcamping in the south of Sweden rock bottom was sometimes an issue, driving us to search for a campsite instead of camping out in nature.
And so our little adventure began. The main reason why we wanted to test this type of tent is to see if we could camp out in less perfect conditions (fall, winter, Iceland, …), so we decided to test it out in the fall holiday at the end of Octobre / beginning of November. Covid made our destination easy: France. Since Febe is not 12 years old (yet, she'll be soon enough!), she can't be vaccinated (yet…). For a lot of countries (yes, Germany, we are looking at you) that was an issue, meaning she would have to take a PCR test for all activities during our travels, even for visiting a museum. So that was a no-go for us. Maarten can't really travel without a plan, so he researched Normandy and Bretagne to explore. The only downside was that just before we took off, there was a sudden switch in European weather. While fall up untill that point had been very generous, with warm, sunny days all of the sudden it hit Europe with rain, wind and colder temperatures. Ah well, we figured it would be good for the testing part of the trip 😉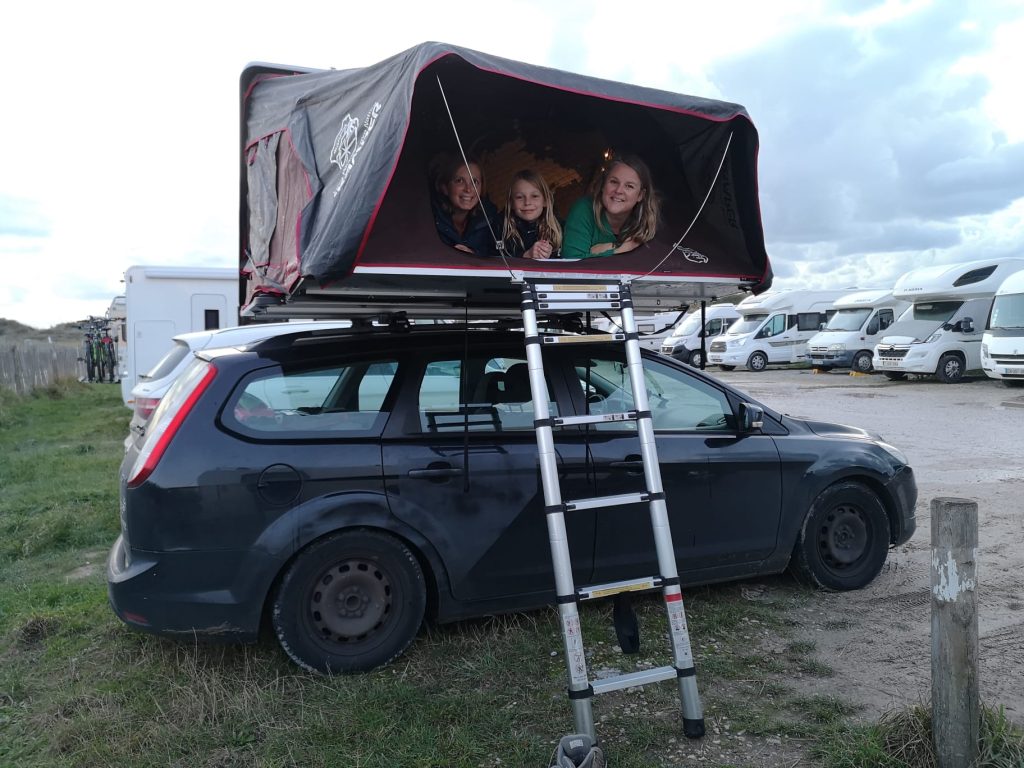 So, the main question remains: is a rooftop tent a good idea?
Well, it can be. But not for traveling in less perfect conditions, if you ask us. The tent did well moist wise, up untill temperatures dropped below 10°C at night. We had 3°C one night and the whole inside of the tent was wet, just like our regular tent was. Our sleeping bags and clothes felt damp, so no difference there. Lucky for us it was only one night (we booked a B&B for the next cold night). In Wales we had temperatures below 0°C every night…
The biggest disadvantage we had was the wind. While in our low tunneltent wind hardly bothers us (we've had some serious summer storms inside that tent!), wind above 30km / hour was a real issue in the rooftop tent. Not only does the whole thing shake, but it makes a lot of noise. With a rooftop tent the trick is to position the hardcover shell against the wind. But we discovered that the wind often changed during the night and that this is simply not always an option. Most campsites in France closed the first weekend we were traveling. We mostly stayed overnight on mobilhome / campervan parkings after that point, and you have to park in the assigned space there. On our last night in France that resulted in us packing up the tent in the middle of the night to go sleep in our car. Wind was about 50km / hour at that point, and after two hours of not being able to sleep anymore, we just got fed up with it. A rooftop tent is safe up untill 100 km / hour, but we sure wouldn't want to be inside one at that point 🙂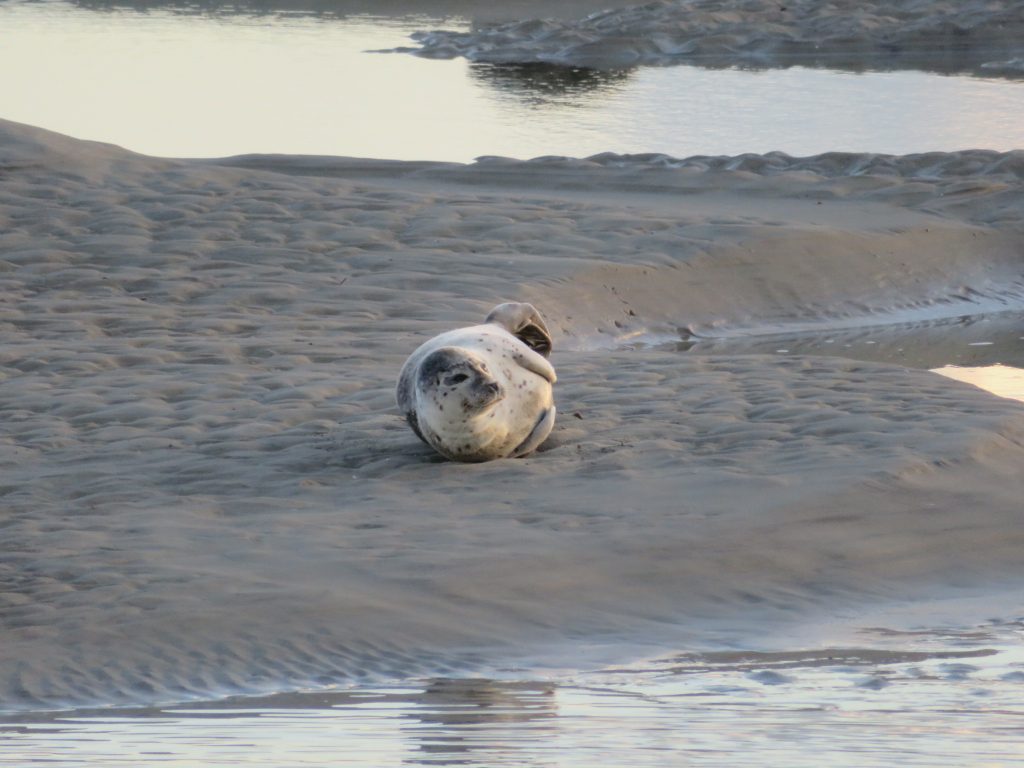 Another disadvantage for us is the fact that you don't have a front compartment in your tent. You can rent or buy a sort of tunnel to put over the ladder – which we didn't do. That might solve the issue of not having a large front compartment, but we're not entirely sure. We use that part of our tent to store our shoes, our food, our mini-fridge when we camp in summer, our clothes for the next morning, a small table on which our cameras and smartphones are charging,… That's a lot of equipment we can stow away dry at night. For this trip we never had any electricity, but in summer we always take it when camping on a campsite. We're still not sure how to do all of that in a rooftop tent 🙂
That brings me to the last disadvantage we discovered: once you put up your tent, your car has to stay parked. While the car can drive with the tent folded in, that's just not possible when your tent is out. For this trip that meant we had to think a lot more about where we would stay and when we would put up our tent. Because it was dark really early and it often was raining or there was a lot of wind in the evening, we didn't cook ourselves. We went out to restaurants to eat, but then we would have to find a space to stay the night where restaurants would be on walking distance OR we would have to put up the tent afterwards. Like I said earlier, the system is easy & fast – so often we did the latter and for this trip that was OK. In summertrips we often like to hang around for several days to explore a bigger region around our campspot, but then we like to have the car available to take us to starting points for hikes, interesting cities nearby or even grocery shops or restaurants. While stowing away the tent is quick and easy, it does take about 45 minutes to put the lights away, roll up your sleeping bags, get everything out of the tent (our books, clothes, …) and fold in the system. That's just not something we would want to do if we're staying on the same camping for a few days.
So was it worth it? Yes. And did we still enjoy our trip? Yes. We really enjoyed the trip, despite these small issues. We think the rooftop tent is a charming way to camp – if you have nice & calm weather. Anything up to 10°C at night is perfect, if there's not too much wind. In summer this could be a really nice way to head out, but if you ask us only if you plan to really take a roadtrip and only stay 1 night at each spot. We think it could be a great idea to rent one to go to areas where wildcamping is allowed (Norway, Sweden, Finland, Scotland), or to more remote areas where it might be tolerated, because you'll have the advantage of being able to camp comfortably on any spot and not only on flat grassland. There's no rocks, branches, small stones, … that can bother you with this system. That's a huge advantage when wildcamping.
For us, we think we'll just stay with our regular tent though, for all the reasons mentioned above. But don't let that stop you. The best way to discover if this is something for you is to try one out. Try it for a weekend or week closer to home first. And when camping in fall or winter – try something else 😉 For those periods we are going to try to rent a campervan next time. A little more comfort might be just what we need in rougher weather.
And as for Iceland… we'll figure out what to do with that in a few years.