For a traveller, the weather is always that one undesired factor of unpredictability. Especially when you are having your summer holiday in a Mediterranean country (i.c. Slovenia), you don't really anticipate long periods of heavy rain. But there we were, end of July, expecting lots of sun, but receiving a much more humid sensation… We were camping near Kranj, in the Julian Alps, and we were aware that the weather could be slightly unpredictable in this area, but 3 days of pooring rain was enough for us to leave for warmer conditions (in our case that was the northern coast of Croatia).
During those three days, we were constantly in doubt: stay or leave? Fortunately, we had a number of "rainy-day-alternatives" up our sleeve: the Rimska necropole and Laško Thermal Centre (swimming pool) for example, and a visit to the capital.
Despite the rain (especially the heavy showers before noon), we were astonished about the many experiences such a small city (centre) could provide. The historical centre itself is tiny, but this city is much more that that. Whether you're an architecture freak, food lover, animal lover, market shopper, sweet tooth, street art fan or just simply in for a relaxing stroll, you will find your thing here. Below, we present you with a list of do's and don'ts, based on a short day of walking around in the centre and a few separate visits on later dates.
Walk those bridges!
Arguably the most iconic parts of this city are its bridges over the river Ljubljanica. The Tromostovje or Triple Bridge once consisted of a single crossing (Špital Bridge), but Slovenian master architect Jože Plečnik added two sides to create a dramatic and unique effect. He left us with a nerve-racking trilemma though: each time you are nearing the bridge, you start to doubt: which one will I take? Nevertheless, with the Franciscan Church as a background, it's one of these unique postcard images.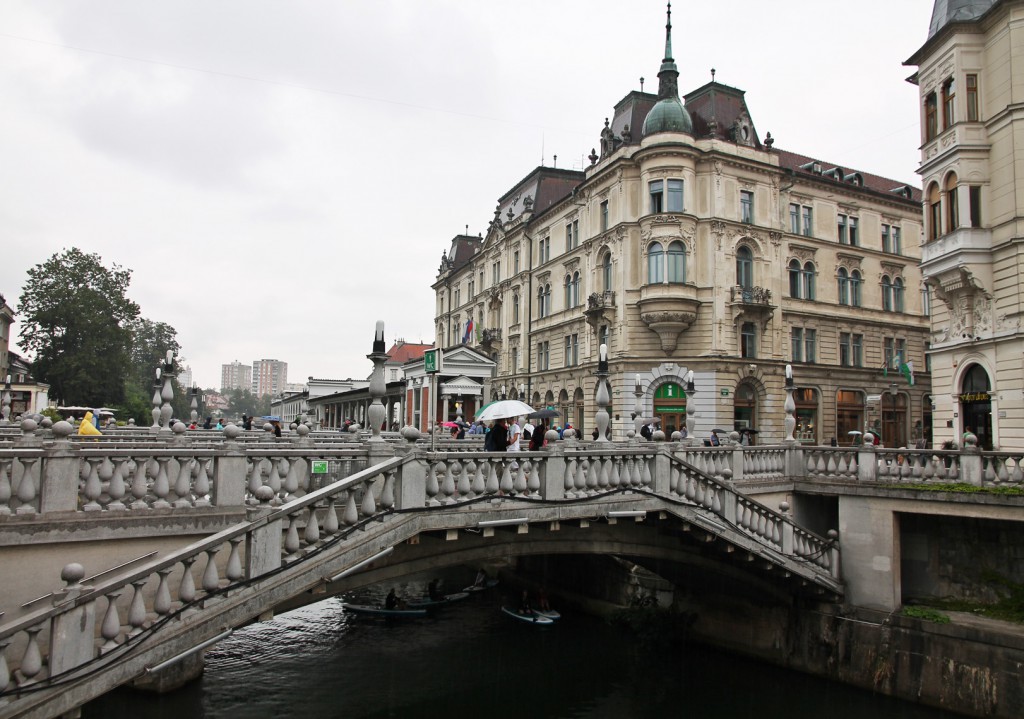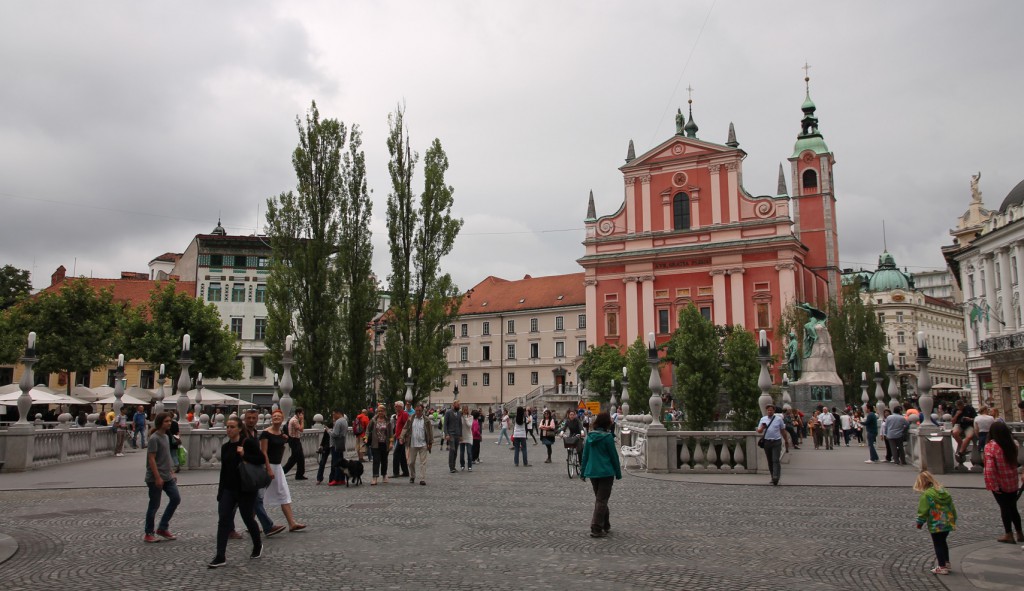 Undoubtedly the most well-known (and most photographed) of Ljubljana's bridges is the early 20th-century Dragon Bridge (Zmajski Most). This Jugendstil masterpiece, ornamented with life-size bronze dragons is a wonder to behold. I must admit it was difficult for me to stop taking photographs from all angles and of all details. The dragons are just perfect!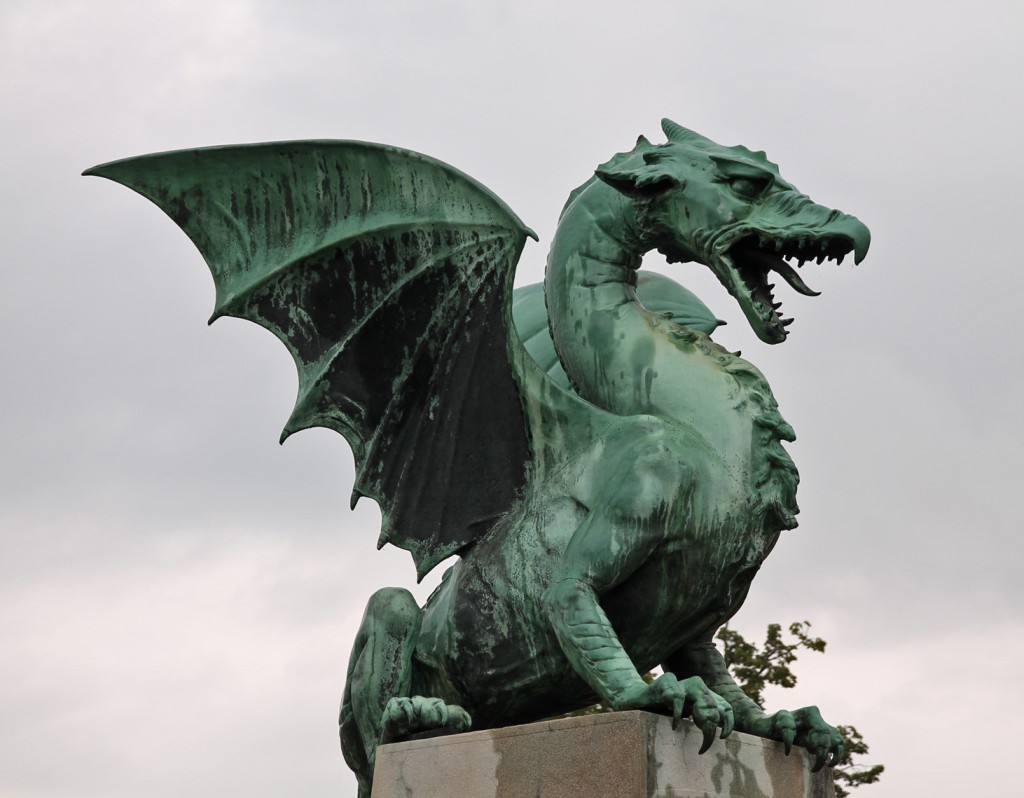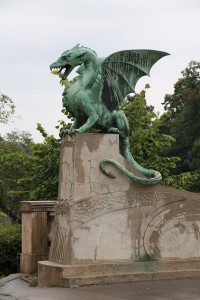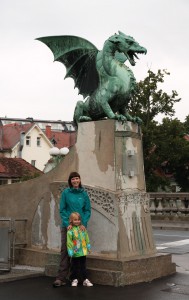 In between those two highlight bridges, the Butcher's Bridge (Mesarski Most) looks (and is) much more modern: it has a glass walking area and is ornamented with modernist sculptures by local artist Jakov Brdar, including some fish (dragon?) heads and scales on the balustrade. Originally designed by Jože Plečnik (who else?), the bridge was constructed only in 2010. It has always been popular as a place where lovers attach their love padlocks.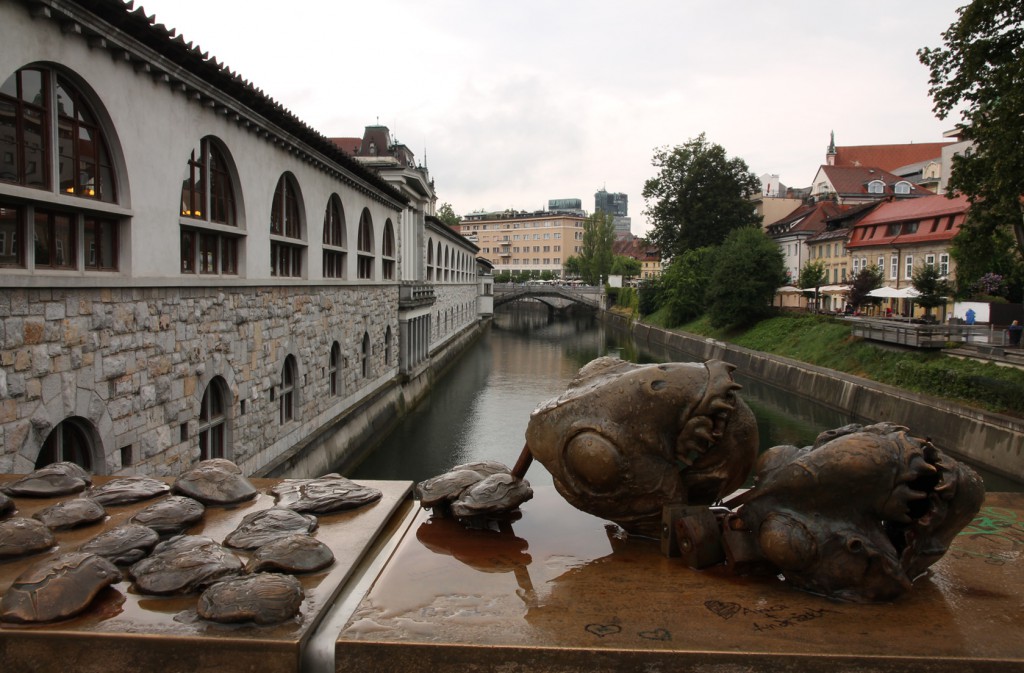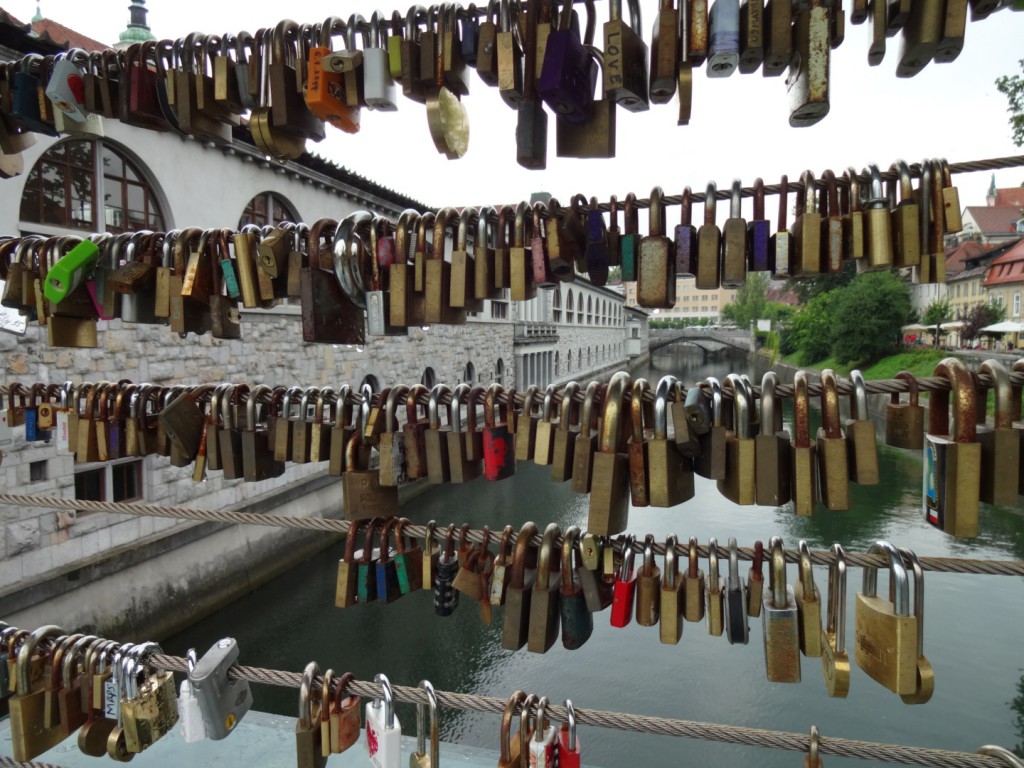 Get inside that Town Hall (Magistrat).
We were seeking shelter from the downpour in the Town Hall's covered entrance, when we decided to take a look inside. The building has three richly decorated inner courtyards that are used as exhibition spaces. We especially liked an exhibition of artists revisiting their original childhood drawings.
Don't miss the (replica of the) Robba Fountain in front of the Magistrat. The figures represent the three rivers of Slovenian Carniola: Sava, Krka and Ljubljanica.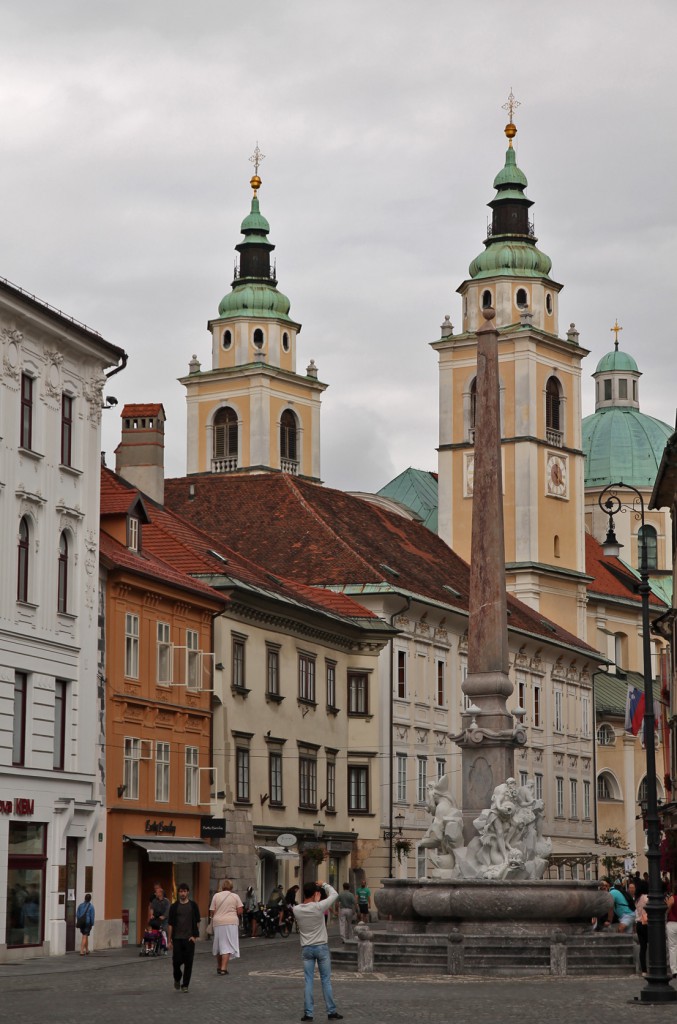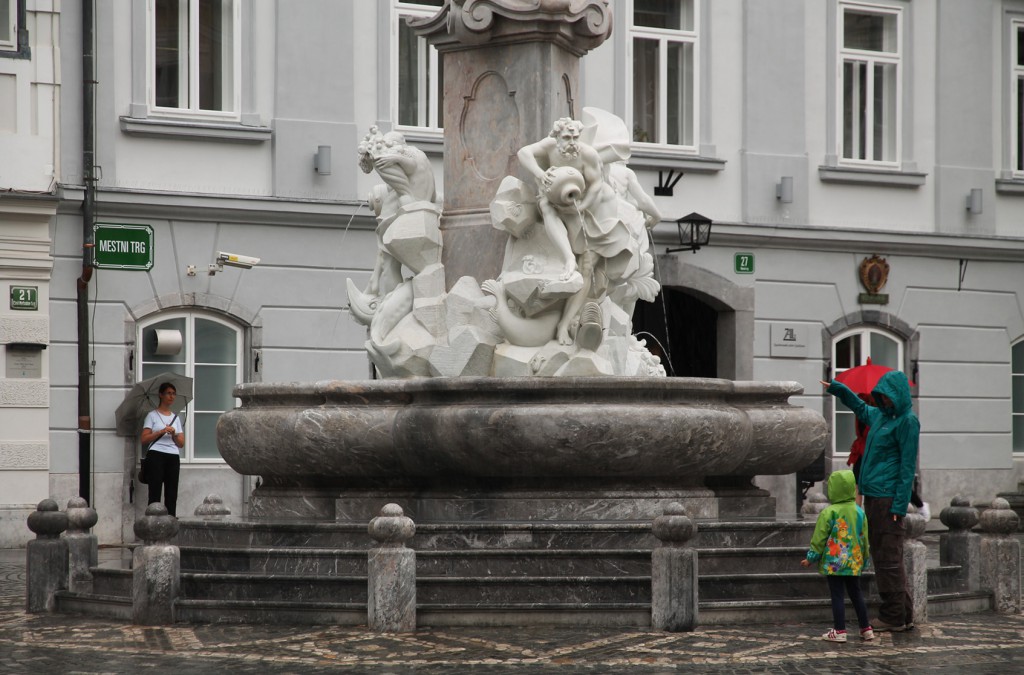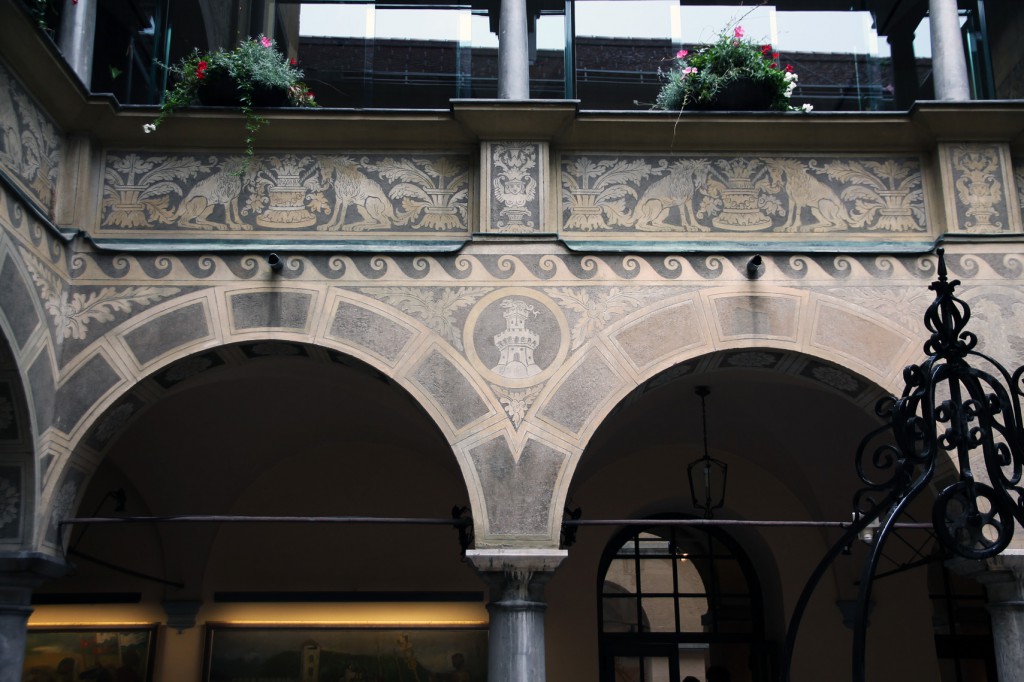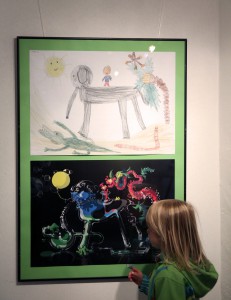 Get you fix of marvelous Art Nouveau architecture.
I must admit I am not really an expert on Jugendstil or Art Nouveau, but since I've visited Ljubljana (and our capital Brussels for that matter), I can say I really like the style. It's colourful, elegant, classy, complex… And in Ljubljana the Slovenian "Secesija" style was all around. From the Dragon Bridge to the old Centromerkur building (now Galerija Emporium), from the Hauptmann House to the Cooperative Bank building and Zadruzna Zveza cooperative insurance building, it was always fun to spot a Jugendstil building on our walk around town.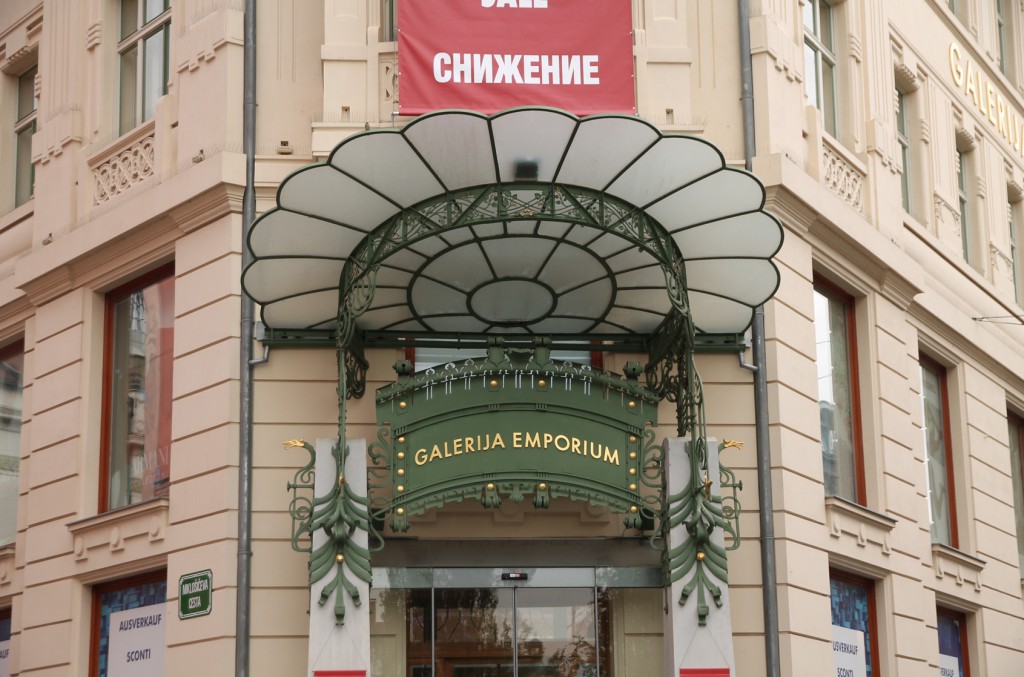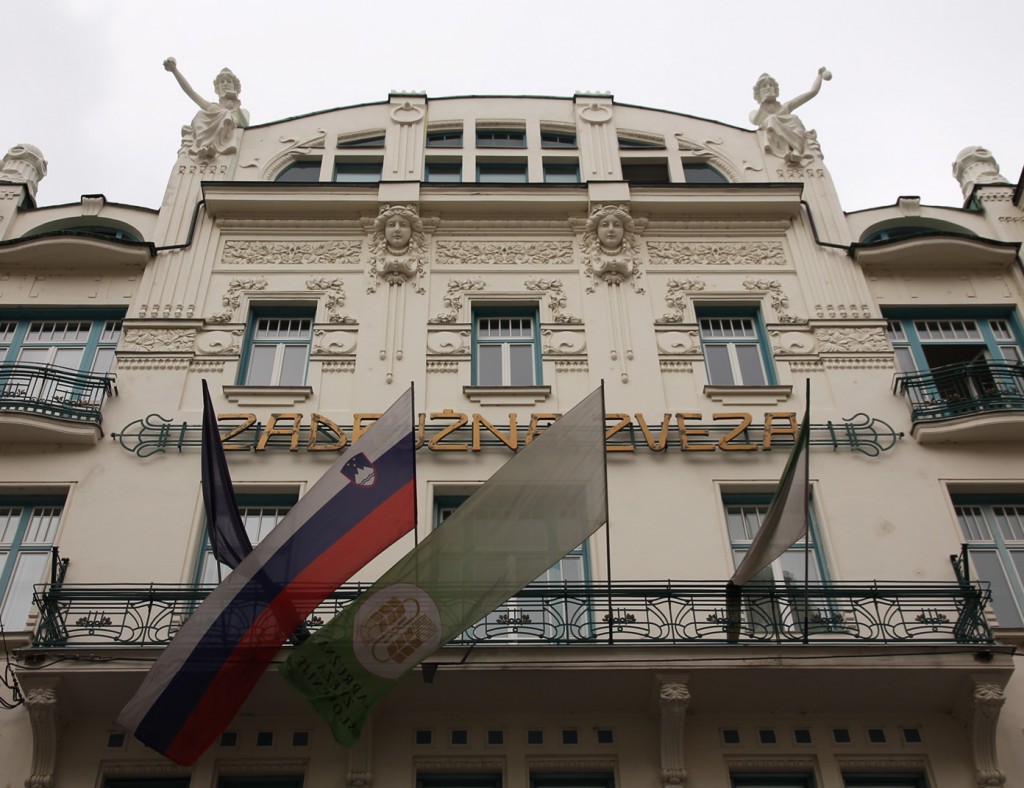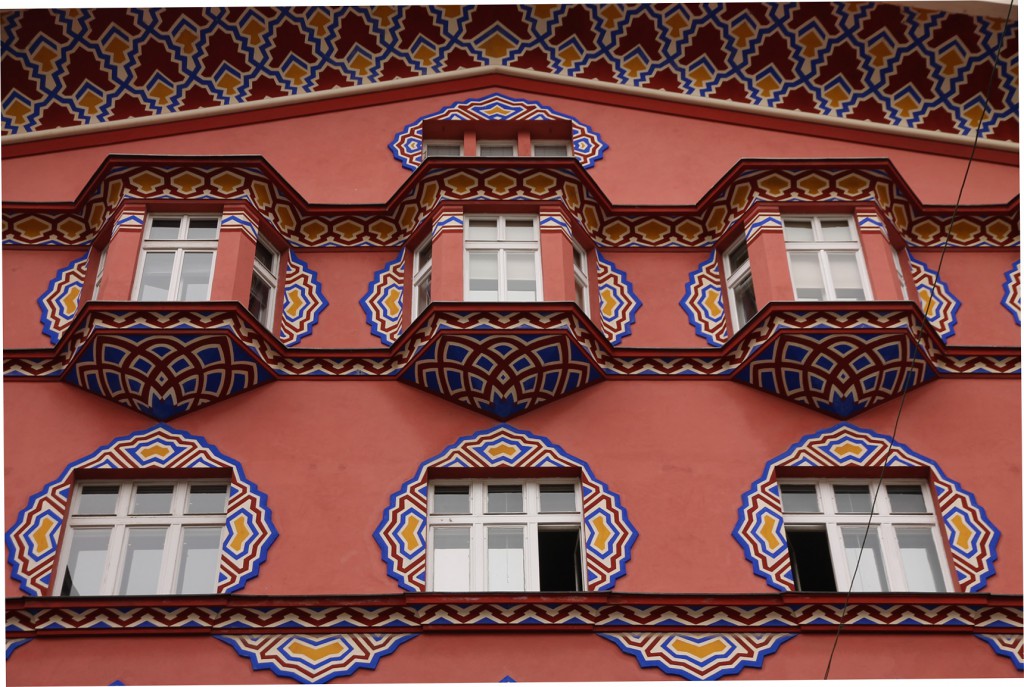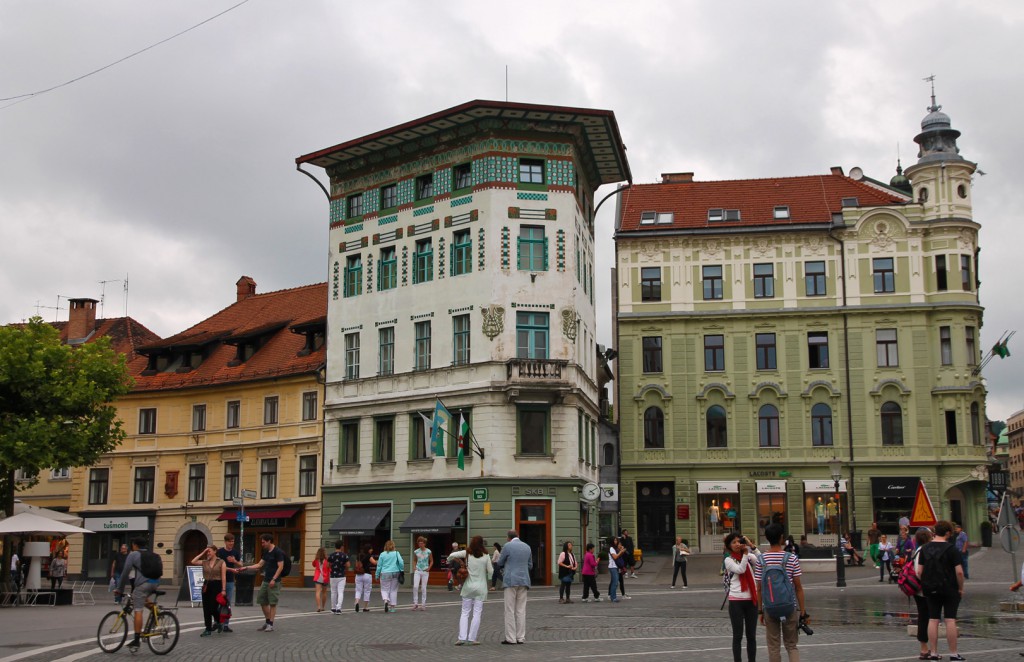 Open your mind in Metelkova.
North of the city centre, Metelkova Mesto is a city within the city. This centre of the creative, alternative minds of Ljubljana is located in a number of old army buildings. The artists have created something very colourful (but maybe also a bit grimm), a melting pot of styles and artforms. It's a post-punk fairytale world with bars, clubs and live gigs. Street art (mainly graffiti) can also be found around the Metelkova centre, and on different locations throughout the city. There are a lot of very beautiful paintings to be discovered here…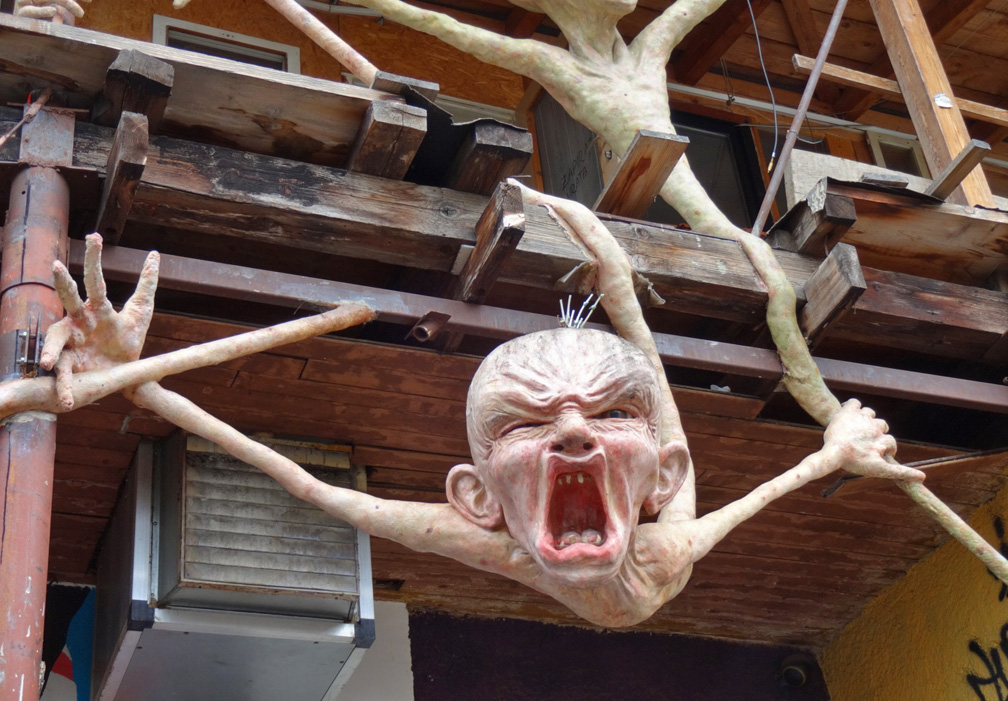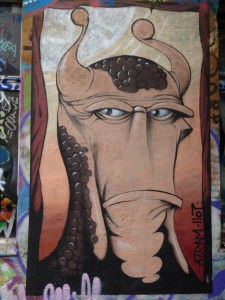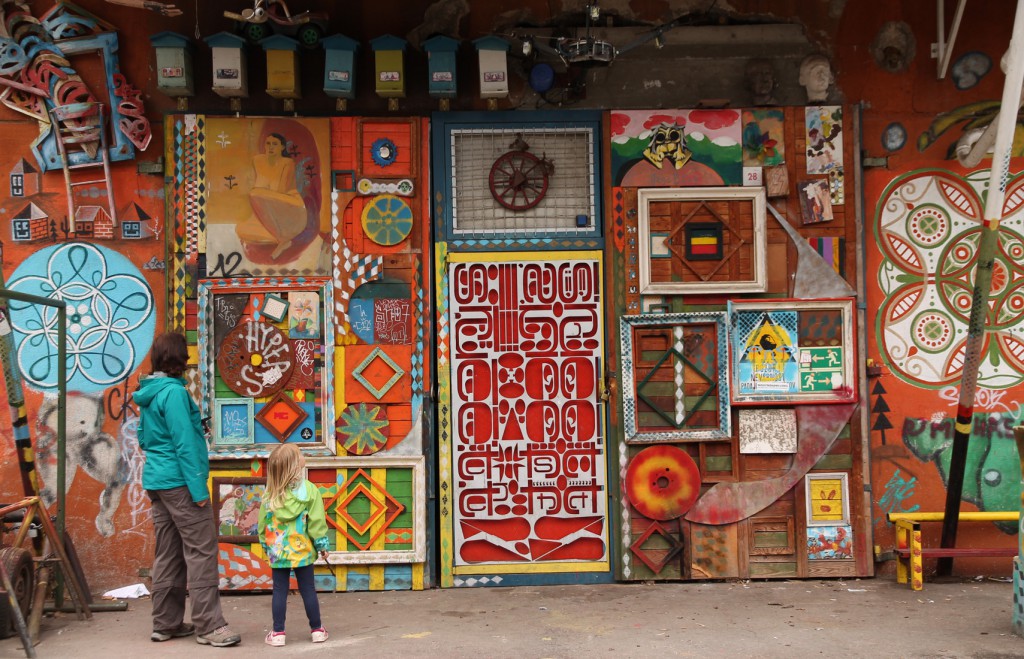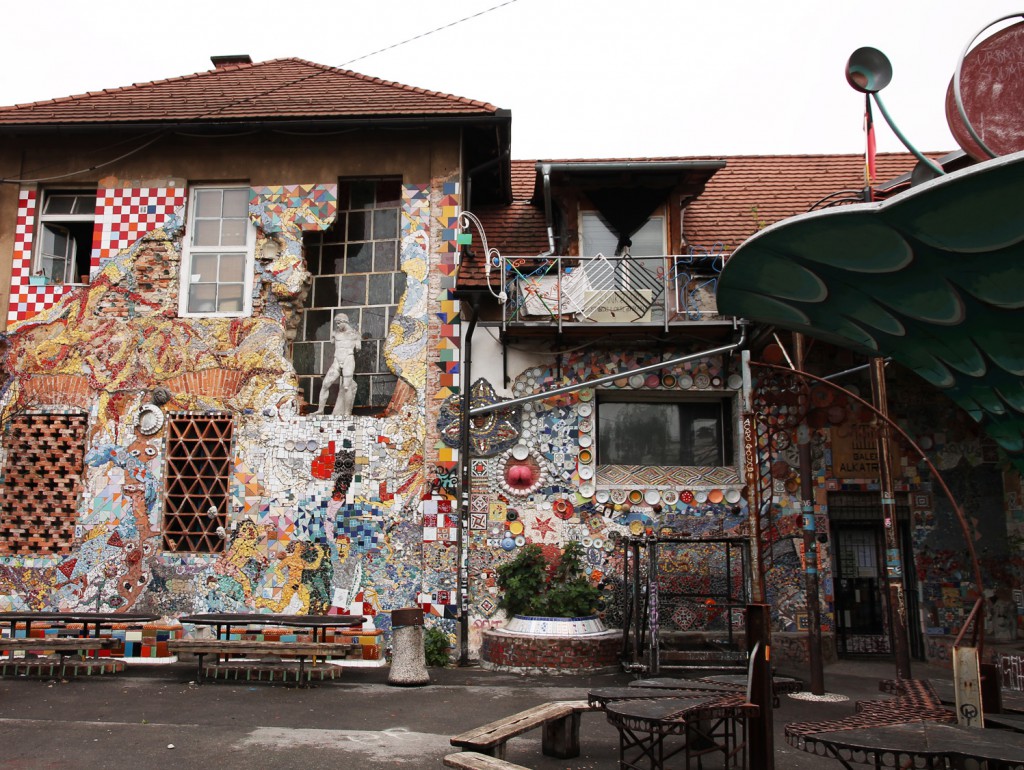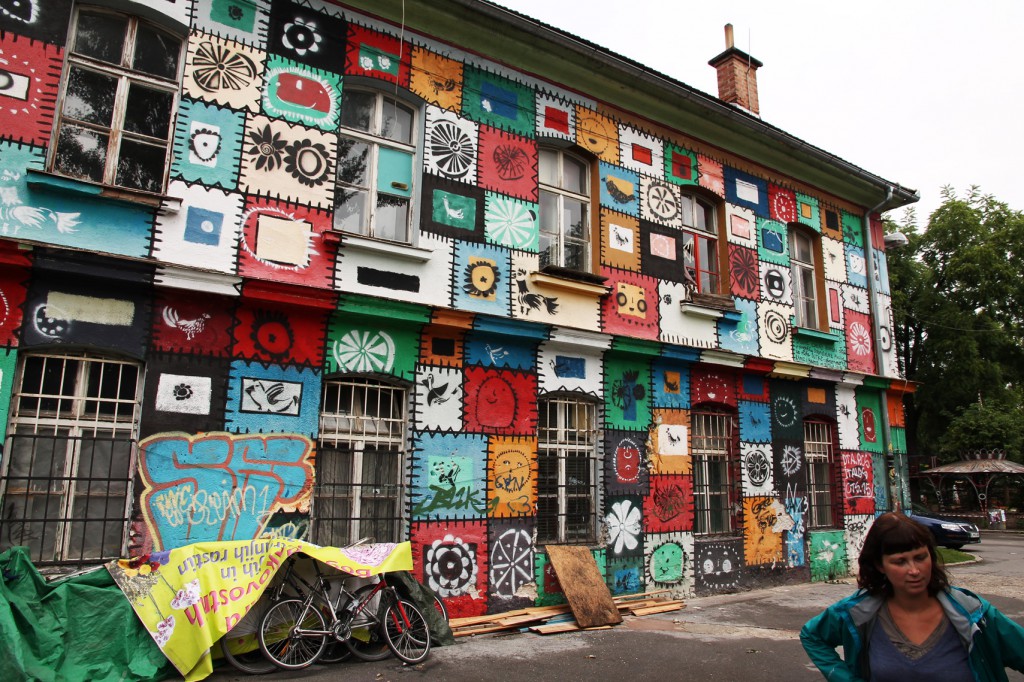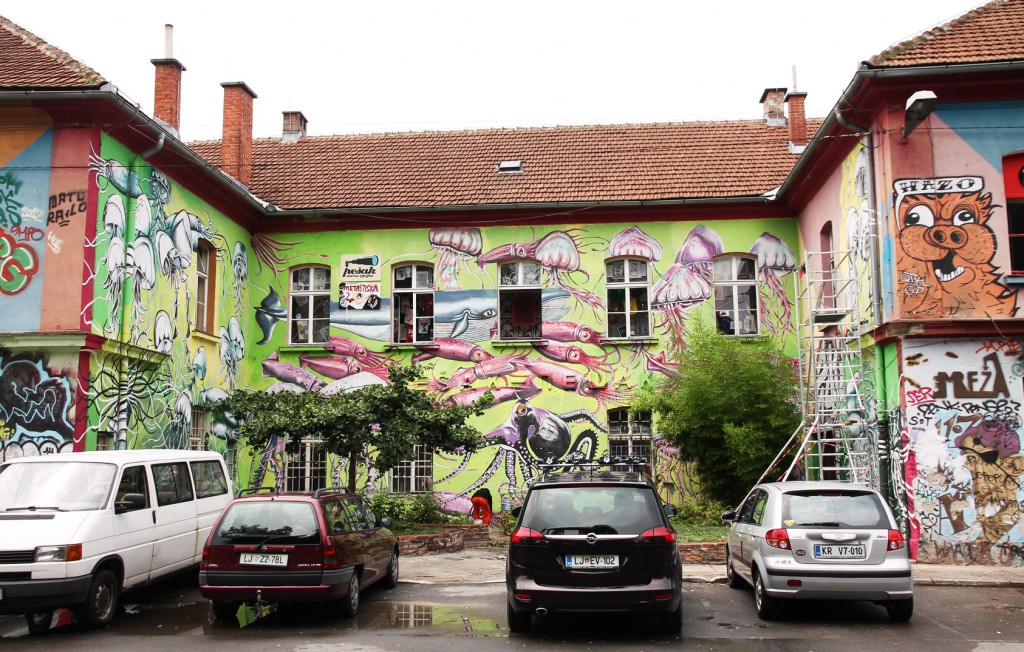 Enjoy the local specialities.
You can't come to Ljubljana and not go to the city's Central Market. You probably won't miss it, because this is the beating hart of the city centre and you simply have to pass this area on your way between the Tromostovje and Dragon Bridge. A number of other must-sees include the Cathedral of Saint Nicholas, the Town Hall and the Plečnik Colonnade alongside the river. Part of the market is located within the colonnade. Even though the weather was horrible, the market stalls were colourful and inviting, with local produce such as honey, mushrooms, fruits, vegetables, sausages and liquor.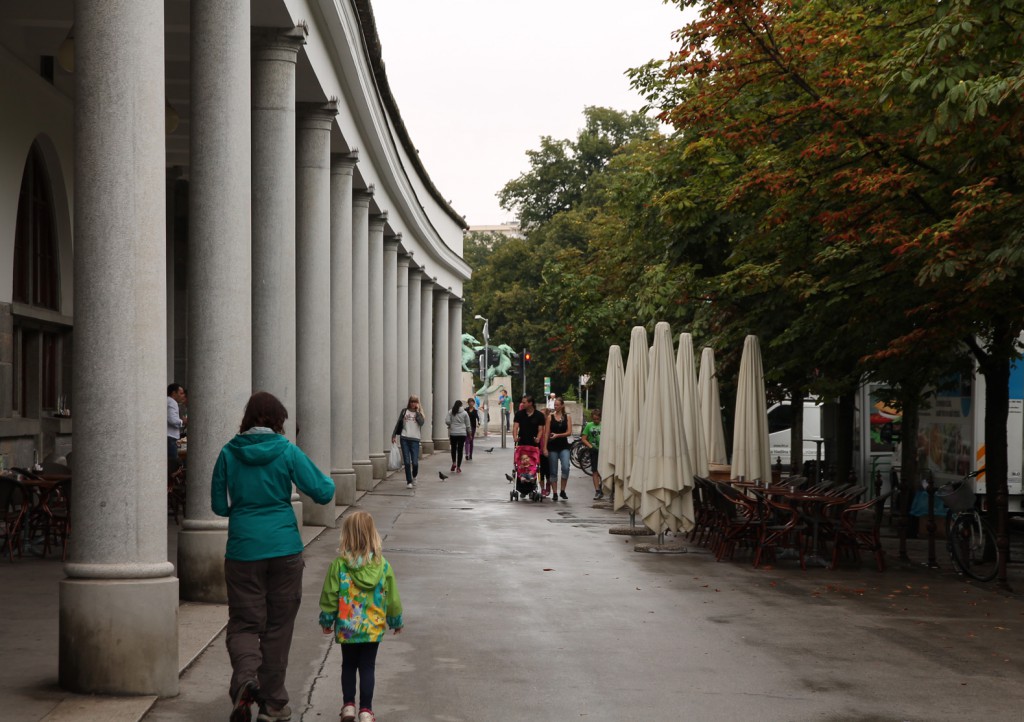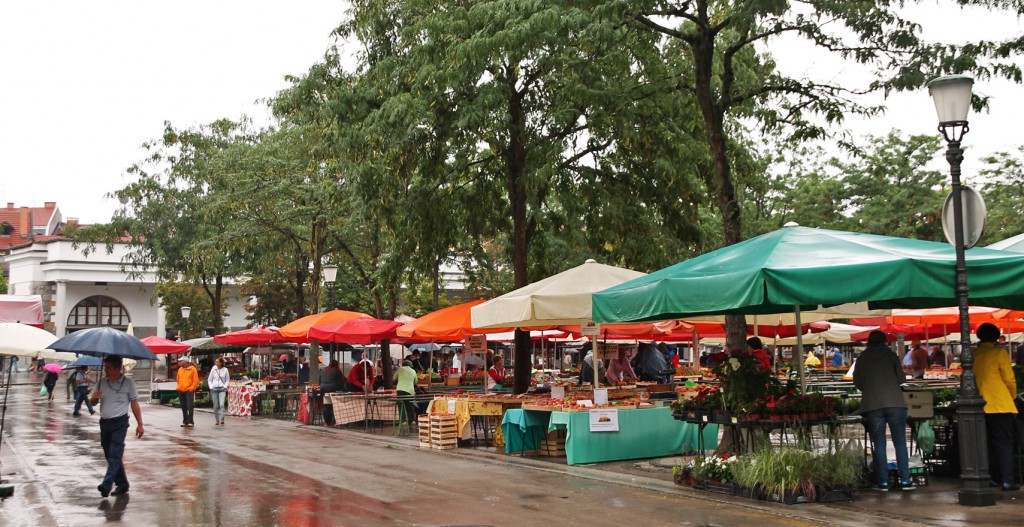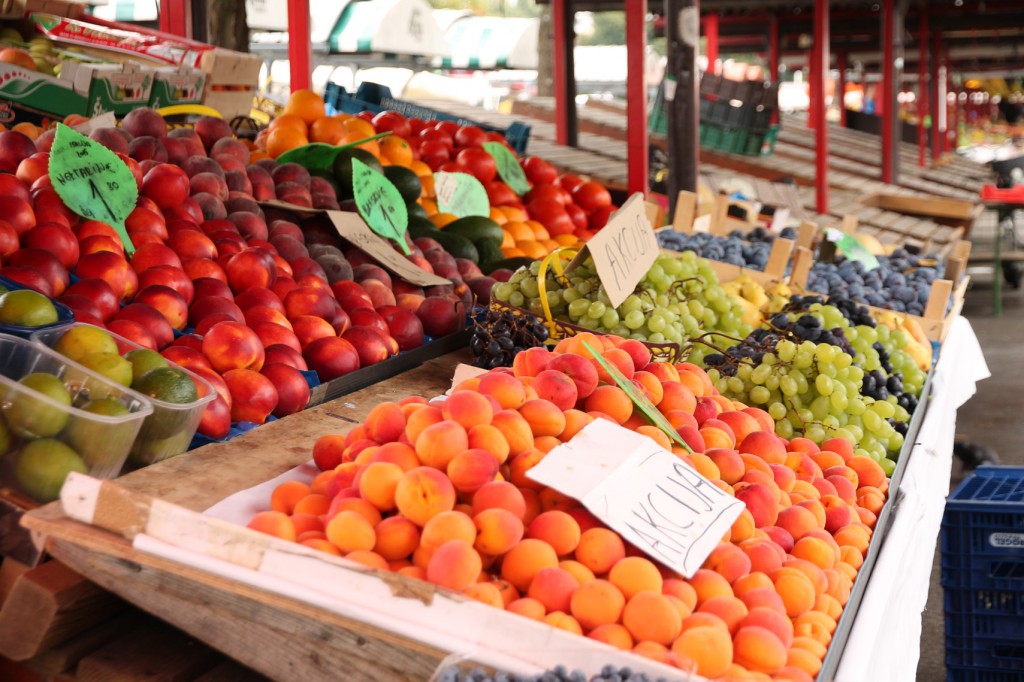 Our lunch consisted of Carniolan sausage, a local delicacy that comes with a bun, mustard and horseradish dip. Simple, but absolutely delicious!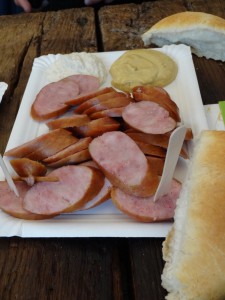 Have a relaxing walk in Tivoli Park.
This large, hilly park is siuated to the west of the centre. It's the ideal place for a walk or picnic.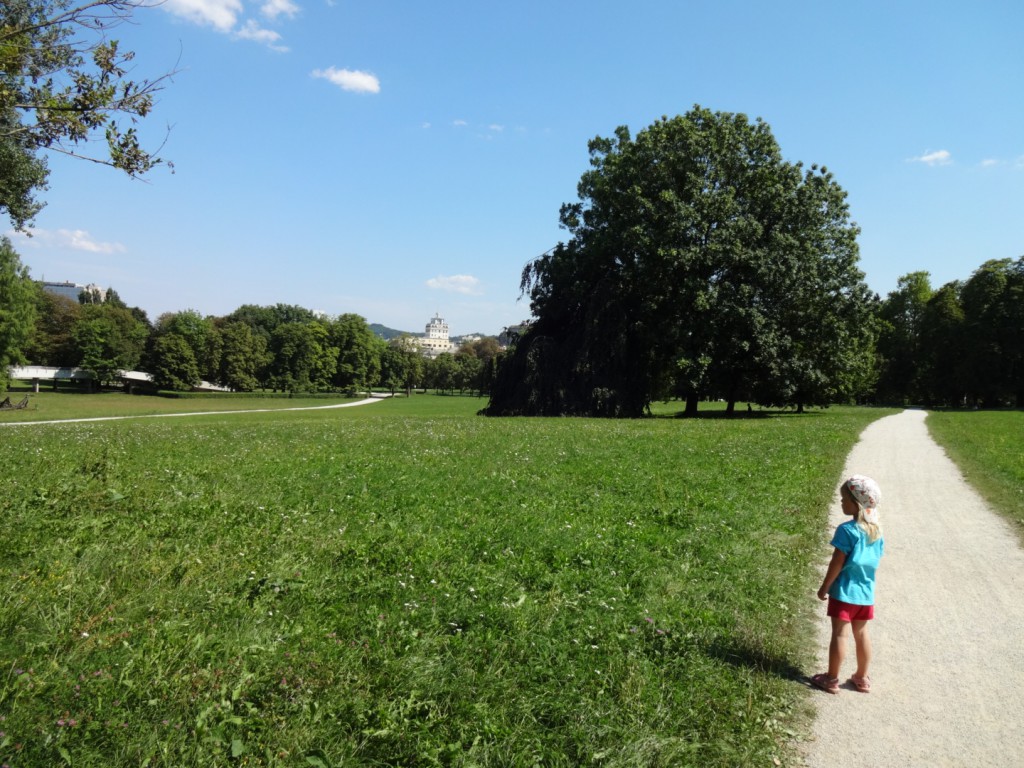 Take your kid(s) to the zoo.
The local Zoological Gardens are located within the Tivoli Park. Although it's rather small, it has a nice collection of local, farm- and exotic animals with all the usual highlights (elephants, giraffes, tigers and (Febe's favourites) meerkats. It also has a number of large and nicely-built playgrounds. The restaurant has a special menu for kids, consisting of a pizza in the shape of an elephant. A definite highlight!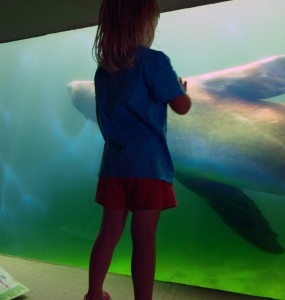 Don't take the boat tour.
The boat tours on the river Ljubljanica are not worth your money. They first take you out of the city, where the surroundings are a bit greener, but still cultivated. The reason for this is very simple: the boat company promises a 30′ tour, but the part where you go underneath the bridges, between Tromostovje and the Dragon Bridge, takes not more than 5′.