When traveling to Israel, a stop at the Dead Sea has to be on your list. After all, it's the lowest point on Earth and an inland sea where you can float in the water. In a previous blogpost I already explained the routine of a regular visit. For adults it's a great experience, but with kids it's a slightly more complicated thing to do.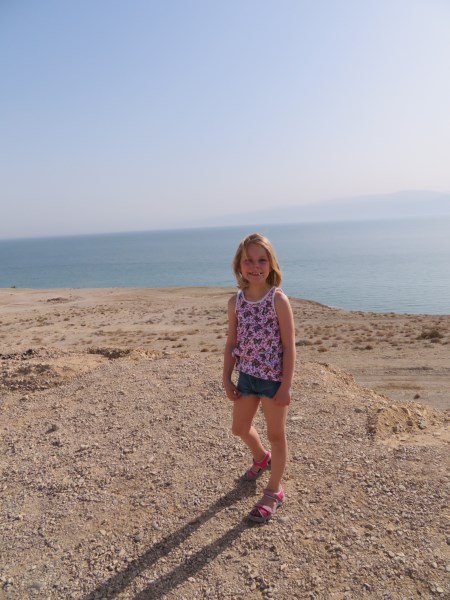 You see, the Dead Sea has the highest concentration of salt in the world, almost 9,6 times as high as your average other sea. And salt stings. It stings in every little cut you have on your body, it can hurt in more private parts and it's very painfull when coming into contact with the eyes. Your children will most likely have a cut somewhere and even though we warned her a 100 times – our girl still rubbed her wet finger in her eye. Yup. Not a good idea!
Are we saying you should skip the experience? Not at all. But you should be prepared a bit. First of all, you should go to a beach that has showers and a normal swimming pool. Find a spot very near a shower to get your children into the water. Help them float (we floated easier than our girl did, so I'm guessing that the more you weigh, the easier you float) and get them to a shower as soon as they say it hurts. Dip into the pool for some regular swimming time afterwards; to help get rid of all the salt the shower didn't wash off completely. Also make sure you clean your skin off with regular water as well as soon as you exit the Dead Sea. If you let your skin dry up in the sun, it can get painfull for you as well.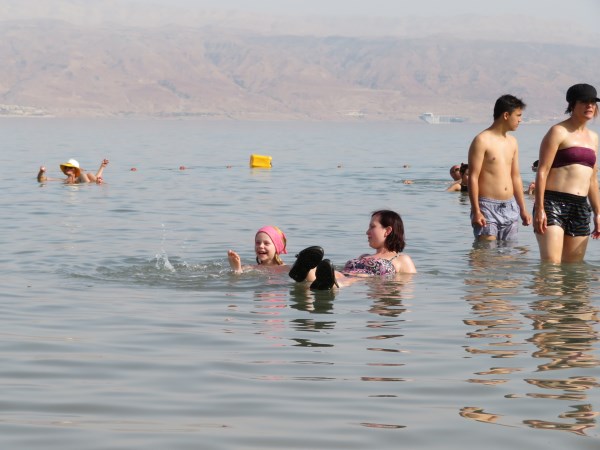 To give you an idea: it took us almost an hour to convince Febe to go in and float after the initial feelings of salt stings. She lasted in for about 5 minutes before we had to rush her to the waiting line for the shower. We could skip the line though, since that's the point she decided to rub her eye (she was already crying at that point, but it made all the other adults in line say I should go first with her…).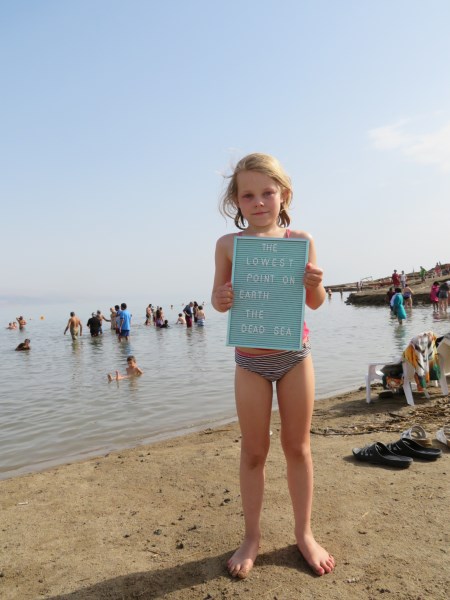 We found that the only beaches with facilities are at the northern point of the Dead Sea (3 beaches there) and one at Ein Gedi, that provides a shuttle bus to take you to the beach. It might have to close up soon, because of sinkholes in the area. Expect to pay a lot of money to enter a beach with facilities:  we payed 250 shekels for the 3 of us, which is around €57.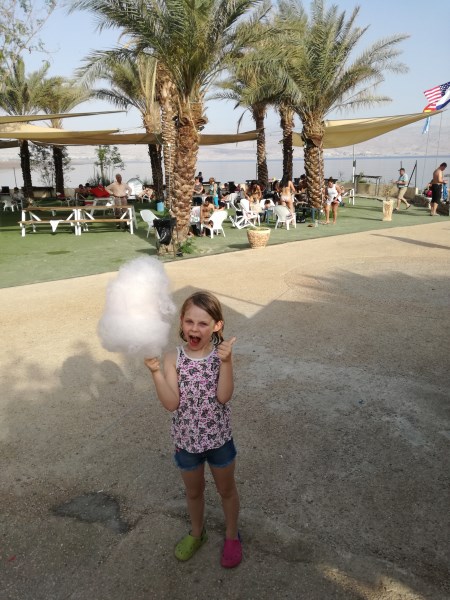 One last tip: take some towels that you don't need anymore for the rest of the trip – unless you've got a washing machine at your disposal. You can't re-use them anymore, because they will be too salty and oily from the water there.