With this post we conclude a series of stories we wrote about our camper trip to northern Spain in April 2022. These posts have systematically followed our itinerary: first driving through France, then lingering a bit longer in amazing San Sebastian, then three incredible days packed with highlights. We spent our last three days in Spain discovering the region of Navarra. To be honest, this was the part of our trip that we hadn't fully scheduled beforehand, so we were in for some pretty awesome surprises!
Day 1
Coming from the west after our visit to Burgos, we first crossed the region of La Rioja, well known for its excellent wine. We decided to focus fully on Navarra, so we didn't explore La Rioja that much and basically drove through it, with a short stop in Sajazarra. We wanted to visit this small town, which is considered one of the most beautiful villages in Spain. This quiet place only consists of a few narrow streets, lined with houses and a church built from rough, mediterranean-style yellow stones. Its 15th-century castle-palace, also squeezed inside the tiny town centre, is not huge but looks truly medieval. Since it is private property though, we were only allowed to admire the exterior. We had the worst lunch-experience at Restaurante Taberna Asador Ochavo, consisting of tiny portions of very basic, overpriced and not very tasty food. Online reviews seem to be mostly positive though, so maybe they just had a bad day.
The first place we visited in Navarra was the city of Olite, which is dominated by an overwhelmingly awesome medieval castle. Olite is a small medieval town with narrow, cobblestone streets that is really inviting for a stroll around and have a bite (tapas, or any other local speciality) surrounded by a centuries-old decor. Make sure you buy some local wine here, e.g. in the Bodega Vega del Castillo, which has a wide selection of splendid Navarrese wines.
Obviously, the castle not only dominates the "skyline" of Olite, it also dominates its touristic brochures ànd its history. The oldest part of the Palace of the Kings of Navarra (Palacio Real) was built in the 13th century and the palace was continuously being used until the 16th century. It was burnt to the ground during the Napoleonic Wars (1813) but has been fully restored to its original beauty and grandeur between 1937-1967. So the Palacio Real is not a ruin, but a fully intact castle with a plethora of jaw-dropping (yet empty) rooms, halls and towers. If you really want to see each corner, climb every stair and enjoy each viewpoint, you should calculate at least 2-3 hours or so.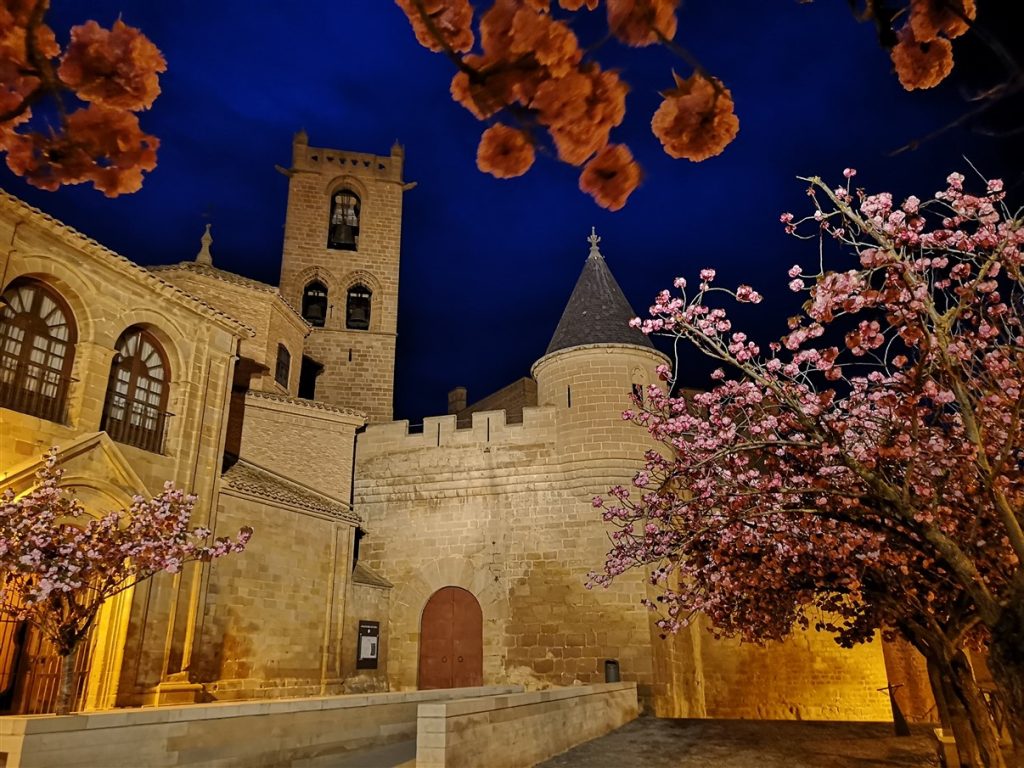 Day 2
When traveling through Navarra, it is easy (and recommended) to alternate between culture and nature, since there is so much to see in both cases. Therefore, on day two, we decided to explore one of the most peculiar natural landscapes of Spain: The Bardenas Reales. This UNESCO Biosphere Reserve is a real (semi-)desert/badlands area in Europe. A geographical rarity, this national park features colourful and jagged clay, chalk and sandstone rock formations, eroded by water and wind. These include plateaus, canyons and hills. Starting at the Information center (7 km from Arguedas), you can explore the park on foot, by bike or even with the car (La Bardena Blanca area). The dirt road is not asphalted, so you'll have to drive slowly, but even with our camper van it was not an issue. And by driving slowly, you have more time to appreciate the area around you. It is also easy to stop by the side of the road and get out for a photo or a little walk. There is a small canyon trail close to the Castildetierra (the most iconic hill in the park), which we followed. Only surrounded by rocks and corn buntings, this is a quiet walk that is really recommendable, also with smaller children. One last thing: there are Griffon Vultures nesting in the park, so keep an eye out for them!
We spent the night (Area de Autocaravanas de Artajona) at the edge of the fortified medieval town of Artajona. It's only a small town, but once you've climbed all the way up to the top of the hill, you'll be impressed by the view. The walls and towers are sturdy and angular and the same is true for the San Saturnino church, which appears to have an inverted roof to collect water (a unique feature we couldn't really see from below). Perfect for a few hours of exploration and for spending the night when you're traveling with a caravan or camper van, but don't expect too much.
Day 3
Watching the vultures in the Bardenas Reales was nothing more than a little taste of what was to come on the next day. The next day, that was our very last day in Spain, which we spent exploring Pamplona and its surroundings. Thanks to a bit of online research, we found out that only 40km to the east of the city, there is a small, secluded canyon or gorge, which is the nesting place of large numbers of griffin vultures. The Foz de Lumbier Nature Reserve combines exquisite natural beauty with some splendid birdwatching opportunities. Since the gorge is only 1300m in length and can be traversed by means of a broad, well-maintained footpath, this is an easy excursion that can easily be done with small children as well.
In the afternoon, we headed towards Pamplona, the capital of Navarra. The city is best known for its San Fermin bullfighting festival, also known as "The Running of the Bulls". It is definitely not something that we would recommend, since this is nothing more than organized animal abuse, disguised as a popular festival. The festival doesn't end well for the poor bulls, which are killed the same night in the bullfight arena (Plaza de Toros). But let's not judge the city for this one unfortunate week in the year. The beating heart of Pamplona is the Plaza del Castillo, an open square dotted with trees and surrounded by arcades and the facades of colourful apartment blocks. The Palacio de Navarra (the seat of the Navarra government), a 19th-century, neoclassical building, is situated just south of the square. from here, you can easily walk to the Monumento al Encierro (an impressive bronze monument about the running of the bulls in the Av. Roncesvalles) and the Pamplona Bullring. It is an impressive building, but it was closed when we arrived there.
The Citadel of Pamplona, a 16th-17th-century Renaissance fort, is located only 10 minutes walking from the Plaza del Castillo. Nowadays it is a public park and even though Pamplona didn't seem like a very busy city, a walk in between the walls of the citadel was nevertheless our most relaxing moment here.
Late afternoon, we headed towards the area around the 15th-century gothic Cathedral and its 13th-century cloister. The central eye-catcher of the cathedral is the intricately sculpted sepulchre of Charles III of Navarra and his wife. The cloister is definitely worth a visit. It is supposed to be one of the best preserved cloisters in Europe and its architecture (especially the galleries and doors) is richly decorated.
If you want to enjoy the Pamplona night life (and by that we mean having a few bites in one or more of the many Pintxos bars), you need to be inside the triangle between the cathedral, the bullring and the Plaza del Castillo. We can recommend Bar Gaucho, where we had a great time and many many exquisite pintxos (and some wine as well)…